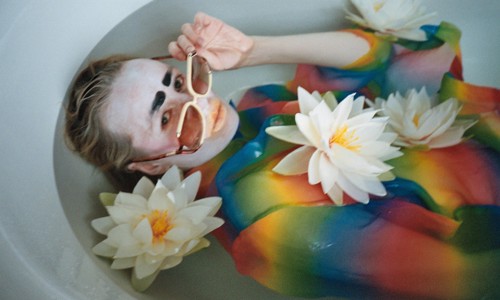 New work by Kris Lemsalu to be shown at Tramway
New work by Kris Lemsalu to be shown at Tramway
Tramway presents "Biker, Bride, Builder, Businesswoman and Baby", new work by renowned Estonian artist Kris Lemsalu. Lemsalu, who will represent Estonia at the 2019 Venice Biennale, lives and works in Tallinn.
Lemsalu's pieces evoke the bestial side of human beings and civilizations, and are often underscored by feminist themes. Her sculptural installations are created from a palette of seemingly visceral materials including animal parts and pelts, fur, wool, leather, fabric and shells, alongside ceramics and ready-made objects. Often performing within her works by inhabiting sculptures as costumes, Lemsalu creates playful hallucinogenic worlds that blur the lines between human, creature and object. These scenarios are populated with talismanic figures assembled from a diverse range of hand-made and found materials, all woven together through the artist's distinct style of humorous and absurd storytelling.
At Tramway, Lemsalu will present an immersive installation which includes new site-specific ceramic and textile works created in response to the street-facing gallery space. Presented as a tableau vivant, Biker, Bride, Builder, Businesswoman and Baby sets a surreal and highly evocative environment. The biker, bride, builder, businesswoman and baby referenced in the title are all but vanished from this landscape, having left behind the remnants of their identities; leather jackets, prams, wedding dresses, suits and hard hats. A sense of unease prevails the scene and a flock of handmade ceramic birds pick up these worldly possessions, giving ghostly form to the absent bodies.

Through the ritualistic and hallucinogenic world of Biker, Bride, Builder, Businesswoman and Baby, Lemsalu confronts universal themes of absence and existence, beauty and revulsion. Populating the artist's distinctive vision, exquisitely wood-fired ceramics using the traditional Japanese technique of anagama sit effortlessly alongside found clothing and machine-made commodities. These are afforded equal status in Lemsalu's dense imagination, creating fantastical worlds that are one remove from our own but instantly recognisable and relatable.
The preview of the exhibition at 7-9PM on Friday 1 March will feature a live sound performance by Kris Lemsalu and Kyp Malone (TV On The Radio).
This exhibition is a co-production between Tramway, Glasgow and CCA Goldsmiths, London and is supported by The Estonian Embassy.
Tramway is supported by Glasgow City Council and Creative Scotland.
To find out more visit: www.tramway.org