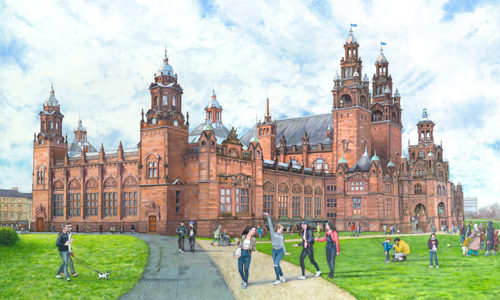 New work by popular Scottish artist Avril Paton goes on show at Kelvingrove Museum
New work by popular Scottish artist Avril Paton goes on show at Kelvingrove Museum
Scottish artist Avril Paton's latest work, The Four Graces (Kelvingrove Art Gallery and Museum), has gone on show in the iconic building it depicts. Completed in 2016 the artwork shows a moment in time, in the life of Kelvingrove Museum, one Scotland's most popular visitor attractions.
Well known for her watercolours of Glasgow city scenes, Avril Paton has loaned her most recent work to the city. It will hang in the Glasgow Stories gallery on the ground floor of Kelvingrove Museum until November 2018. The colorful painting shows the museum building as seen from outside, with people around and is described by the artist as 'Kelvingrove Art Gallery and Museum on a winter Saturday 2016'.
Avril Paton said:
When I started painting in Glasgow in 1982, the city and its citizens became the principle focus of my artistic strivings. I fell in love with the people and the places that became part of my daily life. The feelings were so strong that they drove forward and sustained my work for many years.

My latest work, The Four Graces, depicts Kelvingrove Museum, a place much loved by generations of Glaswegians and many others. It is an honour to have this work on show in the building that inspired it, a place that continues to inspire me.
Chair of Glasgow Life, Councillor David McDonald, said:
It's wonderful to welcome such a beautiful painting as Paton's The Four Graces to Kelvingrove and share it with the million plus people who visit the museum every year. Given Avril's popularity in the city we expect this will be a real highlight over the summer months, especially as it illustrates the museum in which it hangs.
Glasgow Museums is delighted to partner with Avril Paton again. Two of Paton's earlier works form part of Glasgow Museums Collection. The Barras (1984) hangs in the People's Palace. Windows in the West, painted 25 years ago this year, can also be seen in Kelvingrove Museum. It is perhaps the artist's most well-known work and regularly features in polls of Scotland's favourite painting. It shows the external profile of a 4-storey yellow sandstone tenement in Downahill, Glasgow during winter, with the residents of the building painted doing various activities. First purchased for GoMA in 1994, it moved to Kelvingrove in 2006 and remains on display there in the Looking at Art gallery.
Avril Paton will deliver a 10 minute talk on Tuesday 18th September in front of her work The Four Graces, speaking about Kelvingrove Museum as her inspiration, and her recent work in general.
The Four Graces will hang in the Glasgow Stories gallery in Kelvingrove Museum until November 2018.