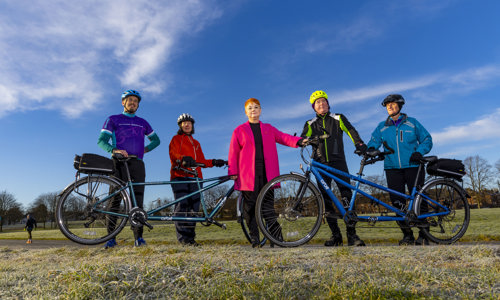 New year funding boost for Glasgow community cycling initiatives
New year funding boost for Glasgow community cycling initiatives
Twenty-nine community groups in Glasgow have received a fabulous kick-start to the new year, with a share of more than £160,000 from the 'Go Cycle Glasgow Fund' towards new and enhanced cycling initiatives, which encourage and promote cycling for recreation, sport and active travel.
Glasgow City Council's 'Go Cycle Glasgow Fund', administered by Glasgow Life, is one of several community activations designed to engage citizens with the 2023 UCI Cycling World Championships taking place in the city and across Scotland 3-13 August, and deliver a lasting legacy. This historic and innovative major sporting event takes place over 11 days, and for the first time, will bring together 13 UCI World Championships, featuring thousands of the world's best cyclists, creating an unprecedented showcase for the sport and for Glasgow and Scotland.
This new fund aims to inspire more local people to take up or return to cycling, making it an activity for life, by supporting community groups across Glasgow to create and develop accessible and sustainable cycling projects. Additional funding has also been received through partnerships with Clyde Gateway and Glasgow City Council's Smarter Choices, Smarter Places, to support targeted activity.
Priority has been given to groups working with young people, women, people with disabilities, low-income families and ethnic minorities, making it possible for more people, regardless of background or ability, to enjoy the benefits and power of the bike.
Each of the organisations announced today, received up to £10,000 for initiatives that:
Encourage more local people to use cycling for recreation, sport or active travel
Provide cycling activities for underrepresented groups in the community
Are inclusive and accessible, addressing barriers to participation
Engage participants in cycling now and provide sustainable activities that will be deliverable in the future
Are committed to sharing learnings and best practice with others.
Specifically, funding has been awarded to cover the cost of cycling equipment, storage, training, safety equipment, as well as some running costs.
Amongst the first recipients is Glasgow Afghan United Women's Empowerment Project, which provides specific services for more than 70 women in the north of the city, including many refugees and asylum seekers, to promote confidence, attainment, education and health and wellbeing, beat isolation and overcome barriers to participation. Such was the success of a pilot cycling programme to teach beginners how to cycle safely for leisure, transport and health, that their award will now allow them to expand and develop the learn to ride programme further into an ongoing cycling club to meet the growing interest and demand.
Funding for additional bikes and safety equipment will enable more women to learn to ride and this will be expanded to include children and young people, so they can participate together as families. There will be support for ongoing skills development for the new cyclists, with group rides increasing from weekly to twice per week, as well as cycle leader and bike maintenance training delivered by partner organisations. The training will develop and empower a strong female volunteer workforce with the required skills to confidently deliver activities to their peers, families and children and help build stronger healthy, active and thriving communities.
Glasgow Tandem Club aims to enable people with a vision impairment to enjoy the benefits of cycling through a regular programme of tandem cycling, which includes two organised runs per month of varying distances and difficulty up to 35 miles. This award will be used to purchase two additional tandems to increase capacity, provide specialist mechanical support to maintain a safe tandem fleet, improve existing storage facilities and will also enable the club to continue with induction training for vision impaired and sighted members alike.
For 28 years the Castlemilk Youth Complex (CYC) has been the lead agency for youth work in one of the most deprived areas of Glasgow and, with support from the Go Cycle Glasgow Fund, they are looking to develop their 'Cyclewise' initiative, which facilitates led rides, provides training and distributes refurbished bikes.
They plan to set up a bike cleaning and maintenance facility for the Cyclewise members and the wider public, to maintain their bikes and to form a focal point for the cycle community. CYC currently has two containers full of bikes in various condition and would like to bring all these cycles up to scratch. This would enable them to expand their programme of led rides to encourage new cyclists and offer development opportunities for current cyclists, making good use of local facilities including the Cathkin Braes Mountain Bike Trails and Velosolutions Pump Track, along with the extensive local network of streets, paths and trails. Additional safety equipment and training will also be funded, creating a long-term resource for many years to come.
BMX will be one of the highlights of the UCI Cycling World Championships in the city, and Glasgow-based charity, Movement Park is planning to introduce up to 2000 local youngsters to this exciting sport following their successful application to the Go Cycle Glasgow Fund.
Known for delivering a wide range of movement competency-based activities from its converted warehouse facility in Whiteinch, the Movement Park BMX Project will be delivered by its experienced team at the Glasgow BMX Centre in Knightswood, right where the world-class racing action will take place in August.
With cost a recognised barrier to participation, they plan to deliver free induction blocks introducing and qualifying local kids to ride and further progress in BMX to weekly sessions over the course of 2023. These sessions will be targeted at local families that would otherwise not be able to access such activities. The team will also work with a range of local schools and community groups to deliver come and try festivals and signpost participants to ongoing opportunities to take part, helping to promote the physical, mental and social benefits of an active lifestyle.
Toryglen Community Youth Project is a newly formed charity which aims to work with children and young people 5-24 years, to address the needs and challenges within the Toryglen community, an area of high deprivation with poor health and well-being. This is coupled with other problems such as anti-social behaviour, drug and alcohol abuse, mental health problems, gang fighting and vandalism.
Working with a variety of local partner organisations the project aims to use Go Cycle Glasgow funding to introduce cycling activities from their base at Prospecthill Circus, making excellent use of the extensive green spaces and paths on their doorstep at Malls Mire, access to the green area at Glencairn and taking advantage of the roads in this area which are traffic calmed.
With no established cycling community in Toryglen, this project will look to create new cycling opportunities, helping young people to become comfortable on a bike, enabling them to get to know the local area much better, finding safe spaces to enjoy the great outdoors. In addition, cycling will be used to help engage with local young people who are at risk of antisocial behaviour.
Making the funding announcement, Bailie Annette Christie, Chair of Glasgow Life, said:
"I am excited to announce the recipients of funding from the Go Cycle Glasgow Fund, and I am hugely impressed by the ambition and commitment of these local community groups to deliver such an innovative range of cycling related projects, to get more people active and enjoying all the benefits that cycling can bring.

"2023 is another significant year for Glasgow as we prepare to be in the international spotlight, hosting five of the 13 Cycling World Championship events at venues across the city. We have a strong track record of successfully hosting major international events and are renowned for giving visitors to our city such a warm welcome. However, even more importantly, we are committed to ensuring that the people of Glasgow get the opportunity to engage with the event and benefit long- term from enhanced opportunities for physical activity, health and wellbeing.

"I look forward to visiting many of these exciting projects over the coming months and seeing even more people out and about our wonderful and increasingly cycle-friendly city on bikes."
Niki Spence, Head of Sustainable Communities at Clyde Gateway, said:
"We are thrilled to be able to contribute funding to the Go Cycle project. With active travel and health and wellbeing high on our agenda, this project will allow local community groups to develop new and exciting opportunities to get more people cycling.

"Clyde Gateway has an abundance of green spaces, many with designated pump and cycle tracks, which will hopefully encourage residents to get out on their bikes and enjoy their surroundings."
List of recipients:
Glasgow Eco Trust (Citywide)
LEAP Sports Scotland (Citywide)
NG Holmes (NE)
Afroscots Dreams United FC (NE)
Fuse Youth Cafe (NE)
Urban Fox Programme (NE)
Cranhill Development Trust (NE)
Bluevale Community Club (NE)
Phoenix Centre (NE)
Glasgow Afghan United (NW)
Lambhill Stables (NW)
G20 Works (NW)
Movement Park (NW)
Flourish House (NW)
Castlemilk Youth Complex (SE)
Active Life Club (SE)
Youth Community Support Agency (SE)
Women on Wheels (SE)
Toryglen Community Youth Project (SE)
New Gorbals HA (SE)
Glasgow Cycle Speedway (SE)
Shawlands Bike Bus (SE)
Bikes for Refugees (SW)
Govan Youth Information Project (SW)
Govan Community Project (SW)
Safety Awareness Glasgow (SW)
Blackwood (Peoplehood Cardonald) (SW)
Ibrox Primary School (SW)
Glasgow Tandem Club (SW)