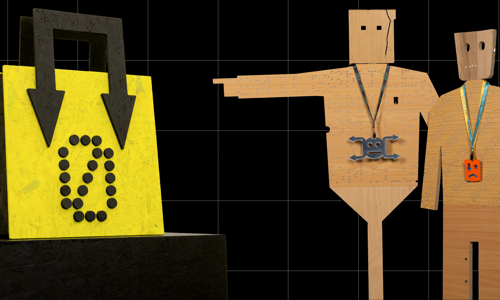 Next major GoMA show announced as Scottish artist duo Beagles & Ramsay
Next major GoMA show announced as Scottish artist duo Beagles & Ramsay
A major exhibition of newly commissioned work by Glasgow-based artist duo Beagles & Ramsay (John Beagles and Graham Ramsay) will see the Gallery of Modern Art (GoMA)'s Gallery 1 undergo a radical transformation.
The space – most recently the venue for Banksy's Cut & Run show – will become a flagship store as the artists' three new 'NHOTB & RAD' fashion lines are unveiled, alongside numerous sculptures and videos.
The title refers to Beagles & Ramsay's long-standing alter egos, New Heads on the Block and Rope-a-Dope. This exhibition will continue the artists' exploration of the politics and tensions within consumerism and the contemporary workplace.
The exhibition is presented by Glasgow Life, the charity which promotes mental, physical and economic wellbeing in the city through culture and sport.
For the latest NHOTB & RAD collections, presented from 14 October 2023 until 28 April 2024, the gallery will be transformed into a flagship store, filled with clothing and accessories, and with 50 life-size figures, many modelling the collections, alongside digital avatars.
A minimalist carpet tile-clad boutique will house the 'Holding Pattern' capsule collection of city office wear, which is laser cut in timeless charcoal grey with subtle contrast stitching. Signature pieces include the 'Dash Dress' with elongated arrow arms to delineate the body with a starkly fresh geometric profile.
A second pop-up boutique will showcase the 'Zero Collection' of hybrid sports-workwear. A range of durable and strikingly colourful technical fabrics are finished with bold fluorescent stitching and angular pockets. Sharply defined silhouettes, fused with utilitarian forms, characterise garments such as the 'Cipher Hoodie' and the 'Null Sweat'.
At the heart of NHOTB & RAD at GoMA will be a select group of couture pieces presented on a fractured catwalk. Textures and materials include luxurious British wool with finely embroidered motifs, contrasted with sharply cut stainless steel necklaces and accessories. The centrepiece will be a two-metre tall intricately wrapped geometric ball gown.
Alongside these three collections, a host of 50 life-size figures sculpted from recycled office furniture and reclaimed display materials will activate the space. Each one of these flat pack bodies is unique in its design, materiality and attitude. Many of them have become disaffected and unruly consumers. Digital avatars of these figures also star in a suite of video animations, which play out interlinked scenes alongside animated doppelgangers of the garments.
Bailie Annette Christie, Chair of Glasgow Life, said:
"After being exhibited internationally at the Venice Biennale, MoMA PS1 in New York and The Migros Museum in Zurich among others, Beagles & Ramsay's works will now transform the iconic Gallery 1 at Glasgow's GoMA. This new exhibition promises to be unlike anything you will ever have experienced at GoMA before. It is free for everyone, offering Glaswegians and visitors a fantastic opportunity to experience another memorable exhibition in our city."
Beagles & Ramsay have worked as a collaborative duo since 1996 and are based in Glasgow. Their work has been exhibited internationally at venues including The New Museum of Contemporary Art, New York, YYZ Artists Space Toronto, Living Art Museum, Rejkjavik and the Rotterdam International Film Festival.
They have also exhibited widely in the UK at venues including Tramway and Transmission in Glasgow, the Fruitmarket and Collective in Edinburgh, Gasworks and the ICA in London. Their work is in numerous private and public collections including the Glasgow Life Museums Collection and the National Galleries of Scotland.
This exhibition is supported by Creative Scotland, Edinburgh College of Art and Glasgow School of Art.
Photo by Matt Barnes, courtesy NHOTB & RAD