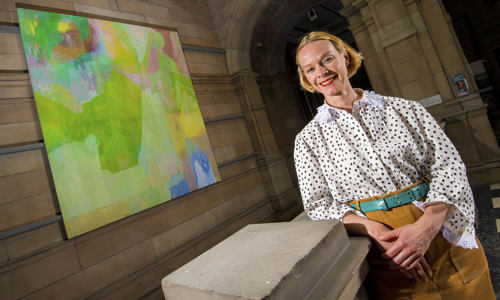 One of two final paintings acquired by Hamilton Bequest goes on display at Kelvingrove Art Gallery and Museum
One of two final paintings acquired by Hamilton Bequest goes on display at Kelvingrove Art Gallery and Museum
The Trustees of the Hamilton Bequest have seen one of their final purchases for Glasgow Museums go on show at Kelvingrove Art Gallery and Museum.
The huge painting by Glasgow artist Victoria Morton, entitled Soliton, is the ninetieth artwork of international importance gifted to Glasgow Museums since 1927, a legacy that has greatly strengthened and enhanced Glasgow's civic art collection, considered to be one of Europe's greatest. A second work by the same artist also acquired in 2018, Photosynthesis, will rotate with Soliton after three years.   
The large, vibrant canvas is likely to appeal to a broad audience and is on display on the south stairs at Kelvingrove Art Gallery and Museum. The prominent location off the main hall was chosen by the artist, who fondly recalls sketching in the museum while studying at secondary school. The artwork's proximity to the organ is very appropriate, her paintings relating closely to music and composition.
Hamilton Bequest Trustee Karen Primrose said:
There are only a handful of female artists represented in Glasgow's Collection, so I am delighted we have championed a local, living, contemporary Scottish artist for the Bequest`s final painting for Kelvingrove. I was lucky to meet Victoria in her Glasgow gallery and to hear her speak about her work and inspirations from music.

Soliton on initial glance has beautiful translucent greens, pinks and yellows which pull you in and then on a longer gaze turn into nebulous shapes with nearly visible figures sitting behind a veil of floating, moving, dancing colours. It is a beautiful, captivating and tranquil painting.
Andrew Primrose, Chair of Hamilton Bequest, added:
We and our predecessors as Trustees of the Hamilton Bequest have enjoyed the responsibility and pleasure of assembling this large and prestigious Collection for the City of Glasgow. Since 1927 we have received invaluable advice and encouragement from successive Directors and curators at Kelvingrove.
Chair of Glasgow Life, Councillor David McDonald said:
The visually striking work is a great asset for the people of Glasgow as it was painted by a local female artist who lives in the city. Standing in front of the work you are struck by the size and vibrant colour of the painting. It stops you in your tracks and draws you in. It's a stunning piece and I've no doubt it will be an immediate draw for our visitors.

Over the last ninety-two years, the generosity of the Hamilton Bequest has acquired ninety Scottish, British, American and European oil paintings of international significance for Glasgow Museums. I am sure I am speaking on behalf of many people in this city when I say it is hard to express our depth of gratitude to the Hamilton family for their incredibly generous bequest and to the Trustees for their expert judgment in securing some of our best loved artworks for the city, works which continue to be enjoyed by millions of people every year.
Oil paintings acquired by the Hamilton Bequest include works by prominent Glasgow Boy William Kennedy, an important early piece by Scottish artist Joan Eardley, Interior - The Orange Blind by Scottish Colourist F C B Cadell, considered by many to be his finest work, Monet's View of Ventimiglia and one of Kelvingrove Art Gallery and Museum's most popular works The Young Girls by American Impressionist Mary Cassatt. There are twenty-eight paintings currently on display in Kelvingrove Art Gallery and Museum with others on show at Riverside, People's Palace, Glasgow Museums Resource Centre and Glasgow City Chambers.
The donors were John Hamilton, a storekeeper, resident in Glasgow and his two sisters Elizabeth Millar Hamilton and Christina Brown Primrose Hamilton. At John Hamilton's death in 1904, he left his estate to his sisters on the agreement that when they died the proceeds be used to buy oil paintings for Kelvingrove Art Gallery and Museum, to further augment the collection. In 1901 a new art gallery opened in Kelvingrove Park, a fittingly grand venue for the city's growing museum collection. The bequest didn't come into effect until 1927 when the last sister, Christina Hamilton, died. In recent years the Trust has partnered with other funding bodies such as Art Fund, Heritage Lottery Fund, FOGM and private donors to best realize the Bequest's assets.
To celebrate almost a century of collecting by the Hamilton Bequest for Glasgow Museums there will be a series of regular talks and tours on key works over the coming year. The first will be delivered by artist Victoria Morton on Soliton at Kelvingrove Museum on Tuesday 23 April.
Further information on individual paintings acquired by the Hamilton Bequest can be found at Glasgow Museums Online Collections http://collections.glasgowmuseums.com/