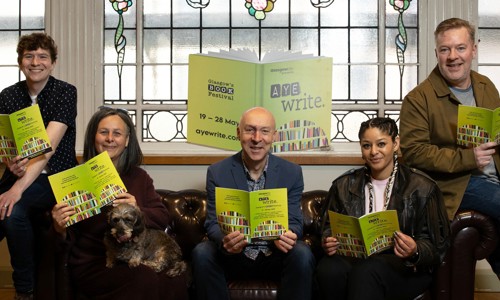 One week to go to Aye Write, Glasgow's book festival!
One week to go to Aye Write, Glasgow's book festival!
It's now just a week until Aye Write, Glasgow's book festival, which starts on Friday 19 May and runs until Sunday 28 May.
The much-loved celebration of books and literature makes its highly anticipated return this year with a vibrant, packed programme featuring 120 events and 175 authors from Scotland and around the world.
Ahead of the event, some of the authors included in the stellar line-up of established and emerging writing talent got together today in Glasgow at Waterstones, a sponsor of the festival, to promote the programme.  The authors at the Sauchiehall Street store were Chris Brookmyre, Sara Sheridan, Charlie Connelly, Layla-Roxanne Hill, and Callum McSorley. (Please see below for details of images available.)
At the Aye Write sessions they are taking part in, audiences will have a chance to hear them talking about their work and recent titles: Chris Brookmyre's The Cliff House, Sara Sheridan's The Fair Botanists, Layla-Roxanne Hill's Black Oot Here: Black Lives in Scotland, Charlie Connelly's Attention All Shipping, and Callum McSorley's Squeaky Clean.
Other well-known names in this year's festival include Alastair Campbell, Ruby Wax, Janey Godley – in conversation with former First Minister Nicola Sturgeon MSP, Val McDermid, Cameron McNeish, Josie Long – in conversation with Frankie Boyle, Robin Ince, Aasmah Mir, Darren McGarvey, Polly Toynbee, and Sally Magnusson.
Spanning fiction, non-fiction, memoirs, biographies and poetry, the Aye Write programme covers an extensive range of topics. The diverse range of content themes cover true crime, music, inequalities and prejudice, inspirational women, politics, health and wellbeing, the environment – and much more.
In addition to entertaining book-loving audiences with events exploring written work, the programme's Getting Creative workshops are designed to nurture and encourage literary talent, with sessions for beginners' giving guidance on structure, plot, character and dialogue. For more experienced writers there are masterclasses as well as insights from a panel of publishing industry experts and two sessions to support individuals interested in submitting creative work for this year's Kavya Prize.
Aye Write is produced by Glasgow Life, the charity which delivers culture and sport to enhance mental, physical and economic wellbeing, and is funded by The National Lottery through Creative Scotland.  
Full details of Aye Write's programme and events, with links to book tickets can be found on the what's on page of our website 
Print copies of the programme are also available from Waterstones branches.