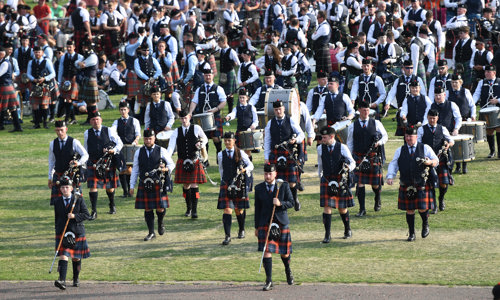 One week to go until Glasgow welcomes the 2023 World Pipe Band Championships!
One week to go until Glasgow welcomes the 2023 World Pipe Band Championships!
As Glasgow gears up to wave goodbye to the UCI Cycling World Championships, preparations are gathering pace for the city's next global competitive event.
It's now just a week until The World Pipe Band Championships – a spectacular highlight of Scotland's annual cultural calendar that's always highly anticipated and extremely popular.
This year's 'Worlds' will be held on Friday 18 and Saturday 19 August in Glasgow Green. This will be the 75th anniversary of Glasgow hosting the renowned championships for the first time, in 1948.
As the planet's flagship pipe band contest, the annual event brings together thousands of pipers and drummers from all over the world for the ultimate 'battle of the bands'. It attracts thousands of supporters and spectators to experience the contest live. Around 40,000 spectators descended on Glasgow Green to watch 146 bands compete for the 2022 world champions title, which was won by Northern Ireland's Field Marshal Montgomery Pipe Band.
The event – which is filmed by BBC Scotland and streamed over the internet – also attracts huge virtual international audiences, reflecting the level of global interest in Scotland's national music.
Competition for the 2023 Worlds promises to be even more fiercely contested than last year as the number of bands and nations taking part has increased. Spectators can look forward to a vibrant, memorable experience and great entertainment that will culminate in the impressive traditional march past of all the bands before the winners of the two-day contest are announced.
Highlights of the striking sights and stirring sounds that visitors can expect at this year's Worlds include:
190 bands, representing 15 countries, taking part. The A to Z line-up of nations competing, from Australia to Zimbabwe, features: Australia (5 bands), Belgium (2 bands), Canada (12 bands), Eire (8 bands), England (6 bands), France (2 bands), Israel (1 band), Malaysia (1 band), Netherlands (1 band), New Zealand (4 bands), Northern Ireland (21 bands), Oman (2 bands), Scotland (116 bands), USA (8 bands) Zimbabwe (1 band). More details on the bands can be found here.
Around 8,850 pipers and drummers amassing on Glasgow Green (based on average number of band members) – all resplendent in their band uniforms of kilts in a variety of vibrant tartans, worn with sporrans and Glengarry bonnets.
Just under 40,000 metres/40 km/25 miles of tartan kilt fabric. (Based on premium, traditional length. The length of material used in a kilt can vary from between 5 metres to around 7.5 metres).
Competitors ranging from juveniles and novice juveniles to experienced seniors.  Around 40% of the competitors are under 21; the youngest are in their early teens and the oldest are in their 70s.
Bands playing a wealth of traditional Scottish musical pieces. Playing requirements differ according to the band's grade, from march time signatures at lower levels to MSRs (a set of tunes consisting of a march, a strathspey and a reel; three different simple time metres) or musical medleys of varying durations, at higher levels. Grade 1 bands play MSRs and a medley.
103 trophies awarded across the 9 contest grades – plus the ultimate World Champions title.
The championships are staged on behalf of the Royal Scottish Pipe Band Association by Glasgow Life, the charity which delivers culture and sport to support mental, physical and economic wellbeing in Glasgow. Supported by funding from EventScotland, the Worlds are taking place alongside Glasgow's international piping festival, Piping Live! – the 20th edition of which runs from 12 to 20 August.
Royal Scottish Pipe Band Association Chief Executive, Colin Mulhern, said: 
Now that we've begun the final countdown to this year's Worlds on the weekend of 18 and 19 August, excitement really is mounting and we can't wait to welcome everyone to Glasgow Green.

Ticket sales have been going extremely well, reflecting how popular the championships are – not only with the international piping community but also with fans of traditional Scottish music. It's always a spectacular event so I'd urge as many people as possible, even if they are completely new to the Worlds, not to miss it. There's still time to book to join us to experience the unforgettable sights, sounds and atmosphere of this year's contest.
Ticket and event information for The World Pipe Band Championships can be found here.
Glasgow Life Chair, Bailie Annette Christie, said:
Glasgow is renowned as a world-class destination for cultural and sporting events, and this summer's exceptional choice, including The World Pipe Band Championships, showcases that superbly and shines the global spotlight on our city.

Coinciding with the annual Piping Live! festival, the Worlds are the highlight and focal point of a week of traditional music events in the city. Their combined impact is extremely important to, and valued by Glasgow as they further enhance its cultural profile, boost tourism by attracting thousands of competitors and spectators, and contribute significantly to our economy. We are very proud of the continued success of these much-loved celebrations of piping and Scottish culture, and look forward to welcoming bands, supporters and audiences from near and far for this year's Worlds.
Paul Bush OBE, Director of Events at VisitScotland, said: 
I am delighted that EventScotland is once again supporting The World Pipe Band Championships through our International Funding Programme. Showcasing a harmonious combination of tradition with talent, Scotland is once again ready to welcome a huge range of competitors from across the world to Glasgow for a contest of skill, and a celebration of culture, heritage and music that spans generations.

Having events of this scale in our calendar further strengthens Scotland's position as a world-leading events destination and reinforces Scotland's place as the perfect stage for events. I wish the 2023 Championships, and everyone taking part, every success and I'm sure audiences will once again revel in the sounds that echo the past, present and the future.