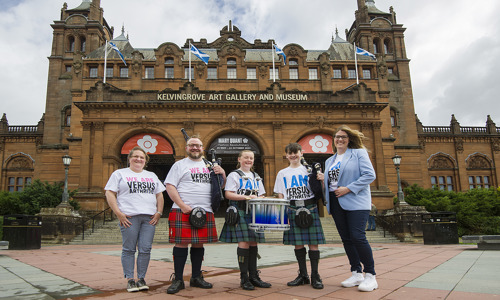 Piping Live! Big Band returns with new route for 2023
Piping Live! Big Band returns with new route for 2023
The Piping Live! Big Band will return for its sixth showcase at this year's festival, as pipers of all ages and abilities are invited to take part in the mass participation event.
On Monday 14 August around 150 pipers will gather, ranging from young learners playing their chanters to seasoned professionals with years of piping experience. The bespoke Big Band will walk the streets of Glasgow's West End for the first time this year as it performs a repertoire of tunes that everyone can play. The procession starts at Mansfield Park in Partick at midday, parading down Dumbarton Road and Argyle Street before culminating at the concourse outside Kelvingrove Art Gallery and Museum.
The Piping Live! Big Band is open to anyone who plays a practice chanter, bagpipes, snare, bass or tenor drum, or is a drum major. All ages are welcome, with past events welcoming people aged 8-86, and players can sign up at www.pipinglive.co.uk.
The Big Band is a way of bringing together pipers who are not otherwise taking part in the festival, allowing them to be a part of the prestigious Piping Live! line-up. Leading the parade once again this year will be Piping Live! Artistic Director and the Director of Piping at the National Piping Centre, Finlay MacDonald, as well as some of the National Piping Centre's world-renowned teaching team.
Finlay MacDonald said:
We're so excited to bring the Piping Live! Big Band to Glasgow's West End this year. It's always such a treat to see so many pipers and drummers of all ages and abilities come together to perform, filling the streets with music. We have musicians coming from far and wide, and it's just wonderful to see everyone united by their love of Scottish music. We're raising money for a fantastic cause that's close to some of our piper's hearts so I'm very proud to be leading the band once again this year.
Bailie Annette Christie, Chair of Glasgow Life and Glasgow City Council Convenor for Culture, Sport and International Relations, said:
The Big Band parade is a real highlight of Piping Live! – both for all those taking part and everyone spectating. Seeing pipers of all ages and at every level coming together to play is always wonderful, but being able to watch them joining forces to march as one as they parade through the streets of our great city is extra special. The feel-good factor of this memorable occasion is increased too by knowing it is raising much-needed funds for a deserving charity.

With Piping Live! and the World Pipe Band Championships – the pinnacle of the international piping competition calendar – both taking place in Glasgow in August, the city and Scotland definitely deserve the title of the global home of piping. These events increase and enhance our international reputation as a world-class destination and are always extremely popular with visitors from near and far. I have no doubt that this year they can look forward to an even more spectacular celebration of traditional Scottish music and culture as Glasgow resounds with pipes and drums.
Since its inception in 2016, the Piping Live! Big Band has worked in partnership with a chosen charity and this year the festival is delighted to be working with Versus Arthritis. Everyone who registers to be part of the Big Band will make a donation as the majority of the entry fee is donated, aside from the cost to cover the very eye-catching event t-shirt. The Piping Live! website also provides a link to donate specifically from this event if individuals would like to contribute more.
Lauren Bennie, Head of Scotland at Versus Arthritis, said: 
Versus Arthritis is thrilled to be working with Piping Live! this year to celebrate the music that brings such energy and unity into our communities, whilst raising awareness about the impact arthritis can have on our lives.

1.7 million children, young people and adults live with arthritis and other musculoskeletal (MSK) conditions in Scotland. For many, the pain and fatigue of arthritis can dominate and destroy significant aspects of life, including mental, financial and social wellbeing. It's vital that Versus Arthritis can provide the support that people with arthritis need in Scotland and across the UK, so our loved ones can live without pain dominating their lives, and every donation helps make a difference.
Paul Bush OBE, Director of Events at VisitScotland, said:
The sound of the massed pipes is quintessentially Scottish so it's great to see the Big Band return to Piping Live! as it celebrates its 20th edition, supported through EventScotland's International Funding Programme. This event is the perfect celebration of traditional and contemporary piping, with Glasgow providing the perfect stage to host visitors, both local and international, as they join the festivities.
Piping Live! 2023 takes place from Saturday 12 - Sunday 20 August. The world's biggest piping festival annually attracts over 30,000 attendees to Glasgow and this year Piping Live! hopes to bring in even more visitors, as it celebrates two decades as a cornerstone of the Scottish cultural calendar.
Tickets and more information are available at www.pipinglive.co.uk.