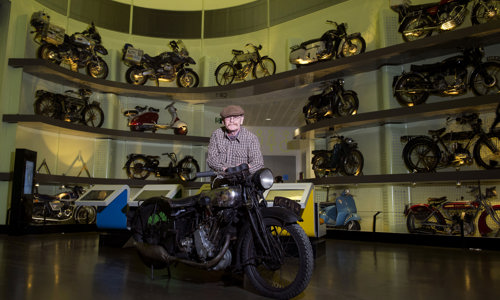 Rare vintage 'survivor' motorcycle makes its debut at Riverside Museum
Rare vintage 'survivor' motorcycle makes its debut at Riverside Museum
The striking BSA Sloper was donated to Glasgow Museums in 1985 by John Broadfoot, whose father James acquired the bike on 30 June 1931, registration number GG 4184.
One of 87 motorcycles in the city's collection the 87-year old bike is unique in that it remains entirely original. Many vehicles in Glasgow's world-class transport collection have undergone a period of delicate restoration, benefiting from new parts and paintwork. In contrast the BSA Sloper, which takes its name from its distinctive forward-tilting 'sloping' engine, has been lovingly conserved in preparation for going on public display.
Glasgow Museums conservation specialists, aided by a conservation volunteer, have spent some 700 hours removing rust, returning the striking polished chrome bodywork to its original condition and stabilising vulnerable parts. This careful, time-consuming effort has ensured the classic motorcycle, which proudly displays the signs of wear and tear and a life well lived, can be enjoyed by generations to come.
Chair of Glasgow Life, Councillor David McDonald said:
We are very grateful to John for his generous donation to the city's collection. Together with the stunning motorcycle we have taken ownership of a number of related items, including the bike's original log book and archive photos from the 1940s that show the Broadfoot family on board, which have been crucial in understanding the significance of the BSA Sloper.

In its beautifully conserved condition, which hints at a bike that afforded its owner James and his family a number of wonderful adventures, we are proud that this survivor is making its debut on Riverside's much-loved Motorbike Wall for all to see.
John Broadfoot was at Riverside Museum with Glasgow Museums transport curator Neil Johnson-Symington to see the motorcycle he donated being lifted into position on the Motorbike Wall. The conservation and display was made possible thanks to the support of WM Mann Foundation.
John Broadfoot added:
I am so happy to see my father's bike on show in the Riverside Museum. My dad would be incredibly proud. I have such fond memories of him running the Windsor Store on Great Western Road in Glasgow, it was just like the shop in Open All Hours. When he took a break from the store we would all climb aboard the bike, which was originally fitted with a sidecar, and head to Loch Lomond. That was some 68 years ago, so it's wonderful to see the bike again today in all its original glory.
The BSA Sloper is regarded by Hugo Wilson, Classic Bike magazine's former editor as one of the world's 300 'Hot Bikes' – "a class leader, an acknowledged champion." In its well-worn condition, having travelled some 33,502 miles under Jimmy Broadfoot's careful ownership, specialists describe a motorcycle of this state and age as a 'survivor'. Visitors can view the bike as it was when it was last ridden on the streets of Glasgow in 1967. 
The motorbike joins the city's collection of 87 motorcycles which span the years 1899 to 1994, representing the evolution of bike design and technology through motorised tricycles, bubble cars, scooters, tourers, commuters and racing bikes. The collection includes legendary marques by BSA, Ducati, Harley-Davidson, Honda, Matchless, Triumph, and Glasgow's very own Victoria. Glasgow Museums aim to ensure exhibitions and displays reflect the past, present and future.