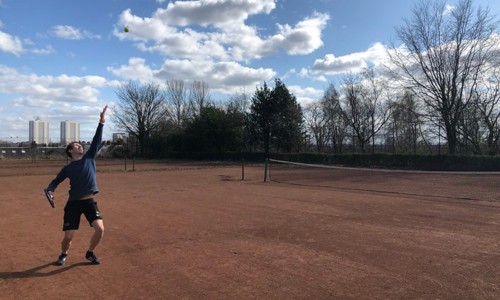 Refurbishment of Maryhill tennis courts gets under way
Refurbishment of Maryhill tennis courts gets under way
Work began this week on a long-awaited refurbishment of the red blaes tennis courts in Maryhill Park, with plans in place to create three new full-size and floodlit macadam courts, and four mini courts.
Funded by Glasgow City Council, sportscotland, Judy Murray and other local partners, the project has also been driven by the Friends of Maryhill Park group and the newly-minted Maryhill Community Tennis Club.

Affordable public courts which are embedded into local communities are vital for making tennis more accessible to Glaswegians, and getting citizens more active. Upon completion, these courts will remain free to play, along with Glasgow Life's other outdoor tennis courts across the city.

Bailie Annette Christie, Chair of Glasgow Life and Convener for Culture, Sport and International Relations for Glasgow City Council, said: "We are delighted the refurbishment of the Maryhill tennis courts is now under way, and have been so encouraged by the strong partnership working between all parties involved.

"Glasgow Life is committed to improving the mental and physical wellbeing of local communities, and we know the new courts in Maryhill will go a long way towards helping us achieve that goal. This wouldn't have been possible without the strong relationships between partners, and we look forward to continuing to work with the Friends of Maryhill Park, Maryhill Community Tennis Club, Judy Murray, sportscotland and all local partners as the refurbishment progresses and we start to make plans for getting more people using the new courts."

Since 2013, local group Friends of Maryhill Park has championed the courts and worked hard to raise awareness and create more opportunities for the local community to get together, using the tennis courts as a focal point. As the desire to refurbish the courts became stronger, Glasgow Life worked with the local group to explore funding avenues and all parties were delighted when tennis mum legend Judy Murray and her now-retired Foundation took an interest in the project.

Since the Judy Murray Foundation became involved, two local men have been trained by the Foundation and are now qualified tennis coaches. For the last two years around 60 primary school kids from the local area have been coached every week, free of charge, by the two local dads and a wider team of volunteers
Friends of Maryhill Park and Maryhill Community Tennis Club co-Chair, Sarah Howitt, said: "This project is all about community, and bringing local people together. Tennis is seen as an elite sport, but five year olds don't know that - they just know that the coaches teach them really fun games.

"We have kids from all over Maryhill and Summerston coming every week, and they've all been given a free racquet. For them, it's all just fun. When the Judy Murray Doundation came along, it wasn't all about building infrastructure. They made it very clear that the whole thing would only work if we had a 'workforce' in place to run it. Training coaches and keeping the kids interested, even without courts, was key."

And now, along with the refurbishment of the courts, the Maryhill Community Tennis Club has been born. The club - a registered charity - will manage the courts in partnership with Glasgow Life, supported by Friends of Maryhill Park.