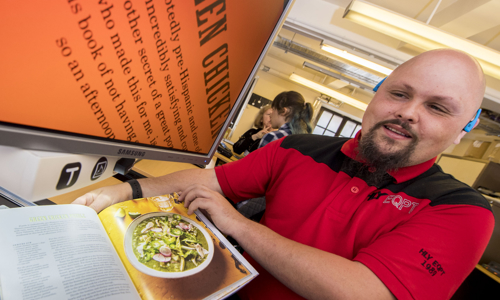 Resource Unit for Vision Impaired People and RNIB celebrate joint anniversary with pop-up display
Resource Unit for Vision Impaired People and RNIB celebrate joint anniversary with pop-up display
How do you enjoy a book if you are blind?
Today (Thursday) Glasgow's Mitchell Library will showcase the evolution of reading materials for blind and low-vision people, from sets of long-playing records, to heavy magnetic tape, cassettes and CDs, and now digital downloads.
The pop-up display, devised to jointly mark the 30th anniversary of the library's Resource Unit for Vision Impaired People (RUVI) and the 150th anniversary of national sight loss charity RNIB, demonstrates both bodies commitment to making sure the pleasures of a good read can be shared by those with sight problems.
Sandra Wilson, chair of RNIB Scotland, said:
For many people with sight loss like myself, reading is an absolute lifeline, a way of combating isolation and keeping in touch with the outside world. However, only a small proportion of books published commercially are available in formats such as audio or braille.

RNIB's Talking Books library of over 30,000 titles lends out audio-books free of charge. The first one we recorded in 1935 was 'The Murder of Roger Ackroyd' by Agatha Christie. But when the service began a single book had to be recorded on up to ten 12-inch long-playing records.

Although records proved popular, they were bulky and fragile. Tape-players were introduced after the Second World War, and later cassettes. Today, Talking Books can be downloaded to a smartphone or tablet, without the need for specialist equipment, or can be borrowed on USB stick and then played on a wide variety of devices, both simple and advanced.

The reader can skip through chapters as easily as someone would skip through the pages of a physical book, or change the speed of their reading by altering the speed of the playback. But this only happened because RNIB kept pushing for technology to accommodate the needs of people with sight loss.
Ann Hamilton, who has worked as a Research Officer at The Mitchell Library's RUVI for the last 23 years, said: 
The Mitchell Library's RUVI has been assisting blind and low vision users to independently access a range of different reading materials for more than 30 years.

For many, reading is a lifeline that helps define who they are and their relationship with the world around them. Reading empowers people to lead independent lives, and enhances all aspects of their lives from work to play."

But blind and partially sighted people have to make an extra effort to obtain books in formats they can access, although technology to support blind and low vision library users to read has changed dramatically in the last three decades. Through the RUVI we have always introduced people to new technology to help them enjoy the benefits of reading, be that with the ZoomText and JAWS speech technology, electronic braille or audio books.
Glasgow Libraries was the first Scottish library authority to develop a Resource Unit for Vision Impaired People (RUVI) in 1988. This vital facility at The Mitchell supports more than 900 users experiencing sight-loss to access a range of printed and online information every year.
The Reading Then and Now – From Dots to Digital exhibition takes place in the Mitchell Library between 12-3pm on Thursday, 27th September. Entry is free.
For further information on the RUVI, or to have a demonstration of equipment or arrange a chat about how Glasgow Libraries can assist, telephone: 0141 287 2920 or email: libraries@glasgowlife.org.uk