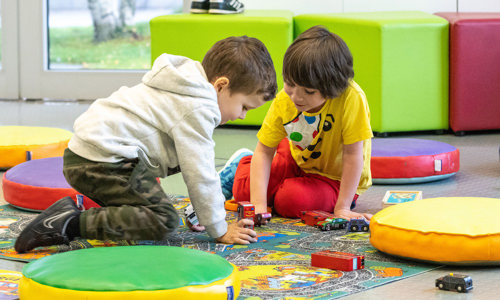 Riverside Museum shortlisted for national Family Friendly Museum Award
Riverside Museum shortlisted for national Family Friendly Museum Award
Riverside Museum in Glasgow has been shortlisted for the Kids in Museums Family Friendly Museum Award.
Charity Kids in Museums has run a prestigious annual award for 16 years, recognising the most family friendly heritage sites in the UK. It is the only museum award to be judged by families.
From late March to early June, families across Scotland and the whole of the UK voted for their favourite heritage attraction on the Kids in Museums website. A panel of museum experts then whittled down hundreds of nominations to a shortlist of 16 venues.
Riverside is vying against just one other attraction, the National Maritime Museum, London in the Best Large Museum category.
Lyn Mooney, Learning and Access curator at Riverside said:
Museums shortlisted for the Kids in Museums Family Friendly Museum award are nominated and judged by families, which makes it even more special.

Riverside is home to Glasgow's world-famous transport and technology collection, which seems to spark children's imagination in many ways. It's a fantastic accolade to be one of only two finalists in the Best Large Museum category. It reflects the hard work of the team, who constantly refresh the displays on show to ensure families want to return time and again. We hope more families will hear of Riverside through this nomination and come and visit us.
Over the summer holidays, the museum will be visited by undercover family judges who will assess the shortlisted museums against the Kids in Museums Manifesto. Their experiences will decide a winner for each award category and an overall winner of the Family Friendly Museum Award 2022. The winners will be announced at an awards ceremony in October.
Riverside is free to enter as is the Tall Ship Glenlee situated beside the museum.  Highlights include a 1900 recreated Glasgow street with shops, pub and subway station and a huge transport collection from cars and trains to skateboards and wheelchairs.  Spend time marvelling at the vehicles and ships and  discovering the stories of the people behind them.