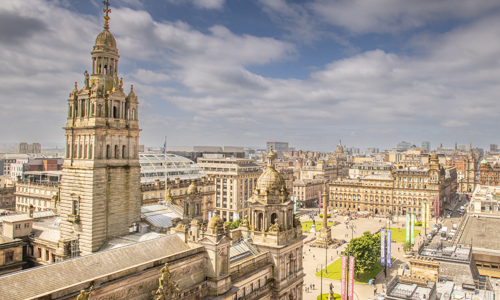 Scotland to host opening two stages of the OVO Energy Tour of Britain
Scotland to host opening two stages of the OVO Energy Tour of Britain
The opening two stages of the OVO Energy Tour of Britain in September will take place in Scotland for the first time in modern history, as Glasgow and Dumfries & Galloway hosts Stage One on Saturday 7 September, before the action switches to the Scottish Borders for Stage Two on Sunday 8 September.
Stage One will see the world's top riders tackle a 201-kilometre (125-mile) opening leg from George Square in Glasgow city centre to the town of Kirkcudbright in south west Dumfries & Galloway.  
Action will then resume a day later as the Scottish Borders hosts an entire stage of the OVO Energy Tour of Britain for the first time, with Stage Two starting and finishing in the centre of Kelso, with a 166-kilometre (103-mile) route taking in Coldstream, Duns and Melrose. 
Paul Bush OBE, VisitScotland's Director of Events, said:
The OVO Energy Tour of Britain is part of a portfolio of world-class cycling events taking place in Scotland and we're delighted to be hosting the opening two stages of this year's event.

Events plan a vital role in our visitor economy and as long-term partner of the tour, EventScotland is proud to continue its support in 2019. With more than 2,000 miles of the National Cycle Network covering the country, the event provides the perfect stage to showcase this to an international audience of cycling enthusiasts.
The opening stage will complete a loop of Glasgow city centre before heading south through Renfrewshire, East Ayrshire and South Ayrshire before crossing into Dumfries & Galloway. 
While September 2019 is the ninth occasion that Dumfries & Galloway has welcomed a stage finish of Britain's biggest professional cycle race, it will be the first time that the event has visited Kirkcudbright. 
Having regularly hosted starts and finishes of the OVO Energy Tour of Britain since 2011, the Scottish Borders will host their first complete stage of the race this September, with the entire route of Stage Two within the region. 
Starting from Kelso town centre, the leg will complete an anti-clockwise loop via Coldstream, Chirnside and Duns before heading, via the Scott's View climb, to Melrose and around the Eildon Hills, before a fast run back alongside the River Tweed to the cobbled finish in Kelso. 
Kelso hosted the finish of Stage One in 2017, when Caleb Ewan headed home the field in a thrilling finish. 
Councillor David McDonald, Depute Leader of Glasgow City Council and Chair of Glasgow Life, added:
When the Tour of Britain Grand Depart was last hosted by Glasgow in 2016, thousands of people lined the city streets to see elite riders and teams in action as they set off on the first stage of the competition. I'm sure this year will be no different.

Glasgow has a proud sporting history – and was recently announced as one of the top five sporting cities in the world. I can't think of a better place to begin such an iconic race than the world-renowned George Square in the heart of our city.

The Tour of Britain presents cycling fans with an unparalleled opportunity to see their favourite teams and riders take to the roads through their very own city, and I know the people of Glasgow are very excited to see this event in just a few months!
Councillor Adam Wilson, Dumfries and Galloway Council's Events Champion said:
The attractive town of Kirkcudbright, a renowned artists' town with its beautiful coastline nearby, is a fitting stage finale for day one of the 2019 Tour of Britain.

Kirkcudbright will be a great destination for tour visitors, and makes a great weekend away in unspoiled Galloway. The cycling experience too is superb in Dumfries and Galloway, with our scenic quiet roads and world renowned 7stanes mountain bike trails. We look forward to hosting our ninth Tour of Britain stage finish and, as the home of Kirkpatrick Macmillan, who invented an early form of the bicycle in 1840, it feels like cycling is coming home.
Councillor Mark Rowley, Scottish Borders Council's Executive Member for Business and Economic Development, said:
We are delighted to be able to bring this event back to the Scottish Borders for the seventh time in 10 years and are especially pleased to host the whole stage, which will emphasise why we are Scotland's leading cycling destination.

We look forward to welcoming visitors from across the country for Stage Two of this year's OVO Energy Tour of Britain, with The Square in Kelso being the perfect stage for the start and finish and entertainment for all the family throughout the day.
Both Scottish stages will feature three intermediate Eisberg Sprints, sponsored by the UK's number one alcohol-free wine brand Eisberg, and three SKODA King of the Mountains climbs, supported by official car partner SKODA.
Craig Burn, Scottish Cycling Chief Executive, said:
At Scottish Cycling, we are thrilled to welcome the Tour of Britain back to Scotland. To have not one, but two stages of the race will provide cycling fans multiple opportunities to watch some brilliant bike racing and showcase Scotland's unique landscape. Membership of Scottish Cycling continues to grow with more than ever people riding bike. We know that major events such as elite stage races, are key in achieving our mission to develop a nation of cyclists.
Commenting on the announcement OVO Energy Tour of Britain Race Director Mick Bennett said,
Having the opening two stages in Glasgow and the south of Scotland will make for a great opening weekend for spectators to enjoy and we hope that many take this opportunity to plan a visit around both days.

George Square is a fitting location to start our national tour from, while we are looking forward to our first visit to the charming town of Kirkcudbright. We know Kelso and the beautiful Scottish Borders very well and are excited that we can host a full stage within the region for the first time.
Following the pair of Scottish stages the OVO Energy Tour of Britain will move to the North East of England, with a North of Tyne stage heading from Berwick-upon-Tweed to the city centre of Newcastle Upon Tyne on Monday 9 September, Stage Four begins from South Shore Road in Gateshead, crossing the Pennines for an uphill finish in Kendal, Cumbria on Tuesday 10 September. 
The 2019 OVO Energy Tour of Britain finishes overall in Manchester city centre on Saturday 14 September.  ITV4 will once again screen live free-to-air coverage of each stage, along with a nightly highlights programme of the best of the action. 
The OVO Energy Tour of Britain is British Cycling's premier road cycling event, giving cycling fans the opportunity to see the world's best teams and riders competing on their doorstep and helping to build a great cycling nation.