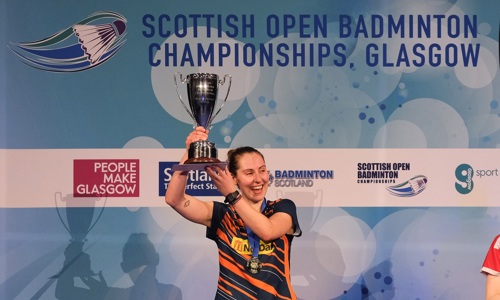 Scottish Open Badminton Championships tickets go on sale
Scottish Open Badminton Championships tickets go on sale
Elite international sporting action will be returning to Scotland this Autumn in the form of the Scottish Open Badminton Championships, being staged at Glasgow's Emirates Arena from 25-28 November.
The Scottish Open was one of many events forced to take a hiatus last year, but the third oldest tournament in world badminton is back and tickets are now on sale.
The event will be operating at a significantly reduced capacity with spectator numbers limited to 1500 a day and testing procedures in place.
Up to 400 elite athletes from across the globe are expected to descend on Glasgow in November, among them top Scottish stars Alex Dunn and Adam Hall. The pair are aiming to defend the men's doubles crown they won spectacularly back in 2019 and can't wait to get back to performing in front of their home fans again.
"I'm super excited to get back to the Emirates and play in front of our amazing crowd again!" said Hall.
"I always play some of my best badminton at the Scottish Open and I'm really looking forward to hopefully giving the Scottish fans something to cheer about."
And it's not just the players who are looking forward to a return of elite sporting events.
Following an uncertain 18 months, ticket prices have been frozen at the 2019 level and there is a range of ticketing options available to suit all budgets. In recognition of the support Badminton Scotland has received from the badminton community over the course of the pandemic, we are also pleased to be offering some fantastic discounts on tickets to our members.
Badminton Scotland CEO Keith Russell said: "We are delighted to be able to launch ticket sales for the Scottish Open today and I am hopeful that the whole badminton community in Scotland will welcome the return of our flagship event to the calendar."
"But we also recognise the difficulties many people have experienced over the course of the past 18 months, which is why we decided to hold prices at 2019 levels despite some of the rising costs caused by the pandemic.
"It is also important to us to be able to recognise the support the badminton community has shown us with some great discounts available in the form of Membership and Supporter packages, which would be well worth checking out."
Offers will be available for a limited time and can be accessed by all new and existing members. To join Badminton Scotland and access member benefits, head to our website www.badmintonscotland.org.uk/membership/
Tickets are on sale from https://www.eventbrite.co.uk/e/scottish-open-badminton-championships-2021-tickets-172607011217