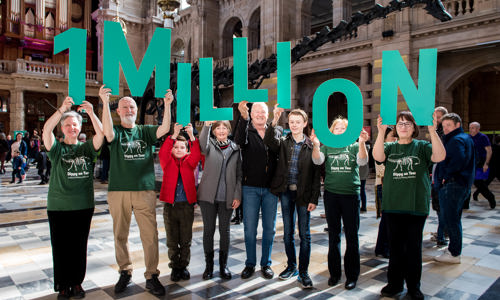 Smash hit: Dippy on Tour surpasses one million visitors milestone
Smash hit: Dippy on Tour surpasses one million visitors milestone
                   Smash-hit Dippy on Tour surpasses one million visitors milestone

Dippy on Tour: A Natural History Adventure has been visited by more than one million people, breaking records at every venue visited so far. Never before on public display outside of London, the Natural History Museum's iconic 26-metre-long Diplodocus cast, Dippy, is travelling the length and breadth of the UK until late 2020 on a nationwide tour.
Dippy is currently on display at Glasgow's Kelvingrove Art Gallery and Museum, the fourth stop of the eight-venue-tour. Since his Scottish debut on 22 January over 450,000 people have marvelled at the iconic diplodocus.
The tour originally aimed to introduce 1.5 million people to the awe-inspiring dinosaur cast, helping inspire the next generation of scientists and encourage families to explore nature on their doorstep. Now as the tour reaches the halfway point Dippy is already well over halfway towards achieving his ambitious goal.
Dippy on Tour: A Natural History Adventure is being brought to visitors across the UK by the Natural History Museum in partnership with the Garfield Weston Foundation, and supported by Dell EMC and Williams & Hill.
Director of the Natural History Museum, Sir Michael Dixon says:
We are thrilled with the news that Dippy has been seen already by one million visitors. His success at the first four venues has been beyond our expectations. Not only has he broken visitor number records at every venue, Dippy has had a huge social and economic impact, benefiting the surrounding communities.

All of our partner venues have put on fantastic supporting exhibitions and worked with other local organisations to create a programme of activities which have so far helped to inspire tens of thousands of children to go on Dippy-themed adventures in the great outdoors. With four venues left on the tour in Newcastle, Cardiff, Rochdale and Norwich we have no doubt that Dippy will continue to draw crowds and thrill children.
Philippa Charles, Director of the Garfield Weston Foundation, says:
We are absolutely delighted that one million people have been enthralled by Dippy in Dorchester, Birmingham, Belfast and now Glasgow. We hope that he continues to inspire visitors to think about and explore the wonders of our natural world in the remaining four stops of his tour.
Reaching this major milestone follows a succession of smash-hit appearances. At Dorset County Museum, yearly visitor numbers tripled in under three months with Dippy being seen by 153,189 people, providing a £2.25 million boost to the local economy.
At Birmingham Museum & Art Gallery's he was the most successful temporary exhibition ever, attracting 140,000 additional visitors to Birmingham's city centre who ultimately spent £4.2m in the city. This success was recently referred to as the "Dippy phenomenon" by the Association of Leading Visitor Attractions (ALVA) who cited the dinosaur as a reason for the increase of 38% (831,548 visits) to Birmingham Museum and Art Gallery.
Continued successes were seen at Belfast's Ulster Museum who reported the highest number of visitors ever for an exhibition in a single day (4,200) and received 130,000 visitors overall. Now as Dippy reaches one million visitors mark whilst in residence at Kelvingrove Art Gallery and Museum, he has set another visitor record. With almost half a million visitors so far, the museum has achieved its highest number of visitors to a temporary exhibition to date.
Chair of Glasgow Life, Councillor David McDonald, said: 
The response to Dippy on Tour at Kelvingrove Museum has been incredible. Almost half a million people have come and wondered at this marvellous creature. We are delighted Dippy will add the title of millionaire to his many achievements here in Glasgow, a city that has really taken him to our heart. It's a fantastic overall number, which we expect will only grow during the last four weeks of his stopover in Glasgow.

Don't forget there is still time to see Dippy in Glasgow before he stomps off to Newcastle, where we are sure he will amaze many thousands more people.
Dippy will be on display at Kelvingrove Museum until 6 May. His next destination, the fifth on the tour, will be the Great North Museum, Hancock, Newcastle upon Tyne, where he will be in residence from 18 May - 6 October 2019.