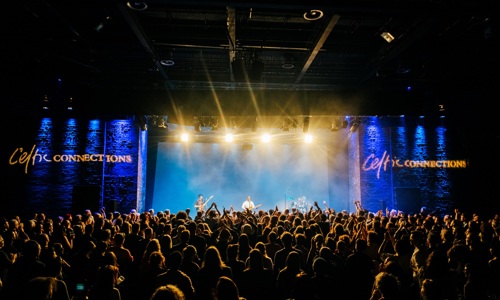 Spectacular 30th edition of Celtic Connections draws to a close
Spectacular 30th edition of Celtic Connections draws to a close
Europe's premier folk, roots and world music festival Celtic Connections drew to a close last night after 18 days of spectacular concerts, unique and powerful collaborations and captivating screenings. Performances from some of the world's most celebrated artists were showcased across the festival's unforgettable 30th edition.
The world-renowned event, which ran from Thursday 19th January to Sunday 5th February, was held without restrictions for the first time since 2020, staging more than 300 events with more than 100,000 attendances at 25 venues across Glasgow, from the famous Glasgow Royal Concert Hall to the Mackintosh Church in the west end and Tramway in the southside. For 2023 there was also over 10,000 attendances at an array of free events across the 18 days.
The festival paid homage to the last 30 years and to the artists who have been involved with the event since its beginning, as well as providing a fantastic platform for future generations of talent to grow and flourish in the decades to come.
One of the many highlights of the festival was the 30th Opening Concert, which over a three hour period celebrated Celtic Connections' rich history and the Zeitgeist of the day with a once-in-a-lifetime line-up spanning everything from contemporary dance to punk-inspired folk rock.
Elsewhere, Róisín Reimagined saw award-winning Irish singer Muireann Nic Amhlaoibh and the Irish Chamber Orchestra team up for an exciting new project that combined Muireann's exceptional vocals with fresh orchestral arrangements of sean nós songs, breathing new life into the noble, classical music of 16th-19th century Gaelic Ireland.
Another notable performance came from Rise Kagona, the founder, lead guitarist and the only remaining member of the mega-successful Zimbabwean rock band The Bhundu Boys.
One of the most successful contemporary folk musicians from Finland, Maija Kauhanen, also combined her expressive voice with Finnish kantele when she performed at The National Piping Centre along with talented accordion player and composer Andrew Waite.
London-based folk musician Rozi Plain also performed tracks from her upcoming fifth LP, Prize and local musician Terra Kin will present their debut EP Too Far Gone.
Other highlights included Malian husband-and-wife duo Amadou Bagayoko and Mariam Doumbia, who took to the stage with their rich and radiant blend of desert blues, Afro-pop, rock, disco and hip-hop. Hen Hoose, an all-female/non-binary songwriting collective, brought together an array of artists from across the creative industries and showcased groundbreaking new music. Man of the Minch, who has become one of the most exciting names at the forefront of Scottish folk music also performed tracks from his debut album, The Tide is at the Turning.
One of Mali's most beloved and dynamic artists Rokia Koné also gave her first live performance in the UK of her debut album Bamanan, which was named one of the New York Times Best Albums of 2022.
Cherish the Ladies, the all-female American supergroup which champions Celtic music, captivated audiences at Glasgow Royal Concert Hall, combining soulful singing, uplifting traditional Irish numbers and energetic dancing for a spellbinding show as they celebrated 38 years in the industry.
Showcase Scotland, a core event within the festival, highlighted international partners Brittany and Wales during the six-day programme which took place between Wednesday 25 January and Sunday 29 January 2023. The music industry event, which returned for the first time in two years, introduced delegates from across the world to the Scottish music sector, featuring this year's partners Spectacle vivant en Bretagne - EPCC, and Wales Arts International - Celfyddydau Rhyngwladol Cymru.
Donald Shaw, Creative Producer for Celtic Connections, said: "It has been incredible to celebrate the 30th edition of Celtic Connections and showcase folk, roots and world music, bringing communities from across the globe together in Glasgow. This year's festival was a huge success and the calibre of the artists was incredible.
"We are honoured to have brought Europe's largest winter music festival to audiences from all over the world for the last 30 years. This year, we paid homage to all the musicians and artists who have contributed to Celtic Connections over the past three decades. We can't wait to return in 2024 and once again bring music from around the world to the heart of Glasgow."
Glasgow Life Chair, Bailie Annette Christie, said: "The contribution Celtic Connections has made over the past three decades, and continues to make, to Glasgow's reputation as a world-class cultural events destination and celebrated UNESCO City of Music, is immeasurable. Having grown exponentially in both scale and standing, the festival has attracted many hundreds of thousands of visitors to our city, boosting our economy whilst giving such pleasure and so many opportunities to so many artists and audiences from both near and far.
"Featuring an exciting, diverse, international showcase of outstanding musical talent, this year's Celtic Connections has truly been a wonderful celebration of its special anniversary and incredible 30-year legacy that we can continue to build on in future years.
Culture Secretary Angus Robertson said: "I want to extend a massive thank you to the organisers for what was a fantastic celebration of Celtic music, promoting traditional and contemporary Scottish culture. The wide range of performers from around the world really made this 30th festival one to remember."
Celtic Connections began in 1994 when it offered 66 events at one venue. It has since grown more adventurous, experimental and diverse each year, with an unwavering ambition to showcase the very best traditional folk, roots, Americana, jazz, soul, indie and world music and nurture unique local, national and international cultural partnerships.
Next year's festival will take place from Thursday 18 January - Sunday 4 February 2024.