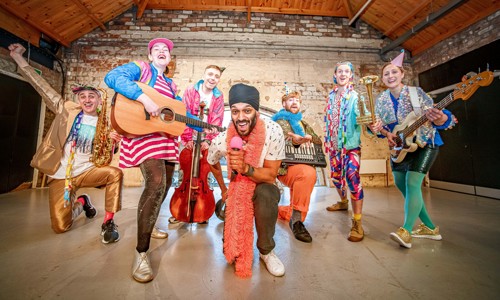 Tramway celebrates Sprogmanay
Tramway celebrates Sprogmanay
A musical New Year was celebrated at Tramway, Glasgow on January 5, with two family-friendly rock concerts aimed at under-fives and their parents. The Sprogmanay shows featured Sprog Rock – an interactive live music experience for young children – and leading beatboxer, Bigg Taj.
Together, the musicians presented an eye-popping, live music set designed to be as much fun for grown-ups as for youngsters.
Held on the first Sunday of 2020, the event marked a back-to-their-roots moment for a band originally formed at Tramway by Katy Wilson during an arts residency organised by Starcatchers – Scotland's national arts and early years organisation. Working with nursery-aged children and professional musicians, Wilson set up Sprog Rock: a group dedicated to creating live music that both adults and children can enjoy together.
Shying away from the "kiddie" approach to children's entertainment, Sprog Rock's popularity saw them continue to perform around the country after the residency had ended and today, the eight-strong line-up consists of Geraldine Heaney, Greg Sinclair , Kim Donohoe, Rory Clark , Liam Chapman , Susan Appelbe, Peter Lannon and Ronan McMahon.
"The way that people of all ages can relax and genuinely enjoy the same event is a beautiful thing," says Katy Wilson. "Children can see a different side of their adults and vice versa.
"We are always experimenting with what music children really like, and what music children and adults might enjoy together. And at the Sprogmanay shows, the band played some familiar tunes people could sing and dance along to, and some that they have created with children in nurseries around Scotland."
The Tramway concerts included Happy New Year by Abba, a tune from 1980s Scottish band, Orange Juice … and some Beastie Boys-inspired nursery raps. 
For the Sprogmanay events, Sprog Rock were joined by leading beatboxer, Bigg Taj, who is at the forefront of the Asian hip hop movement, having worked with Jurassic 5, GZA, Methodman & Redman, EPMD and Grandmaster Flash. He is also part of a duo with rapper Spee Six Nine and increasingly in demand by leading Scottish theatre-makers.
A big hit with children and adults, both shows sold out quickly and the musicians played to full houses … providing a sparkling start to 2020.
IMAGE: Sprog Rock rehearsing with Bigg Taj (centre). Photo by Brian Hartley