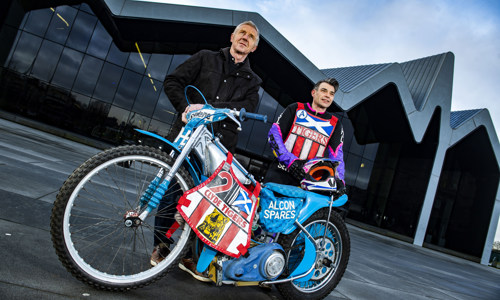 Steve Lawson's legendary Glasgow Tigers motorbike makes its debut at Riverside
Steve Lawson's legendary Glasgow Tigers motorbike makes its debut at Riverside
One of Glasgow Tigers' legendary speedway motorcycles has taken pride of place on Riverside Museum's iconic Motorbike Wall.
Steve Lawson, the most successful rider and longest serving captain in the club's history, watched as the bike on which he led the Tigers to victory so many times, was lifted into position. The museum's annual motorcycle rotation was a wonderful opportunity for a touching reunion with Stuart Coleman.
Coleman's father, Mel Coleman, who owned Parkhead Autospares and Strathclyde Training Services sponsored Steve Lawson, inspiring a young Coleman to pursue his dream of becoming a champion racer. Steve Lawson retired from a record-breaking run with the Glasgow Tigers as Coleman began his speedway career. The bike passed from Steve to Stuart, who also went on to ride with Glasgow Tigers.
The Antig-Framed Weslake Speedway 500 cc motorbike was donated to Glasgow Museums in 1990 by Glasgow Tigers Supporters Club. It is now a star object on Riverside's popular motorbike wall, which presents over 100 years of motorcycle history, from the Beeston Humber of 1903 to Ewan McGregor's BMW R1200 of 2007.
The bike was built by Stuart Coleman to represent Steve's achievements throughout three decades with a Westlake engine from the 1970-80's and the antig Westlake rolling chassis from the 1990's. As a young rider it was cheaper to buy second hand, Steve was the consummate professional and his equipment was immaculate, as a result most of Stuart's bikes had first belonged to Steve. Stuart's first race at home was in 1988, after a number of years racing and a period overseas Stuart returned to Glasgow Tigers and took up the position of youth team coach. In 2019 they were the first Scottish team to win the Northern junior league 4 team tournament.
Chair of Glasgow Life, Councillor David McDonald said:
We are very grateful to Glasgow Tigers Supporter's Club for their generous donation to the city's collection. Steve's bike was previously on show at the old museum of transport and I know many speedway enthusiasts are delighted to see it make its debut at Riverside.

Steve Lawson enjoyed a glittering speedway career. It's a fast and furious sport and I'm amazed at the speed racers can achieve. However, I think that like me, many people will be pleased to have an opportunity to admire the bike in all its glory rather than seeing it fly by on the track.
Steve Lawson added:
I rode for Glasgow for 14 seasons, spending the majority of my career there. So I feel honoured that my bike's going on display in the Riverside Museum. Speedway's a minority sport and it's great to give it mainstream exposure.

Seeing the bike again fills me with happy memories. Riding for Glasgow was a great time for me – the fans were very welcoming, generous and made me feel wanted. I became part of the furniture! I remember the fans used to do a 'Stevie Lawson chant' which stood the hairs up on the back of my neck – that was really touching
Stuart Coleman said:
As a Glaswegian I've always loved the transport museum. As a kid we visited regularly and I continue to do so now with my own children. It's with a real sense of pride that I'm part of this tribute to the legend that is Super Steve Lawson, Glasgow Tigers best ever rider. I'm sure it will inspire future generations of young riders to see for themselves the proud history and achievements speedway has in the city. It's a joy to see the bike on display at Riverside and hopefully we'll see some of the people from Riverside visit us at the home of Glasgow Speedway
One of 87 motorcycles in the city's collection the bike is unique in that it characterises Glasgow speedway's enduring legacy across the years – a machine representing Steve's 15 years racing with the Glasgow Tigers and assembled by Stuart who was only just starting out with the club. Speedway bikes have no brakes, one gear, a clutch and 500cc engines, which run on methanol fuel and can accelerate from 0 to 60mph in 3 seconds, which is faster than a Formula 1 car. Riders race as fast as possible four times, anti-clockwise round an oval circuit of about 300 metres in length, at speeds of up to 80mph.
Formed in 1928, the club adopted the Tigers nickname in 1946. Steve Lawson made his debut appearance for the Tigers in 1974 aged 16, officially joining the team for the 1977/78 season.  In 1978 he topped the Tigers leader board and was instrumental in securing them a win in the Scottish Cup. Between 1 August 1980 and 19 June 1981 Steve scored fourteen straight league maximums at the track in Blantyre, meaning he went 60 straight league races undefeated by an opponent at home. This astonishing feat has never been achieved by any Tigers rider since.
In 1982 Steve won the first ever race at Craighead Park. That season he scored 520 points from 36 league matches, a feat which took him into the Guinness Book of Records for amassing the most league points ever scored by a rider in a season. Today this remains the largest amount of points scored by a Tigers rider in a single season.
After a difficult year the Tigers were re-born in 1988 at Shawfield Stadium in Glasgow. Steve Lawson won the inaugural race. Later that year he went on to win the Scottish Open at Powderhall, the last Tigers rider to win the event. Steve was captain of the Tigers from the beginning of the 1981 season until he retired at the end of 1992, earning him the coveted title of longest serving captain in the club's history. He topped the Tigers averages in 10 of his 15 seasons with the club.
Riverside Museum shows off the breadth of Glasgow's world-class travel and transport collection through its multidisciplinary story displays.  The motorbike joins the city's collection of 87 motorcycles which span the years 1899 to 1994, representing the evolution of bike design and technology through motorised tricycles, bubble cars, scooters, tourers, commuters and racing bikes. The collection includes legendary marques by BSA, Ducati, Harley-Davidson, Honda, Matchless, Triumph, and Glasgow's very own Victoria. Glasgow Museums aim to ensure exhibitions and displays reflect the past, present and future.
For more information on Riverside Museum's iconic Motorbike Wall visit www.glasgowmuseums.com.