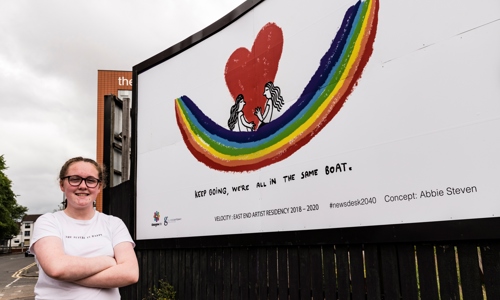 Teen's billboard message of hope for Glasgow
Teen's billboard message of hope for Glasgow
An ongoing arts project supported by Glasgow Life and Clyde Gateway has brought a message of hope via billboards across Glasgow in a collaboration between artist Karen McGrady-Parker and fourteen-year old East End resident Abbie Steven.
Karen McGrady-Parker has been an artist-in-residence for Glasgow's East End since 2018 as part of the Velocity Artist in Residence Programme. During the Covid-19 lockdown, McGrady-Parker's 'Newsdesk 2040' online project has encouraged East End residents to imagine the future and show 'how the planet can be healed – to create their invention for the future.'
In response, fourteen-year old Abbie Steven, from Barrowfield, designed the idea 'Happier Billboards make Happier Lives.' Her brief was to use the popular rainbow motif to create a positive message for the people in her community.
With support from McGrady-Parker, designers Farrell Ink, photographer Paul Hampton and illustrator Dani Labrosse, Abbie's design was scaled up and brought to the streets of Glasgow with the generous support of Clear Channel UK and Mostly Media North as part of their #PlatformforGood initiative.
The billboard posters are on display on London Road from now until the end of the year. Abbie has also distributed over 100 A4 prints of the artwork across the East End, with residents encouraged to make window displays.
Abbie Steven said: "People are dealing with the same problems and during these tough times we all have to stay strong. I hope that when people see my billboards it will brighten up their day, especially when they see the positive quote and the bright boat, to show that everyone is in the same boat together!
"I hope this helps people that I know, friends or family or strangers, people that want to be loved a little more than they already are. I want to thank everyone for helping make my idea come to life."
Karen McGrady-Parker said: "Everyone donated their skill and time; all believing in Abbie's idea and with a desire to be happily distracted during lockdown."

Chair of Glasgow Life, Councillor David McDonald, said: 
"It's wonderful to see how Karen and Abbie have worked together, despite the challenges of Covid-19 and lockdown, to create a meaningful and inspirational public artwork that sends such a positive message of hope to Glasgow's East End and the city more widely."

Velocity Artist in Residence Programme is funded and managed by Clyde Gateway and Glasgow Life with initial support also from Creative Scotland and Festival 2018.
Follow @VelocityEEARP #newsdesk2040 for news and updates about Karen McGrady-Parker's ongoing East End residency.
ENDS
Photo of Abbie by Paul Hampton