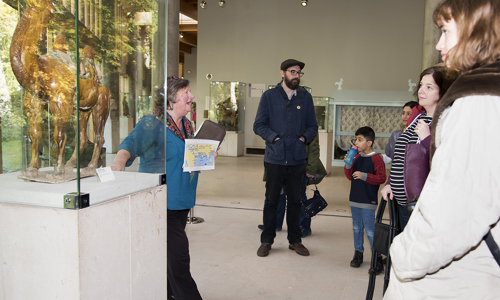 The Burrell Collection launches innovative volunteering opportunities
The Burrell Collection launches innovative volunteering opportunities
The Burrell Collection, reopening in March 2022, has launched a recruitment campaign for those interested in volunteering at the newly refurbished, world-class museum in Glasgow.
A range of new and innovative volunteering opportunities for local people have been introduced to encourage as many people as possible to get involved.
For the first time Glasgow Life, the charity who manage the museum, invites families who wish to share their passion for Sir William Burrell's incredible Collection to volunteer as a family group.
This innovative idea opens the benefits of volunteering to young people, nurtures a greater connection between the Collection and the next generation of visitors and removes the need for childcare for those adults who wish to participate. 
The Burrell Collection is also keen to hear from those for whom English is a second language. The entire philosophy underpinning the £68.25 million refurbishment is to foster greater links between local communities and the exquisite collection, which belongs to the people of Glasgow.
New displays offer enhanced digital interpretation in several languages widely spoken in Glasgow, including BSL. By offering guided tours in different languages it is hoped many more people will feel the museum is a place for them and a space they can engage with and enjoy.
Other initiatives designed to enable older or less mobile people keen to volunteer are being explored. These include having volunteers stationed at an artwork of interest rather than moving through the museum or introducing a buddy system that would allow people with dementia to continue to be involved in volunteering.
Those who volunteered at the Burrell before it closed for refurbishment and wish to continue doing so on reopening are being invited back for training and to reacquaint themselves with a much-loved museum.
John Rattenbury, Volunteer Guide Organiser for The Burrell Collection said:
Like many other volunteers and visitors, I wondered if the refurbished Burrell would still be the museum I knew and loved? But now, from all I have heard and seen the new Burrell will be amazing. With only a few months to go there is great excitement and enthusiasm for the opening of our 'new' world class museum.

It is a wonderful place to volunteer, and as a guide, it is an enormous pleasure to chat with visitors and seek to bring the wonderful objects in the collection to life for them. I would encourage anyone who has an hour or more to spare to find out more notwithstanding your current knowledge.
The benefits of volunteering are well documented and vast; increased confidence, making a difference, meeting people, being part of a community, learning something new, taking on a challenge or just having fun.
Councillor David McDonald Chair of Glasgow Life said:
Everyone knows the plus points of volunteering. It creates a sense of reward, purpose and self-worth. Be it small acts of kindness or larger ones like volunteering, it all helps connect people. This idea of connecting is at the very heart of the redesigned Burrell Collection and connecting with people through volunteering is a great way to boost mental wellbeing.

This breath-taking collection belongs to the people of Glasgow, something our citizens are rightly proud of. I hope they will take this opportunity to share it with the many visitors expected to enjoy a completely new day out experience at The Burrell Collection.
There will be several different volunteer roles available when The Burrell Collection reopens. These include helping at events, conservation activities and providing support to children and older people. Initially the volunteer recruitment campaign is hoping to recruit 50 volunteers, who will commence a 6 week training programme in February and March 2022. Additional opportunities will be available after the museum reopens in March 2022.
For more information visit https://www.glasgowlife.org.uk/volunteer-with-us/volunteer-with-museums
The Burrell Collection is due to reopen in March 2022, for more information visit www.burrellcollection.com