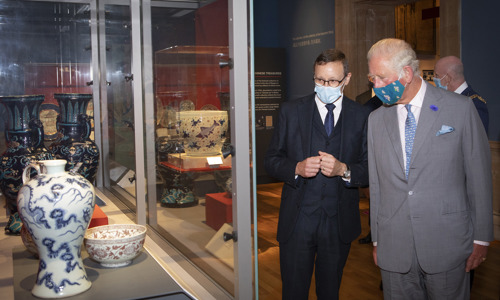 The Duke and The Duchess of Rothesay visit 'Burrell at Kelvingrove – Collecting Chinese Treasures'
The Duke and The Duchess of Rothesay visit 'Burrell at Kelvingrove – Collecting Chinese Treasures'
Six months ahead of the reopening of The Burrell Collection, in Glasgow, The Duke and The Duchess of Rothesay visited the breath-taking Burrell at Kelvingrove: Collecting Chinese Treasures.
The temporary preview exhibition, currently on display at Kelvingrove Art Gallery and Museum, presents a wonderful opportunity to explore world-class items from Sir William Burrell and Lady Constance's incredible collection, as the museum prepares to reopen in March 2022 following an ambitious building upgrade and redisplay. 
Burrell at Kelvingrove: Collecting Chinese Treasures is a carefully curated selection of masterpieces and very rare Chinese objects from The Burrell Collection. On show are 63 objects and works of art, each handpicked from around 1800 pieces of Chinese art, representing the third largest collection of its kind in Europe.
As one of the highlights of The Burrell Collection, The Duke of Rothesay viewed some of the wonderful porcelain, bronze and Jade from the Chinese Dynastic periods collected by Sir William Burrell, including Tang Dynasty tomb guardian figures, elaborate forms of ritual bronzes that are more than 2,500 years old and a rare Ming Dynasty blue-and-white tankard.
The couple stopped to contemplate one of the city's most famous paintings, Salvador Dali's Christ of St John of the Cross, before meeting members of Remembering Srebrenica Scotland. As Patron of Holocaust Memorial Day Trust, His Royal Highness was keen to speak with the group, who are currently hosting a Bosnian War exhibition in the museum, exploring Scotland's connections with the country during and after the war and revealing the stories of those who lived through it.
His Royal Highness went on to enjoy iconic Charles Rennie Mackintosh pieces in The Glasgow Style Gallery, were he spoke with students of the Glasgow School of Art, of which he is Patron. While The Duchess of Rothesay watched local children from Hillhead Primary participate in Glasgow Museums outreach programme. They discussed the importance of conservation, the impact of plastic pollution and protecting endangered wildlife in the popular West Court and Creatures of the Past gallery. The Duchess was able to see for herself the benefits of taking learning out of the classroom and making use of the wonderful museum collection on the school's doorstep.
The Duke and The Duchess of Rothesay were in Glasgow as part of a three-day tour of Ayr, Nairn and Inverness.
Picture: The Duke of Rothesay admires a rare Ming Dynasty vase, Hongwu period, 1368-1398.