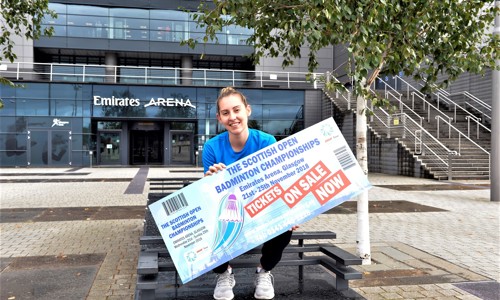 The Scottish Open Badminton Championships return to Emirates Arena
The Scottish Open Badminton Championships return to Emirates Arena
Kirsty Gilmour looks forward to defending her title as Scottish Open Badminton tickets go on sale
The Glasgow 2018 European Championships may still be fresh in the memory but Badminton Scotland and the City of Glasgow are already looking forward to the next big event.
The Scottish Open Badminton Championships will be held at the Emirates Arena from 21-25 November 2018 and Kirsty Gilmour is already looking forward to defending her women's singles title.
There was a veritable feast of badminton at the Emirates Arena last year. Not only did Gilmour win the Scottish Open for the first time, she also came within a whisker of a medal at the World Championships and today, as tickets for the Scottish Open 2018 went on sale, Gilmour was full of praise for the venue and the Scottish fans.
"The Emirates is a pretty special place for me. I've made so many great memories over the years, not just with the Scottish Open but also with the Commonwealth Games and the World Championships."
"There's no place like it and I can't wait to get back on court there with the best crowd behind me.
"I always have some pressure on me to perform well at the Scottish Open, especially this year as I'm aiming to defend my title. But I'll be prepared and looking to play well.
"Whether people are new to badminton or are already fans, the best way to watch is to come and see it live!"
With tickets for one of Europe's premier badminton events going on sale today, Badminton Scotland Vice President Frank Turnbull echoed Gilmour's sentiments: "Badminton really is a fantastic sport to watch live. It's incredibly fast and some of the power the athletes can generate is astonishing.
"The atmosphere at the Emirates Arena is also very special. The fans are a great source of inspiration and encouragement for the players and I hope we will see another packed crowd for the tournament this year"
Billy Garrett, Glasgow Life's Director of Sport and Events, said: "The Scottish Open is one of the highlights of the annual events calendar in Emirates Arena, and the crowds always provide a warm Scottish welcome to all the athletes.
"I'd encourage everyone to snap up tickets for this event, and to come along to provide home support for what's set to be some incredible badminton competition."
The Scottish Open is one of the leading European tournaments and will run for five days, starting on Wednesday, 21 November.
Tickets are on sale now and as a special incentive Badminton Scotland is offering an early bird discount for fans who book by the 8th of October.
To secure your seats or for further information go to www.badmintonscotland.org.uk
To volunteer at this event, please head to Volunteering with Badminton Scotland.