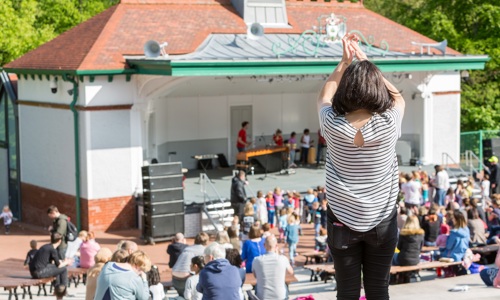 Three Weeks of Free Family Fun begins at Kelvingrove Bandstand
Three Weeks of Free Family Fun begins at Kelvingrove Bandstand
Music, Magic and a chance to take your place in front of the Mic are all on the line up this week as Kelvingrove Bandstand's Family Festival begins on Tuesday 3 July.
It's the start of three weeks of free family entertainment at the hugely popular venue in Kelvingrove Park.
Explore arts and crafts on the first of our Make It Tuesdays on 3 July, with Glasgow Museums and Ricefield Arts Centre (from 10.30am).
 Join award winning children's writers Mike Nicholson and Ron Fairweather for stories on 4 July at Wee Write! Wednesdays – a special summer outing for Glasgow's Book Festival for Children and Young People (from 10.30am).
Follow the Magic Trail on 5 July with the Thursday Kids Club. Start the trail at the Bandstand with the Glasgow Science Festival and the fantastic west end wizard Mark Walbank, then choose from events at Kelvingrove Art Gallery, Kelvin Hall or the Hunterian Museum to finish your magical journey (from 10.30am).
Friday 6 July is your chance to star on the stage of Kelvingrove Bandstand, when specially selected talented young people from across Glasgow will be invited to perform at the Kids Open Stage (from 2pm).
For the opening weekend of the Family Festival we will be welcoming an amazing line up of community talent. Merchant Sinfonia, Romane Cierhenia and Voicebeat Choir will provide the entertainment on 7 July at the Community Centre Stage (from 2pm), and then it's Big Band Sunday, with the Glasgow Senior Citizens Orchestra, Byers Road Big Band, Brass Aye? and The Berrie Big Band (from 1pm).
As a bonus there are free Yoga and Tai Chi sessions on Tuesday evening at 6pm and 7.30pm, and food and drink courtesy of Big Feed.
Councillor David McDonald, Chair of Glasgow Life and Deputy Leader of Glasgow City Council, said: "
With the schools' summer holidays in full swing, Kelvingrove Bandstand's Family Festival is a great way to enjoy days-out.

"With performances from community groups from across the city, readings by award winning writers, and the chance for some very talented young people to be centre stage among the first week highlights, there is a fantastic variety of activities on offer as our fantastic festival gets under way."
The Kelvingrove Bandstand Family Festival continues every day until Sunday 22 July.

To find out the full line up and plan your Family Festival days visit: https://www.glasgowlife.org.uk/arts-and-music/venues/kelvingrove-bandstand-and-amphitheatre
To apply to perform at the Kids Open Stage, send a quick clip to kgbandstand@yahoo.co.uk. Children must have permission from a parent or guardian to apply. Applications are open to children aged 11 to 17.  Applications close at 6pm on Tuesday 3 July.