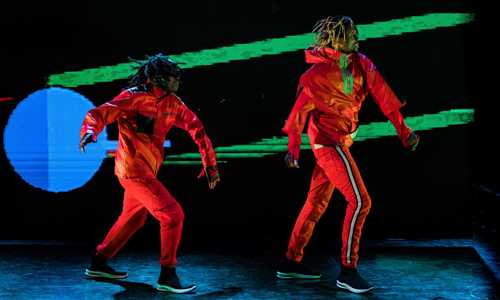 'Tramway Beyond Walls' at heart of venue's vibrant new summer season
'Tramway Beyond Walls' at heart of venue's vibrant new summer season
Launched today, Tramway's vibrant Summer season offers a packed programme featuring festivals, performances, visual arts and participation
Glasgow Life's Tramway has announced its summer season, including 'Tramway Beyond Walls', the venue's programme of events and creative participation beyond its physical limits. A diverse spread of performances and interventions promises something for everyone – including plenty of audience participation.
The Summer programme opens with AndroidX + MHz: Crowd_Ctrl, a free performance for all ages inspired by AndroidX (aka Malik Bright) and his experiences of busking with dance crew Dragonsquad: This high impact dance, sound and visual experience will get Queens Park Arena audiences on their feet. Meanwhile, Radio Ghost from ZU-UK is an interactive city centre audio game, part radio show, part ghost hunt, where audiences become players. Joel O'Donaghue's Brain, a meditation on memory loss and how it can change an individual's connection to society, will combine dance performance, knitting workshops - and cake! to venues around Tramway, soundtracked by local community choirs. Also exploring community and connection, Scrimshaw Projects' dance film Matrescence will be screened where it was filmed, with informal parents and babies' group Thula Mama during Lockdown, in East Pollokshields Quad; and there's more for families in Jenn Taggart's interactive outdoor dance performance Pebbles and Pathways (full info to be released later this summer). Live performance S/HE by Skye Reynolds and Khamlane Halsackda – two artists collaborating over two countries - takes Tramway Beyond Walls online as well.
In Tramway itself, the season of performance continues with two previews: Farah Saleh's A Wee Journey, a choreographed musical journey that shares Farah and her co-creators' relationship to migration, is staged ahead of its Edinburgh International Festival premiere; while Craig Manson's exhilarating GAYBOYS, where both the celebration and exploitation of queerness takes centre stage, comes to T1 for one night only before a much-anticipated run at the Edinburgh Festival Fringe.
Tramway also plays host to a number of supported events too: Starcatchers' Little Top, a first circus experience for babies; a showcase for some of the UK's best young contemporary dancers by YDance; and the return of Sufi Festival, with a bigger two-day programme for 2022; plus, inclusive arts festival Gathered Together, presented by Indepen-dance, Scotland's leading inclusive dance company.
Alongside its performance programme, Tramway's visual arts programme continues throughout the summer. Human Threads, a large scale, multi-sensory exhibition curated by the Edinburgh-based organisation Artlink is presented in partnership with Tramway, in the main gallery. Conceived as an accessible, creative experience informed by individuals with profound and multiple learning disabilities, the exhibition takes the form of an interactive landscape which invites audiences on a journey of light, sound, touch and smell via a series of sensory experiences, from the subtle to the dazzling. These include a huge silk sail which sways softly and sculptural lenses which project mysterious ever-shifting forms. A playful tower emits light, smoke and bubbles to mark the passing of time while a giant ramp translates sound into vibration, a gathering place where noise is made physical.
In the front gallery, and featuring a working karaoke booth, Gentle Battle is the debut solo exhibition of Paris-based artist, DJ, producer and performer Christelle Oyiri (b.France, 1992). Weaving together forgotten mythologies and the political nature of dance music, Oyiri's work looks for alternative ways to understand and un-braid the complex knot of history, identity and experience. Likening the exhibition to a concept album, she moves lightly and sometimes humorously across different historical and autobiographical positions in works such as War! Club! Action!, an ode to Douk Saga (1974-2006), the creator of the Ivorian-French musical genre called Coupé Décalé and the film Collective Amnesia (2018-22) which sets out to consciously 're-discover' Logobi an Ivorian local folk dance that became a working class black French youth phenomenon in Paris's banlieues (suburbs) in the late 2000s.
Human Threads is accompanied by a busy and varied programme of events in the gallery, such as live music from Red Note Ensemble, an appearance by Elvis impersonator Scott Haywood, and Jemima Thewes' Shadow Puppetry.
Jenny Crowe (Senior Manager, Tramway) said: "Tramway's summer season demonstrates a continued commitment to supporting and promoting the very best contemporary performance and visual arts, and bringing this exciting new work to the people of Glasgow, and beyond. Its Tramway Beyond Walls programme finds innovative ways to take art and artists into spaces outwith its theatres and galleries, and new ways for its diverse neighbourhood communities to encounter it."
Visit Tramway's website to see full listings>