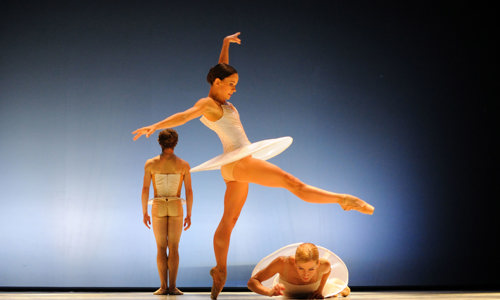 Tramway's new season of contemporary dance and performance
Tramway's new season of contemporary dance and performance
Cultural Revolution era China, an iconic Irish fiddle player, the centenary celebrations of the Republic of Estonia, and a link between architecture and mortality are among the inspirations for the new season of contemporary dance and performance at Tramway.
Artists appearing include China's first independent dance company, Beijing-based Living Dance Studio; one of the leading figures in Irish contemporary dance Colin Dunne; the Estonian National Ballet; internationally acclaimed company Neon Dance; and acclaimed artists including Joel Brown, Eve Mutso, and Aby Watson performing at Tramway's Unlimited Festival.
Tramway is a leading international art-space which commissions, produces and presents contemporary arts.
Highlights of the dance and performance programme for September to December 2018 include:
RED (Monday 1 October) a new documentary performance from Beijing-based Living Dance Studio, takes as its starting point The Red Detachment of Women - a ballet premiered in China in 1964 which was one of the works forming the official cultural canon during the Cultural Revolution. The original ballet tells the story of a peasant girl who flees enslavement to join a Red Army-led women's detachment, and blended Western ballet techniques with the fundamentals of Chinese classical and folk dances. Founded in 1994 by choreographer Wen Hui and filmmaker Wu Wenguang, the Living Dance Studio was China's first independent dance-theatre company, and this performance will be their Scottish debut.
Concert (Friday 12 and Saturday 13 October) from Once Off Productions brings together the work of two artists united by a deep appreciation of tradition yet compelled by the desire to break it apart. Colin Dunne is a leading figure in the world of traditional Irish dance, who has made the cross over into contemporary dance and theatre. In Concert he takes on the "undanceable" music of the late Tommie Potts - an Irish fiddle player and composer from Dublin who gained iconic status in traditional Irish music circles.
RED and Concert are presented in collaboration with Dance Umbrella.
Combining dance, immersive set design and a surround sound score PUZZLECREATURE (Friday 5 and Saturday 6 October) from internationally recognised dance company Neon Dance questions attitudes to ageing and the body. In this work, which is inspired by artist /architect duo Arakawa and Madeline Gins, the audience occupies the same space as three exquisite dance artists who drive the performance with wearable body sculptures from award winning Serbian fashion artist Ana Rajcevic.

Japanese artist Arakawa (1936-2010) and American poet, writer and philosopher Madeline Gins (1941-2014) delved into the concept of 'reversible destiny', a body of work about how architecture can empower humans to 'resist their own deaths'.

Tramway's Unlimited Festival (Wednesday 17 to Sunday 21 October) supports the development of practice, and platforms exciting new work by, disabled artists.
Performance and dance work presented includes 111 (Wednesday 17 and Thursday 18 October), a duet between Joel Brown, known for his work with CandoCo and Axis Dance, and former principal ballerina with Scottish Ballet, Eve Mutso. In this work the dancers move through different physical and skeletal structures that alter the relationship, vulnerabilities, power and virtuosity between them.
-ish (Friday and Saturday 20 October) is a new dance performance from Glasgow-based Aby Watson with various bodies of air: helium balloons, a space hopper and a human being. Made from the perspective of a dyspraxic choreographer, the work explores the subject of identity, disability and (in) visibility.
Tramway's Unlimited Festival is supported by the Unlimited commissions programme delivered by Shape Arts and Artsadmin, and supported by The Work Room
To celebrate the shared centenary in 2018 of the Republic of Estonia and Estonian National Ballet, Estonian choreographers Eve Mutso, Toomas Edur and Tiit Helimets present three short ballets - Echo, Silent Monologues and Time - performed by the Estonian National Ballet in a Triple Bill (16 and 17 November).
A Contemporary Dance Programme (13 and 14 November) featuring work by Estonian choreographers, Sigrid Savi, Mart Kangro and Karl Saks, will also be presented.
The Estonian performances take place as part of Estonia Now – visual art, film, contemporary dance and performance presented in Glasgow this November to celebrate the 100th anniversary of the Republic of Estonia.
Take Part at Tramway, an engagement programme featuring a wide range of talks and workshops, will give visitors opportunities to explore the work further.
Councillor David McDonald, Chair of Glasgow Life and Deputy Leader of Glasgow City Council, said: 
Tramway's exhilarating new season of dance and performance brings a dazzling range of international and Glasgow-based performers and companies to the venue's spaces.

"This diverse programme shares historical and deeply personal journeys, it celebrates cultural connections, and, throughout all the work presented, promises unforgettable performances for everyone to enjoy."
Tramway is supported by Glasgow City Council and Creative Scotland.
To find out more visit tramway.org