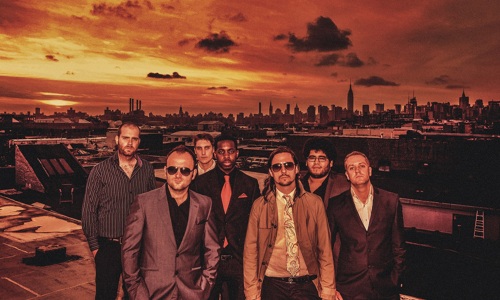 UNESCO International Jazz Day in Glasgow
UNESCO International Jazz Day in Glasgow
Around the world, Monday 30 April will be celebrated as UNESCO International Jazz Day.
Glasgow, a UNESCO City of Music, will be hosting our own celebration with a fantastic triple bill of Scottish jazz stars taking to the stage of the Old Fruitmarket from 7.30pm.
UNESCO International Jazz Day launched in 2012 in order to highlight jazz and its diplomatic role of uniting people in all corners of the globe.
The brilliant musicianship of Federation of the Disco Pimp, Fat Suit and Ray Harris will be staring at Glasgow's 2018 flagship event.

Federation of the Disco Pimp are a 7-piece band of Scots who are legendary for their endless energy and blistering live sets which combine elements of Old-School Funk, Disco, Psychedelic and Jazz.
Ray Harris is renowned for his ability to blend a unique mix of Acid Jazz, Latin, Disco and Soul with imprints of a distinctive 60s and 70s style and has supported such legends as the Godfather of Soul James Brown, Chic Ft Nile Rodgers, and the Average White Band.
Fat-Suit is a multi-genre music collective from Scotland with deep roots in Jazz, Funk and Soul. Their mission in life: to provoke maximum joy through exuberant performances and stunning recordings of original compositions.
International Jazz Day is celebrated annually on 30 April in more than 190 countries with around 1,000 events taking place.
Major events in New Orleans, New York City and Paris marked the launch of the International Jazz Day celebration in 2012.
Each year, the All Star-Global Concert, which features UNESCO Goodwill Ambassador and iconic jazz pianist Herbie Hancock and dozens of other internationally acclaimed musicians from around the world, is the culminating event of International Jazz Day.
The 2017 All Star Global Concert was hosted by actor Will Smith in Havana. The 2016 concert was hosted by then President Obama and Michelle Obama at the White House. In 2018, the All Star Global Concert will be held in St Petersburg.
Councillor David McDonald, Chair of Glasgow Life and Deputy Leader of Glasgow City Council, said:
"As a UNESCO City of Music, Glasgow is a fantastic place to live and visit for music lovers, and we are delighted to be presenting this highly anticipated show as part of a worldwide celebration of jazz.

"The virtuosity, energy and stagecraft of the musicians who will be performing in the beautiful and atmospheric setting of the Old Fruitmarket on UNESCO International Jazz Day this April is second to none.

"I would encourage everyone who loves jazz to join us on the night. And if you have never been to a jazz concert before, then this is a perfect occasion to give this superb music a try."
For more information and to buy tickets visit: www.glasgowconcerthalls.com or phone 0141 353 8000
To find out more about UNESCO International Jazz Day visit: https://jazzday.com/