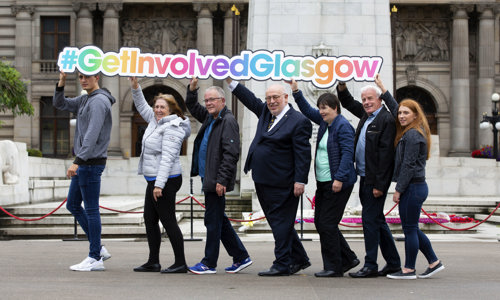 Volunteer recruitment opens for three major Glasgow events
Volunteer recruitment opens for three major Glasgow events
Today, 18th July, Glasgow Life has launched volunteer recruitment for the three next major sporting events to come to Glasgow; LEN European Short Course Swimming Championships, the LGT World Men's Curling Championship and UEFA EURO 2020.
Today, 18th July, Glasgow Life has launched volunteer recruitment for the three next major sporting events to come to Glasgow; LEN European Short Course Swimming Championships, the LGT World Men's Curling Championship and UEFA EURO 2020. Applicants can choose which event they'd like to be involved in, whether it's one, two or even all three! Taking place in one of Europe's most vibrant and welcoming cities, volunteers have the chance to get involved with some of the biggest international sporting events in the world.
Applications open Monday 22 July 2019 and will close on Sunday 25 August 2019 for a variety of roles including supporting spectators and visitors to the city during the events. Glasgow's reputation for its friendly, welcoming and supportive residents already shines through from the thousands of people who have previously volunteered at events like the 2014 Commonwealth Games and 2018 European Championships.
Bailie Norman MacLeod, Board Member of Glasgow Life, said:
Our city is one of the top five sporting cities in the world and this accolade has been achieved with the support of the thousands of enthusiastic and dedicated volunteers who engage with major sporting events every single year.

We also regularly top the tables when it comes to being one of the friendliest cities in the world, which won't come as a surprise to anyone who has experienced the warm Glasgow welcome at any sporting event in recent years. Our volunteers provide the first hello and last goodbye to event spectators, and they always ensure everyone leaves with a smile on their face.

The next three major sporting events in the city are set to be huge successes and I'd encourage anyone interested in volunteering to get involved!
Highlighting the positive benefits of volunteering for both physical and mental health, Rob Crerar, 63, from Helensburgh said,
For me, volunteering is about offering up your skills to help others: I can be the person to assist someone visiting our city for the first time, and that's very important to me.

Most importantly, it's very rewarding and you're guaranteed to make friends and learn new skills so don't overthink it and just give it a try.
Across all three events, more than 1,000 volunteers will participate in some of the biggest events in the world, providing support and a friendly, welcoming face to spectators, athletes, fans, staff and more.
Training is provided for each role and volunteers have the flexibility to request shift days which complement their existing schedule, whether it's after work, university or in their free time.
Mary Crearie, 52, from Balornock shared some advice for this year's applicants,
There's nowhere better in the world to live than Glasgow and so there's nowhere better to volunteer than Glasgow!

"We are all so proud of our city and events like these are the perfect opportunity to show it off on the world stage. Look at the different opportunities available and have a think about what you'd be best suited too – and then just go for it!
Each event will bring something unique and highly exciting to the city, with the first being LEN European Short Course Swimming Championships between 4-8 December 2019. Taking place at Tollcross International Swimming Centre, spectators will watch as European champions are crowned over five days of rip-roaring action in Glasgow, with swimmers competing in 40 short course medal events. Held every two years, the championships will take on further importance in 2019, as it will mark the event's 20th edition making it an extra special occasion for volunteers to participate in. With the chance to join official ambassador Hannah Miley and mascot Bonnie the Seal, the event is a fantastic opportunity to experience one of swimming's premier events.
Next on Glasgow's sports agenda is the highly anticipated LGT World Men's Curling Championship as it returns to the home of curling in 2020. Taking place at the iconic Emirates Arena between 28 March – 5 April next year, 13 teams from the UK, Europe, Canada, USA and Asia will compete in the annual event. The 2020 event will be the first time Scotland has hosted the event since 2000 making it a particularly exciting event for volunteers to be part of.
Completing the trio of international sporting events, UEFA EURO 2020 will grace the city next summer with Glasgow joining 11 other European cities as hosts to a very special 60th edition of the Tournament. As a host city, Glasgow will stage four matches at Hampden Park and offer an exciting programme of activity throughout the 31 days of the Tournament in what is the biggest-ever football event to come to Scotland.
The Volkswagen Mobility Maker Host City Volunteer Programme – which presents an entirely separate opportunity to UEFA's stadium-based volunteer programme – spans across the entire Tournament and will see volunteers facilitate fan movement, showcasing what Glasgow has on offer during the event while helping to contribute to the festival atmosphere and excitement of such a high profile, unique event for the city.
Volunteering also brings with it new friends, new experiences and lots of laughter, as described by a regular volunteer for the city's events Sandra Wilson, 58, from Carntyne
The rewards you get from volunteering will outweigh anything else. You'll also get your own fair share of stories to tell. During Glasgow 2014 I had to patiently explain to a group of Rugby 7s players that Sauchiehall Street was not, in fact, pronounced "Sausage Roll Street". Things like that will always keep you laughing and smiling. Volunteers are a happy bunch and the happiness spreads to everyone you meet.
Sandra's partner Robert Wilson, 57, from Carntyne said,
"Being born and bred in the east end, I'm fiercely proud of my city and I am always keen to promote Glasgow no matter where I am in the world. We've come so far and made such a name for ourselves in recent history – and these major events are the perfect opportunity to show off!"
George Thomson, Chief Executive of Volunteer Scotland said:
Hosting these mega sporting events will again offer Glasgow and its people the opportunity to shine. It's brilliant to see the organisers reaching out to all people to volunteer. We're delighted to work with Glasgow Life to remove barriers to ensure that everyone, no matter their circumstances, can fully enjoy their volunteer experience.
Volunteers can apply for all three events; LEN European Short Course Swimming Championships, LGT World Men's Curling Championship and UEFA EURO 2020 from Monday 22 July until Sunday 25 August here.
Buy tickets for LEN European Short Course Swimming Championships from www.euroswim2019.com
Buy tickets for LGT World Men's Curling Championship from www.wmcc2020.com/fan-packages-and-tickets/