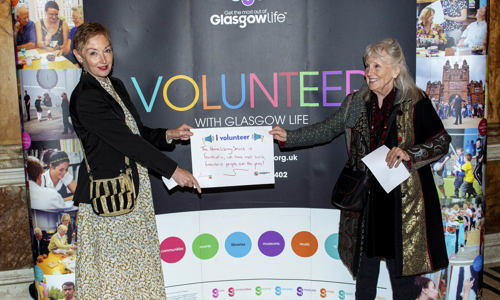 Volunteers donate 40,000 hours to the people of Glasgow
Volunteers donate 40,000 hours to the people of Glasgow
More than 500 volunteers gave over 40,000 hours of their time to the people of Glasgow during 2018/19, through a range of volunteering opportunities with Glasgow Life.
With Volunteers' Week (1-7 June) upon us, Glasgow Life, the charitable organisation that looks after the city's cultural, sporting and learning offer, is celebrating the Glaswegians who have helped support some of the city's most high profile events, including the 2018 European Championships, Celtic Connections, World Pipe Band Championships and Glasgow's book festivals Aye Write! and Wee Write!
And of course, it's not just the city's big events that have taken centre stage on the volunteering programme. People from across the city have given their time in libraries, community centres, museums, sport centres and music venues to support those affected by cancer, help people back into exercise and fitness and support individuals to get online, to name but a few of the more than 25 different volunteering initiatives offered every year by Glasgow Life.
Councillor David McDonald, Depute Leader of Glasgow City Council and Chair of Glasgow Life, said:
Volunteering has the power to change lives. I'm very proud that each and every year Glasgow Life provides numerous rewarding and supported opportunities for volunteers, at major sporting and cultural events as well as regular activities in libraries, museums, sport, arts and community venues throughout the city.

Over the last year, Glasgow Life volunteers have donated more than 40,000 hours of their own time to provide practical and emotional support to the people of our city. This is a phenomenal achievement and I'd like to thank each and every one of the more than 500 residents of Glasgow who have voluntarily committed their time for the people of Glasgow.
Lord Provost, Eva Bolander, said: 
Volunteering is a great way to meet people, support the city and learn valuable skills. Every day I see the difference volunteers make across Glasgow. This is a city that's world famous for its friendliness and hospitality. Our volunteers are in the front line delivering memorable visitor experiences at Glasgow Life venues and events. They're the people who help make Glasgow a great tourist attraction and top visitor destination. They do a fantastic job.
One person who knows how big a difference volunteering can make to the lives of others is retired firefighter John McPhail from Govan.
Referred to Glasgow Club Bellahouston's Live Active programme following a heart attack on Boxing Day 2015, John embarked on a journey back to peak fitness and began volunteering as a Glasgow Club Live Active Motivator in 2016.
John said:
I'd been fit all my days. I'm ex-army and was a firefighter for 19 years so the heart attack came out of the blue. I did six months at the hospital on their recovery scheme and was then referred to Live Active at Glasgow Club Bellahouston by the hospital staff.
John followed a tailor-made fitness programme for four months, where his positive attitude and friendly demeanour caught the attention of the Club's Live Active Advisor.
He added:
I followed the fitness programme designed for me for four months but then the Live Active Advisor said to me: 'everyone talks to you, John and I can see how well you get on with people. I'm looking for a volunteer to help me out with the referrals to the gym, to keep people motivated. Would you be interested?' And I've been doing that ever since.

Some people would only last three or four weeks at the gym and then just disappear. Now, I go round and just talk to folk who have been referred, people know me and they like to have a natter so keep coming back. And they talk to me about things that they maybe wouldn't talk to a staff member about. It's good to see.

It's just about helping out, and I like doing it. I like to see people coming along, gaining confidence and coming back. People start to open up and feel more confident. And I can relate to that. Since I lost my wife ten years ago I don't want to just sit at home bored by myself all day, and sometimes I'm there to just give people a wee push on. I'll go and have a wee talk and a laugh with people. Seeing that being here is helping other people helps me too, and I love it.
After a year of motivating people in the gym, John signed up to become a Live Active walk leader, leading weekly walking groups around Bellahouston Park, and also volunteers with Glasgow Club's Walking Football programme in the area. 
John said: 
I've helped people all my days, in the army and in the fire service. I've spent all my years helping people and all I'm doing now is just carrying that on. I'm now here five days a week.

The best thing about volunteering is helping people. It feels brilliant that I can see people coming on and coming out of their shell. And I know it's helping them. It's such a good thing to see that happening, and to know that people are keeping coming back because I'm here – it's amazing
John joined the Chair of Glasgow Life, Glasgow Life volunteers, staff and supporters at a special Volunteers' Week Civic Reception hosted by the Lord Provost at the City Chambers on Wednesday (5 June) evening.
For many charities across the UK, Volunteers' Week celebrations such as Glasgow's Civic Reception, are planned to thank volunteers and celebrate the power of volunteering, whilst providing a chance to showcase he range of volunteering opportunities on offer. Last year there were over 600 events across the country, from award ceremonies to tea parties and barbecues.
If you're interested in volunteering with Glasgow Life, or would like to find out more about the volunteering opportunities available across the city, please visit: https://www.glasgowlife.org.uk/volunteer-with-us