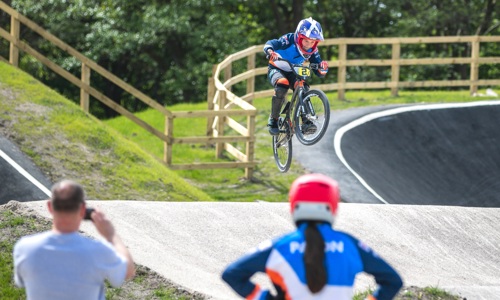 Western Titans take to new BMX centre in Glasgow
Western Titans take to new BMX centre in Glasgow
Scotland's newest biking facility is almost ready for action, as the £3.7m Glasgow BMX Centre in Knightswood is being 'bedded-in' ahead of the Glasgow 2018 European Championships in August - an exciting new multi-sport event bringing together some of the continent's leading sports.
Local riders from the Western Titans BMX Racing Club have been taking to the Olympic-standard track to ensure it's settled-in before the two days of BMX competition on Friday 10 and Saturday 11 August.
The new BMX Centre is the only permanent venue constructed for use in the Championships, and is Scotland's only World and Olympic standard BMX track. The completion of the venue means Glasgow is now the only city in the world with venues capable of hosting all four Olympic cycling discipline events (BMX, Mountain Biking, Road and Track) within its boundary.
Justine Cameron, Club Secretary for the Western Titans, said:
"The new track is absolutely immense – we were totally overwhelmed when we saw it for the first time. Riding on the track has been incredible as many of our riders have never seen an eight metre ramp before let alone ridden one: it means we can train at a completely different level than we were before."
National number one Molly Shearer (16) and number two Harrison Bell (10) are members of the Western Titans and Justine is clear that the new BMX Centre will only serve to help the youngsters build on their success.
She said:
"This Centre is exactly what Scotland needs. Having a facility like this is perfect for our young talent and I have absolutely no doubt that this track will produce medal winners."
The facility, which was funded by Glasgow City Council, sportscotland, Glasgow 2018, and HSBC/British Cycling, will be open for use by the local community after the conclusion of the 2018 European Championships. Glasgow Life will manage the facility on behalf of Glasgow City Council, and equipment will be available for hire.
Councillor David McDonald, Depute Leader of Glasgow City Council and Chair of Glasgow Life, said:
"Watching the construction of this new BMX Centre has been fantastic – it's hard to believe we've gone from the ground-breaking to riders being on the track in just six months. The feedback we've had from the Western Titans is brilliant, and I'm confident this Centre will be very well used by the local community. Having a world-class facility on our doorstep will help to inspire a new generation of young cyclists to take up the sport, leaving a lasting legacy for future generations.

"The venue will also be at the heart of the Glasgow 2018 European Championships - the biggest sporting event to be staged in Scotland outside of the Commonwealth Games. Bringing together some of the continent's leading sports, these Championships will celebrate an exciting new chapter in Glasgow's long and illustrious sporting history."
Sports Minister Aileen Campbell said:
"It is fantastic to hear such great feedback about the new BMX centre and it how it is already inspiring our young riders to even greater heights. It will be wonderful to see the venue as part of the European Championships this summer as well as in the longer-term when it can play its part in helping develop a new generation of Scottish sporting success."
Stewart Harris, Chief Executive of sportscotland, said:
"The BMX Centre in Knightswood marks the delivery of another significant sports facility for Scotland thanks to great partnership working with Glasgow City Council, Glasgow 2018 and HSBC/British Cycling, and investment from the National Lottery. We are delighted to have played our part in bringing this project to life.

This centre will not only allow Scotland to attract more major sporting events, but will also have a significant role to play in developing this exciting sport. By providing entry level access to beginners alongside top athletes honing their skills on world-class tracks, a new generation will be inspired. Most importantly, it will be an asset to the local community and it is terrific to see Western Titans already making it their home."
The main track accommodates riders of all ages and abilities, and features an eight and five metre start ramps for advanced riders and competition use. There is also a smaller pump track suitable for learners, and both tracks are fully floodlit. In addition, the BMX Centre features changing facilities, a meeting room, a car park and an access road from Archerhill Road.
Tickets for all Glasgow 2018 events including BMX can be purchased from http://glasgow2018.com/tickets and will be sold on a first come first served basis. BMX tickets start at £15 for adults and £7.50 for under 16s and over 60s.