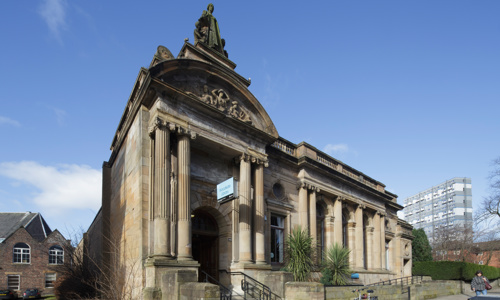 Woodside Library consultation gets underway ahead of £1.9 million improvement works
Woodside Library consultation gets underway ahead of £1.9 million improvement works
Woodside Library consultation gets underway ahead of £1.9 million improvement works
The charity Glasgow Life has launched a public consultation on how Woodside Library can serve its local community after a major refurbishment.
The library is set to receive a £1,965,000 investment thanks to Glasgow City Council's Community Asset Fund.
One of Glasgow's Carnegie libraries, Woodside Library has served the people of the city since 1905 and the refurbishment works will see the original dome restored, with heating systems renewed.
People who use and love Woodside Library now have the chance to have a say on how the investment into this much-loved library can be used to best serve the future needs of the community.
Councillor David McDonald, Depute Leader of Glasgow City Council and Chair of Glasgow Life, said:
Glasgow's public libraries have been cherished by its citizens for over 150 years, ensuring that through access to the power of reading, information and discovery we can help build better lives.

They are at the heart of how we support Glaswegians to better connect and engage with their communities, which is why, even in lockdown, we continue to invest in these vital neighbourhood resources.

This very welcome investment of almost £2million into Woodside Library reflects its importance to the diverse and changing needs of the local area. I would urge anyone with an interest in the well-being of the local community to give us their views on shaping the future of Woodside Library.
The survey will be open from Wednesday 20 January until Friday 12 February.
To have your say, please visit our website
From libraries to leisure centres, community centres and arts and music venues, Glasgow City Council's Community Asset Fund was developed to address priority projects across the city, helping to ensure that venues such as Woodside Library can continue to deliver a range of valued public services.
With libraries across the city currently closed due to enhanced level four restrictions, and in accordance with Stay at Home guidance in place across mainland Scotland, an online survey has been developed as the safest method of consultation.