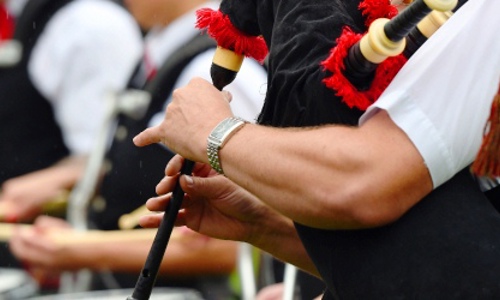 World Pipe Band Championships 2021 cancelled
World Pipe Band Championships 2021 cancelled
The World Pipe Band Championships 2021, due to take place at Glasgow Green in August has been cancelled. The event, which would normally attract around 200 bands from around the world to compete, is expected to return to Glasgow in 2022.
The World Pipe Band Championships is delivered on behalf of The Royal Scottish Pipe Band Association by the charity Glasgow Life and is supported by EventScotland, part of VisitScotland's Events Directorate.
It is the second year the World Pipe Band Championships have been cancelled because of the impact of the global Covid-19 pandemic. Before that it has been held in Glasgow every year since 1986.
Kevin Reilly, Chairman of the Royal Scottish Pipe Band Association said: "The World Pipe Band Championships is the competition where bands, pipers and drummers want to test themselves against the very best. It is a showcase for the best bands in the world and it is evident getting bands ready to play the toughest competition in the world and get them to Glasgow is impossible this year. Everyone involved is naturally disappointed but we remain hopeful we can stage The Worlds as we know them in 2022."
Dr Bridget McConnell, Chief Executive of Glasgow Life said: "The World Pipe Band Championships is an event Glasgow always looks forward to hosting and in conjunction with the RSPBA and EventScotland we had hoped another memorable occasion on Glasgow Green would be possible. Having taken time to explore several delivery options together, it is clear to all involved that we can't stage anything like the World Championships people know and love. We hope to be able to welcome bands and supporters back to Glasgow Green next summer."
Paul Bush OBE, VisitScotland's Director of Events, said: "The World Pipe Band Championships is the pinnacle of the piping calendar, bringing the world's best pipers and drummers to Glasgow Green to battle it out to be crowned champions of this spectacular event. While it is disappointing for everyone involved that this year's event won't be going ahead, we look forward to working with RSPBA and Glasgow Life to welcome bands back to Glasgow and Scotland for the Worlds in 2022."
Glasgow first hosted the World Pipe Championships in 1948. In 2019 195 bands from 13 nations competed in front of around 35,000 people bringing people from around the world to play and spectate boosting the economy in Glasgow and Scotland