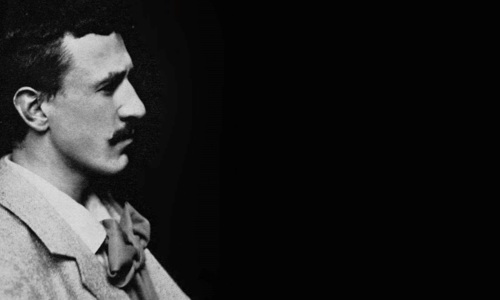 Year Long Programme of Special Events Launched to Celebrate 150th Anniversary of Birth of Charles Rennie Mackintosh
Year Long Programme of Special Events Launched to Celebrate 150th Anniversary of Birth of Charles Rennie Mackintosh
A year-long programme of events has been launched (14 December 2017) to mark the 150th anniversary of the birth of Charles Rennie Mackintosh.
Exhibitions, events, seminars and tours will take place across 2018 to celebrate the incredible legacy and creative genius of Glasgow's great cultural icon.
Mackintosh 150 is being co-ordinated by Mackintosh heritage partners from across Glasgow and beyond, who have come together to create a year-long celebration throughout 2018.

Highlights include a major exhibition at Kelvingrove Art Gallery and Museum, a programme of events at The Lighthouse and at Mackintosh Queen's Cross, as well as the re-opening of Mackintosh at the Willow, Miss Cranston's original Tea Rooms in Sauchiehall Street. The Glasgow School of Art, The Hunterian at the University of Glasgow, House for An Art Lover and the new V&A Dundee will all play host to dedicated event and exhibition programmes.
As well as commemorating his remarkable achievements, Mackintosh 150 provides a focal point in safeguarding Mackintosh legacy for future generations, inspiring more young people to take an interest in art and design and promoting the unique portfolio for visitors and tourists.
Mackintosh 150 takes place as multi-million pound investment in Mackintosh's built heritage continues at: The Glasgow School of Art, The Hill House in Helensburgh and the Sauchiehall Street Tearooms, while 2018 will also see restoration projects, such as the Oak Room at V&A Dundee, brought to life.
Born in Glasgow on 7 June 1868, Charles Rennie Mackintosh went on to be regarded as one of the most creative figures of the 20th century and a leading figure in both the Scottish Arts and Crafts Movement and European Art Nouveau.
An architect, designer and artist, Mackintosh left a legacy of magnificent work and is considered one of the principal exponents of the Glasgow Style. Glasgow is home to the world's pre-eminent collection of Mackintosh buildings, drawings and designs, which can be explored at venues across the city as well as at two key attractions in nearby Helensburgh.
Mackintosh's legacy has been identified as one of the drivers of the Glasgow Tourism and Visitor Plan to 2023, which aims to grow the city's economy by increasing overnight leisure tourism visits by one million over the next six years.


Event highlights from the Mackintosh 150 programme include: 


Charles Rennie Mackintosh: Making the Glasgow Style
Kelvingrove Art Gallery and Museum (30 March - 14 August 2018)
Glasgow Museums celebrates the anniversary year with a major, new exhibition at Kelvingrove Art Gallery and Museum.
Spanning the lifetime of Mackintosh, it will present his work in the context of Glasgow, his peers and contemporaries and how it contributed to creating the Glasgow Style.
The exhibition will present the very best of Mackintosh works held by the city. A number of objects have never previously been on public display, with many not seen for more than 30 years. Around 250 objects will be on display across the full spectrum of media, including stained glass, ceramics, mosaic, metalwork, furniture, stencilling, embroidery, graphics, books, interiors and architecture.
The exhibition will also include important loans from private and public collections including The Hunterian and The Glasgow School of Art.
Tickets go on sale from today (14 December 2017) and are priced at £7.00 and £5.00 for concessions. Group rates for UK and international tour operators will also be available. 


Charles Rennie Mackintosh's Oak Room: V&A Dundee
Unseen for 50 years, Charles Rennie Mackintosh's Oak Room is the largest of Miss Cranston's Ingram Street Tearooms and will be conserved and installed as the centrepiece of the new V&A Dundee's Scottish Design Galleries. The new museum will open to the public in the second half of 2018.
The conservation of the Oak Room is a collaboration between Glasgow Museums, V&A Dundee, and Dundee City Council. The project is being made possible by a long-term loan from the collections of Glasgow City Council, grant funding from the Heritage Lottery Fund and other fundraising. 


Scotland Street School Museum
Scotland Street School kicks off its Mackintosh 150 scheduling in March 2018 with "What I myself consider my own personal ideal" – a family orientated building tour exploring Mackintosh's fractious relationship with the school board and the mysterious symbols he incorporated into his design.
 
Councillor David McDonald, the Chair of Glasgow Life and Depute Leader of Glasgow City Council, said, "The legacy of Charles Rennie Mackintosh is part of the very fabric of Glasgow and his buildings, art and design are of international importance. It is absolutely right that we are coming together to celebrate the genius of his work while protecting and enhancing his achievements for the generations to come. Mackintosh 150 provides the focal point for enjoying a true giant of art, architecture and design and his place in our shared history."
Stuart Robertson, Director of the Charles Rennie Mackintosh Society, said, "We have created an exciting programme of events in 2018 for Mackintosh 150, with key highlights being the show at Kelvingrove and the opening of Mackintosh at the Willow on Mackintosh's birthday on 7 June.
"So many people have come together to mark 150th anniversary celebrations and we look forward to the citizens of Glasgow, as well as national and international visitors to the city, joining us in celebrating the genius of Mackintosh."
More information at: www.glasgowmackintosh.com/events