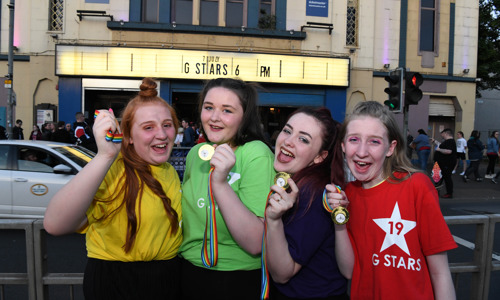 Young Glasgow singing stars wow crowds at O2 Academy
Young Glasgow singing stars wow crowds at O2 Academy
On Sunday (7 July) more than 50 singing stars aged 12-18 took to the stage at Glasgow's O2 Academy, in a bid to be crowned G-stars 2019 champion.
The talented troop, all part of the week-long G-stars 2019 project at the Geoff Shaw Community Centre, performed one song each to a panel of celebrity judges including 13 year old Britain's Got Talent semi-finalist Kerr James and West End star Sharon Mudie, with 'All 4 One' members Lexi Welsh, Laura Mackay, Megan McLean and Alix Haddow crowned overall champions.
Lexi Welsh, age 12, said:
To win was one of the best things that's ever happened. My favourite week of the years is G-stars – not even my birthday week compares cos I get to meet and talk to new people and make new relationships and friends. I can't believe we have won!
Laura McKay, age 13, said: 
Winning was obviously a shock. Everyone was really good and it means a lot that people thought we were good enough to be the winners.
Megan McLean, age 18, said: 
This is my last year of G-stars and I'm going out on a high cos I've finally won! If it wasn't for G-stars I wouldn't have the friendships and so many amazing memories to treasure forever.
Alix Haddow, age 14, said: 
I love G-stars it's a great place where you can build your confidence up, meet new friends and get coaching from some amazing tutors – plus it's all free.
G-stars 2019, delivered by Glasgow Life, creates opportunities for young people to gain professional vocal and dance training for free on their doorstep; combining a taste of the creative arts with practical hands-on activities designed to foster valuable life-skills including team working, confidence building and conversational skills.
In a nod to the 50th anniversary of Stonewall, this year's G-stars programme was themed Proud, with the young people completing a Community Achievement Award in citizenship and participation, alongside their vocal coaching and choreography lessons.
Gary Maguire MBE, Community Services Co-ordinator, Glasgow Life, explains:
The week-long G-stars project offers the young people of our city a fantastic opportunity to gain expert tuition from creative arts professionals whilst also acting as a platform for young Glaswegians to come together and make new friends during the school holidays.

By offering activities such as G-stars free of charge throughout the holidays, we hope to ensure that the young people in our city have the chance to try activities they might not otherwise have access to. Seeing the young people involved grow in confidence throughout the week is fantastic and not only does the week culminate in the opportunity to perform on such an iconic stag, but also creates opportunities to learn more about the importance of community and how to become a positive and active citizen.
Launched in 2004 and delivered by Glasgow Life - the charitable arm of Glasgow City Council that looks after the city's cultural and sporting offer – funded by Glasgow City Council Integrated Grants Fund and Glasgow Housing Association Better Lives, G-stars is supported by a number of experts and local celebrities, giving young people the chance to experience a taste of life in the performing arts.
G-stars 2019 is part of Glasgow Life's summer holiday provision. To find out what else is on offer in your community this summer, please visit www.glasgowlife.org.uk