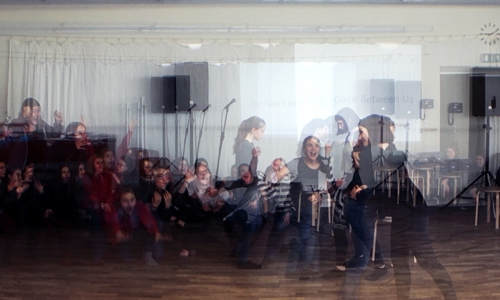 Young performance companies from Glasgow and Berlin to premiere work at Tramway as part of Festival 2018
Young performance companies from Glasgow and Berlin to premiere work at Tramway as part of Festival 2018
Glasgow and Berlin based young performance companies to premiere new joint work at Tramway as part of Festival 2018
Award winning young performance companies, Junction 25 from Glasgow and Theater an der Parkaue from Berlin have joined forces for the first time to create a new show, 1,210km.
The work, which will premiere at Tramway in Glasgow before transferring to Berlin, explores ideas of cross-cultural identity, connection and belonging as they ask the question 'what is the space between us?'.
The Glasgow performances, on 10 and 11 August, are taking place as part of Festival 2018, the dynamic cultural programme for the Glasgow 2018 European Championships.
Junction 25 is an awarding-winning theatre company made of young people aged 11-18 based at Tramway, the leading international art space.
Theater an der Parkaue, Young State Theatre of Berlin is a repertory theatre for children and young people. It is subsidised by the federal state Berlin, making it the largest state theatre for young audiences in Germany
To create the show the companies are engaged in a creative and cultural exchange. They are collaborating over a number of months through the use of digital technology. They will only meet twice in the run up to the show opening. The first time was for an intensive development weekend in February, and they will next come together in person for the final production week in August. 
1,210km is directed by Sarah Kramer, Rosie Reid and Gudrun Soley Sigurdardottir.
Co-director Director Rosie Reid was a member of Junction 25 from 2006 to 2010. Rosie returned to the company as a director in 2017, having directed and delivered on projects with a number of companies including; Royal Conservatoire of Scotland, Vox Liminis, Firefly Arts, Youth Theatre Arts Scotland, Fish and Game, Janice Parker Projects, A Moment's Peace and Terra Incognita.
Co-director Director Gudrun Soley Sigurdardottir was on secondment with Junction 25 from 2014-2015 and returned to the company as a director in 2016. Gudrun has directed and delivered projects with a number of companies including; Royal Conservatoire of Scotland, Glas(s) Performance, Platform, 21Common, Glasgow School of Art and National Theatre of Scotland.
Councillor David McDonald, Chair of Glasgow Life and Deputy Leader of Glasgow City Council, said:
"This collaboration between hugely acclaimed young performance companies from Glasgow and Berlin is an exciting and important event. Tramway has been Junction 25's home since they formed in 2005 and is an ideal space for them to develop their craft, rehearse and perform. Supporting the creative ambitions of young people is vital to the continued success of the thriving arts scene in Glasgow, and we are looking forward very much to the world premiere of 1,210km at Tramway."
Culture Secretary Fiona Hyslop, said:
"There are some wonderful cultural collaborations taking place between Glasgow and Berlin as a result of Festival 2018 and I had the opportunity to learn more about these on my trip to the German capital earlier this week.

"1,210km is an exciting project involving talented young people from Germany and Scotland, particularly pleasing as we celebrate Scotland's Year of Young People. This is one of many exciting developments being supported through the cultural programme, Festival 2018, which will complement the sporting ties that will continue to grow and develop in the months leading up to and during the European Championships."
Tashi Gore, Executive Producer, Junction 25, said:
"1,210km marks a real development for Junction 25 and Tramway as this is the first cultural exchange that we have jointly hosted, and we have been very lucky to be supported by our brilliant partners including the Goethe Institute.

"The nature of the project being year-long, has allowed us to really experiment with what international collaboration might look like and to ask questions about artistic practice, identity and the similarities and differences we hold between us. It has been fantastic to watch the young artists and their directors make connections and friendships with other young makers from Berlin and I cannot wait to see the work that will be presented in August at Tramway."
Kay Wuscher, Director of Theater an der Parkaue,Young State Theatre of Berlin, said:
"Art plays with the world, or rather with worlds, infinite worlds. And at their centre are people and borders. And through playing, these become visible, are transcended, questioned, examined and changed. Exchange creates novelty. Through questions, ideas and passion. That is why I'm very happy about bringing together young people through art with "1.210km.""
Junction 25 is co-produced by Glas(s) Performance and Tramway, and 1,210 km is supported by Festival 2018 and The Goethe-Institut.
For more information and to buy tickets visit: www.tramway.org