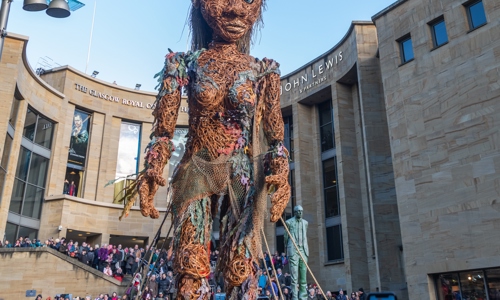 Celtic Connections takes Glasgow by 'Storm'!
Celtic Connections takes Glasgow by 'Storm'!
This year's Celtic Connections festival opens with the help of a 10-metre puppet
This year's Celtic Connections festival, bringing world-class concerts, ceilidhs, workshops, talks and more to venues across Glasgow from 16 January - 2 February, welcomed a really BIG visitor on its opening weekend.
On Saturday 18 January Storm, Scotland's largest puppet, walked through Glasgow's City Centre, aided by eight puppeteers, and accompanied by hundreds of spectators. The ten-metre tall puppet 'woke up' by the Clyde at Victoria Bridge, and make her way to Glasgow Royal Concert Hall via the Merchant City and George Square. Backed by a beautiful soundscape from Scotland's pioneering folk singer Mairi Campbell, Storm was joined by additional performances along the way, culminating in a specially choreographed dance performance by students from Glasgow Kelvin College's Performing Arts Programme. 
Created by Vision Mechanics to celebrate Scotland's official year of Coasts and Waters 2020, Storm is a feat of mechanical mastery. Made entirely out of recycled materials, she encourages us all to celebrate our seas, care for our coastlines and put the environment first. 


More about Celtic Connections 2020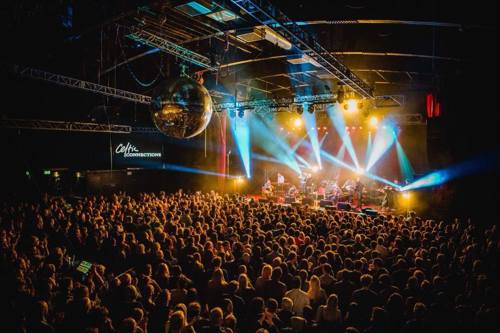 Storm is just one of many visitors who have come to Glasgow for this year's Celtic Connections. Attracting audiences - not to mention over 2000 musicians - from across the globe, it truly is a world-renowned festival. And with 300 events to choose from, there really is something for everyone!
Find out more by following these links...
(all links will take you to the Celtic Connections website)
"If there's one thing that makes wintertime in Glasgow great then it's Celtic Connections." The Guardian