Focus on: Arts, Music and Cultural Venues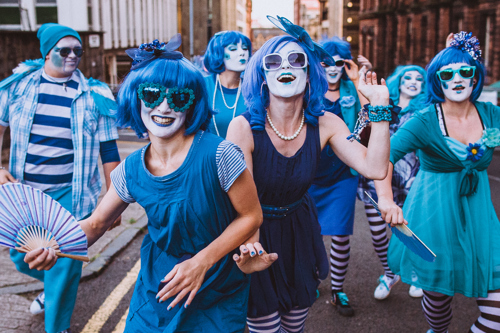 Published on Friday 15 May 2020
Glasgow Life operates some of the city's most iconic cultural venues, including Glasgow Royal Concert Hall (GRCH), Tramway, the Old Fruitmarket and City Halls, as well as the Kelvingrove Bandstand and Amphitheatre, and many public halls.

We also deliver a dynamic, international, year-round events programme which includes major festivals such as Celtic Connections, the Glasgow Mela, Glasgow International and the Merchant City Festival, along with services designed to help local people experience the life-enhancing benefits of engaging with the arts and culture.

In our fourth behind the scenes feature, we look at the impact of the coronavirus pandemic on our Arts, Music and Cultural Venues (AMCV) service.

We spoke to David Laing, Head of Service; Karen Taylor, Events Manager; Kevin Meek, Operations Manager for Cultural Venues; Alison Jack, Business Development Manager; Janie Hopkins, Tramway Manager; and Katie Duffy, Senior Projects and Programmes Manager.

What's been the impact of the crisis on your services?

David: It's been profound. Our venue programmes and festivals, worth £30m to the local economy, are much loved by citizens and draw visitors from across the world. As Scotland's largest concert, arts venues and festival operator, our service is a linchpin of the country's live culture sector as well as being significant on an international scale.

The Aye Write book festival had to be cancelled after just one day. We'd hoped to reschedule the Mela and Merchant City Festival from June and July to later in the year, but the government's position on mass gatherings looks set to continue so unfortunately that likely won't be possible.

We are, however, delivering aspects of some of our festivals digitally. Although we were disappointed to have to postpone the biennial Glasgow International Festival (GI) until spring 2021, the team pulled out all the stops to put together a fantastic digital programme, which presents several really exciting artworks online.

What was the process for rescheduling or cancelling events?

Karen: Our priority has been to retain as much business as possible for when we move into recovery, so we've tried to reschedule events such as touring artists into 2021 or 2022 wherever possible. However, our partner organisations such as the Royal Scottish National Orchestra and BBC Scottish Symphony Orchestra have had to cancel their full orchestral seasons.

As well as cancelling 268 live events across our cultural venues, we've also had to cancel a number of conferences and, sadly, 14 weddings due to take place in the Old Fruitmarket this summer. We've been talking to a lot of stressed wedding clients, trying to secure them alternative dates for next year.

Rescheduling events can often be harder to manage than cancellations. Some customers request refunds, others want to attend the new date or sometimes the venue might change and have different capacity. The process is complex and we're working hard to ensure we communicate with everyone and accommodate their needs as far as we are able to.

Processing refunds must be a challenge?

Alison: Our hardworking Box Office team has been processing all customers' refunds remotely as quickly as possible. It's an enormous task and tricky logistically, as customers have to be contacted and each transaction refunded individually. We're still counting how many ticket holders we've served in total but with 268 cancelled events, it's tens of thousands!

What about future events, are tickets still on sale?

Alison: The team has begun setting up new shows and online sales are still open for business at Tickets Glasgow. More than 50 events are scheduled from early summer onwards, subject to ongoing government guidance.

What about Summer Nights at the Bandstand?

David: The entirety of this year's Summer Nights programme has had to be rescheduled, which is disappointing for artists and audiences who eagerly look forward to this series of very special concerts in a wonderful summer setting. Most of the events were sold out months ago as they're really popular. However, we're delighted to say that nearly every artist we had booked will be returning in summer 2021.

How are you managing the venues that you've had to temporarily close during lockdown?

Kevin: We'd been scenario planning around the Covid-19 situation when lockdown was announced, so the plans sprang into action. The biggest challenge was ensuring that the buildings were closed immediately, safely and securely, but also that we were able to put operational measures in place to ensure their sustainability in the short, medium and longer-term.

We still have some staff working at venues; to organise and facilitate the necessary building and operational checks, and to allow statutory maintenance to take place such as insurance inspections of rigging equipment, so that when we do return to staging events, our venues and equipment are fit for purpose and we're as prepared as possible.

This has been a massive job in terms of management, co-ordination and delivery, and we're hugely grateful to the teams continuing to undertake these essential tasks.

Regularly communicating with our staff and checking on their welfare and wellbeing has been our priority. For example, we have a large pool of bank staff who faced the prospect of not working for the foreseeable future, so we've been working closely with our HR team to put measures in place to support them financially.

What's been the impact on Tramway?

Janie: Most of this year's work has had to be postponed or cancelled, including the cutting-edge contemporary performance festival 'Take Me Somewhere' as well as our new 'GLARE' multi-arts festival aimed at emergent artists; a number of international partnership projects and much more. Where events have been postponed, we've been working hard to accommodate them within next year's programme, which includes Dance International Glasgow.

What's keeping the Tramway team busy while working remotely?

Janie: They team is focusing on retaining Glasgow's international links by attending online festivals and events, speaking virtually at conferences and continuing to build collaborations leading to co-commissioned contemporary work.

They're also exploring innovative new ways of working in light of the social distancing guidelines. For example, troubleshooting how we might work with artists on stage, with production staff backstage, adapting exhibition spaces for the public and looking at ways we can do things differently.

A major project we're undertaking is the development of Tramway TV; a dynamic online platform that lets artists share work and create dialogue at a time when many are suffering financially due to the Covid-19 crisis. Helping artists stay connected to audiences and each other will help safeguard the cultural ecosystem. The platform will also provide a sensitive and responsive space for artists to explore new modes that can be experienced outwith the constraints of physical space.

What about the future?

Janie: Tramway is currently working with the Scottish Futures Trust on making a virtual reality model of the building, as part of a new range of digital options that we hope will include streaming facilities in the future. At the same time, we're curating experimental contemporary performance and visual art which can be made available digitally with a view to continuing to grow our audiences and catering for at-risk individuals who can't attend in person.

Creative Communities is an ambitious programme to place an artist in residence in each of Glasgow's 23 council wards. How has it been affected by the Coronavirus crisis?

Katie: The lockdown began less than a fortnight before the deadline for applications. When our mainly Tramway-based team moved to home-working, we considered extending the deadline, but the message from artists was that the project was giving them something to work constructively towards. If anything, social distancing makes participation in the arts even more important.

Clearly, the delivery timeframe needed to change, but we knew many artists were already processing the situation, adapting their thinking to the circumstances and realising that the programme could play a really important role within communities affected by the Coronavirus crisis.

Despite these difficult times, the response to the call-out was excellent and we received around 60 applications. And although home-working has presented some technological challenges, we're reading through all those applications now.

When the project gets underway, might the created works reflect the extraordinary times we're living through?

Katie: Perhaps. The whole notion of togetherness and access feels really uncertain at the moment. At its heart, this project is about connecting people in communities and it's possible that, because of what's happened, people will feel more wary of that kind of approach. We might have to look at different ways of bringing people and artists together.

Social distancing means people are finding those already and of course, artists always have amazing responses to challenging situations and contexts; they are used to finding creative ways of working with them.

That's what's exciting about Creative Communities. We received applications from brilliant artists and I'm sure there will be some really innovative ideas about how people can still come together to be creative and connect with others around them, within this extraordinary climate.

What's been the impact on the 300 people who work across our arts, music and cultural venues teams?

David: Our teams have been incredibly diligent and flexible while working remotely; pulling together to take on huge amounts of additional work in very challenging circumstances. As always, they have my heartfelt thanks for their incredible passion and commitment.