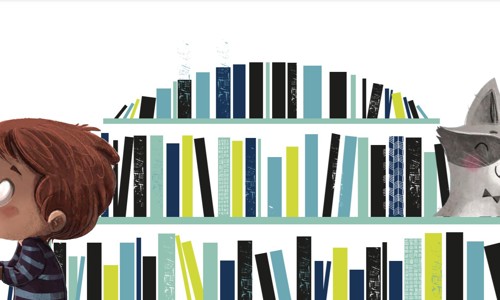 Aye Write launches free online events for Wee Write Family Day
Aye Write launches free online events for Wee Write Family Day
Aye Write, Glasgow's Book Festival, has announced its Wee Write Family Day digital programme, which will take place on Saturday 12 June.
The Wee Write Family day follows the main book festival, which is running now. Aye Write is produced by Glasgow Life, the charity which delivers culture and sport in the city.
All Wee Write events are free but ticketed and will be available to access online until 3 July so that children from as young as three to eleven years old and their families can enjoy them at their convenience and in the comfort of their own homes.
Little bookworms can expect fun, interactive events of fairies, flame-throwers and Mouldysocks at Wee Write on Saturday 12 June. Highlights include: Sleeping Brainy, Mouldysocks and Trumplestiltskin in former Blue Peter presenter Konnie Huq's reinvented old-fashioned bedtime stories; author, illustrator and draw-along genius Rob Biddulph on how he helped everyone get through lockdown with his brilliant Draw with Rob videos (pens and paper at the ready!); bestselling author Michael Morpurgo talking about his latest picture book The Birthday Duck inspired by the charity Farms for City Children which he founded many years ago; actor, comedian and author Ben Miller with his exciting new adventure, The Day I Fell into a Fairy Tale, and writer and illustrator Debi Gliori and her snotty dragons in a thought-provoking interactive event about our warming world.
Former Blue Peter presenter, now author Konnie Huq said:
"I'm so excited to bring Cookie to Glasgow! I'm really looking forward to Wee Write."
Author and illustrator Rob Biddulph said:
"I love the Wee Write festival and have always had a great time with the fantastic Glasgow audiences, so I'm absolutely delighted that I'm able to appear this year, albeit virtually. Of course, it would be lovely to be there in person and see people face to face, but this is the next best thing. I can't wait!"
In addition, The Wee Write Schools Programme takes place from Monday 7 to Friday 18 June, with a series of fun and educational events for pre-school, primary and secondary schools to help end what has been a difficult school year. The entire two-week programme will be free to access for all Glasgow City Council schools and nurseries and will be available more widely for schools and early-years education settings across the UK.
All the Aye Write digital book festival programmes are available to view at www.ayewrite.com
Councillor David McDonald, Chair of Glasgow Life said:
"The Wee Write programme is an integral part of the Aye Write Festival offer. This year's digital festival will allow more families to enjoy the wonderful array of events in their own homes."
Fiona Haddow, programmer for Wee Write said:
"This year's programming has not been without its challenges, but that said, the world has been our oyster! Being able to include not just nationally, but internationally amazing, award-winning authors and illustrators has been a dream come true!

We have authors from Scotland and England to those from places as far flung as New Zealand appearing at Wee Write this year. The programme is an array of fun-packed interactive sessions for all the family to get involved in, and with it being digital you can enjoy it wherever the day may take you!"
The Wee Write Family Day will be pre-recorded and accessible to view via www.glasgowlifetv.com, the Free Events at Glasgow Life on the Vimeo digital platform for three weeks, allowing families to pick and choose when and where to watch.

There is also the facility to donate to Aye Care, a special fund created to help support the Aye Write book festival, its future and the vital literacy and learning programmes it delivers across the city of Glasgow throughout the year.

Aye Write is grateful for the continued support of media partner The Times and Sunday Times Scotland; funders Creative Scotland and sponsors: Rathbones, Turcan Connell, Charles Stanley, The Open University in Scotland and National Library of Scotland.

Ends
Notes to Editors
1. The Wee Write Family Day is on Saturday 12 June and will be available to view until Saturday 3 July. The full programme is available at www.ayewrite.com. All events are free.
2. Aye Write's final weekend runs from Friday 21 May to Sunday 23 May 2021. The full digital programme is available at www.ayewrite.com. Ticket types: all-access festival pass £50; individual tickets from £5.
3. Tickets for Aye Write and Wee Write are only available to book online at www.glasgowlifetv.com
4. Glasgow Life is a charity working for the benefit of the people of Glasgow. We believe everyone deserves a great Glasgow life and we find innovative ways to make this happen across the city's diverse communities.

Our programmes, experiences and events range from grassroots community activities to large-scale cultural, artistic and sporting events which present Glasgow on an international stage.
Our work is designed to promote inclusion, happiness and health, as well as support the city's visitor economy, in order to enhance Glasgow's mental, physical and economic wellbeing.

5. Aye Care is for anyone that cares about Aye Write. It is a special fund that has been created to allow those who are passionate about the book festival to make a donation to support Aye Write, its future and the vital literacy and learning programmes it delivers across the city throughout the year.
The money raised will be used to help protect the future of the festival including providing an important stage for new and emerging talent as well as free literacy programmes for people of all ages and abilities in the city throughout the year.
Donations to the Aye Care fund helps ensure we can deliver the best possible festival in 2021 and ensure Aye Write remains part of Glasgow's vibrant calendar of cultural annual events.
Donations can be made online or by texting AYE to 70500 to donate £5 direct from your mobile phone. T&Cs apply
6. Creative Scotland is the public body that supports the arts, screen and creative industries across all parts of Scotland on behalf of everyone who lives, works or visits here. We enable people and organisations to work in and experience the arts, screen and creative industries in Scotland by helping others to develop great ideas and bring them to life. We distribute funding provided by the Scottish Government and the National Lottery.
Find further information about Creative Scotland on their website> 
Follow @creativescots on Twitter and facebook.com/CreativeScotland.
7. For further information about this year's Aye Write and Wee Write Family Day, including images and author interviews, contact Nicky Stonehill or Fiona Atherton at StonehillSalt PR. Email nicky@stonehillalt.co.uk or fiona@stonehillsalt.co.uk.