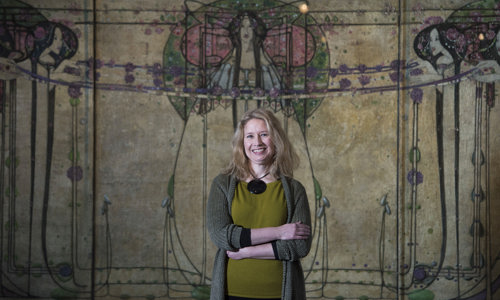 Final opportunity to see outstanding Charles Rennie Mackintosh exhibition at Kelvingrove
Final opportunity to see outstanding Charles Rennie Mackintosh exhibition at Kelvingrove
Over 50,000 people have visited a major temporary exhibition on show at Kelvingrove Art Gallery and Museum to celebrate the 150th anniversary of the birth of one of Glasgow's greatest sons, Charles Rennie Mackintosh.
Aficionados of the architect, designer and artist together with those who want to learn more about his remarkable impact on the city and international design are being urged to see Charles Rennie Mackintosh Making the Glasgow Style before it closes on 14 August.
The flagship Mackintosh 150 exhibition, now entering its final run, has received excellent reviews from local and international visitors, experts and media since it opened on 30 March. Charles Rennie Mackintosh Making the Glasgow Style showcases his work in context to Glasgow, key predecessors, influences and Glasgow Style contemporaries using the very best of Glasgow's internationally renowned civic collections, alongside key loans from The Hunterian, The Glasgow School of Art and the V&A. The public now have a final opportunity to view these works, several of which have never before been on public display and the majority not seen in Glasgow for 30 or more years.
Councillor David McDonald, the Chair of Glasgow Life and Depute Leader of Glasgow City Council, said:
"The feedback we've received confirms the huge interest and affection there is both at home and overseas for Charles Rennie Mackintosh. The city was keen to celebrate his incredible legacy and creative genius during the 150th anniversary of his birth with something very special.

The exhibition has allowed visitors space and time to enjoy a wealth of stunning objects, a number of which they will never have had the opportunity to see before. Importantly, especially given the recent devastating loss through the fire at Glasgow School of Art, we have been able to invest in the conservation and preservation of some fantastic pieces of art and design in our significant civic collections. There is still time to take the show before it closes on 14 August and admire fragile watercolours before they are returned to storage see works up so closely you can spot the artist's fingerprints."
The final visitors to the exhibition will be the last people to see beautiful, important and highly symbolic watercolours and works on paper by Mackintosh, Margaret Macdonald, Frances Macdonald and James Herbert McNair before they return to Glasgow Museums' long-term storage. Seven works made between 1895 and 1898 were donated to the collections in 1939 and are rarely seen on display because of their fragility. They include delicate watercolours not shown in a generation, including The Lily's Confession by James Herbert McNair, The Seasons by sisters Margaret and Frances Macdonald and Frances Macdonald's only known pastel drawing The Sleeping Princess 1895-96. Mackintosh's watercolour and pencil drawing on tracing paper Part Seen Imagined Part is displayed in its bespoke beaten metal frame by owner Talwin Morris, a friend of Mackintosh's and an important contributor to the developer of the Glasgow Style through his book cover designs for publisher Walter Blackie.
Those taking in Charles Rennie Mackintosh Making the Glasgow Style can experience the awe of seeing Margaret Macdonald Mackintosh's 4.5m long gesso panel The May Queen up so close that it is possible to make out her fingerprints on the modelled plaster surface. After the exhibition it will form part of the city's collection going on tour to the Walker Art Gallery in Liverpool in 2019, before returning to its elevated position in Kelvingrove Museum's Mackintosh and the Glasgow Style gallery.
Alison Brown, Curator, European Decorative Art from 1800 with Glasgow Museums added:
"After spending almost four years working on the exhibition it's been so immensely rewarding to see people enjoyably engrossed by the exhibition and hear their observations and comments on the story being told and their favourite works. Many works in Glasgow Museums' and The Mitchell's collection are extremely light sensitive and rarely on display because of the materials they are made with, such as paper or textiles, these include stencil cards, architectural drawings, stained glass designs, book covers and embroidered fabrics. Visitors to the exhibition have been stunned by the beauty of many of these unknown gems and it has been a delight to be able to get so many on display.

We promised a few surprises and I was determined to show that Mackintosh is more than just roses and I think we've accomplished that. Through the range and scale of objects and interpretation I've been able to bring together visitors have been in awe of Mackintosh's incredible innovative Modernist eye and the scale of his multi-faceted talent as an architect, designer, draughtsman, graphic designer and artist. They've also enjoyed discovering works by lesser-known artists, including many works that haven't been shown for a generation, and learned a little of the creative energy and dialogue between him and his contemporaries and that together this amazing group of talented men and women made the Glasgow Style.

If you like the work of Mackintosh or Arts and Crafts or Art Nouveau this is the perfect exhibition to visit and find out more. Come have a look at some exquisite, intricate works up close while you have the opportunity. I defy you to not want to leave to make your own work of art or explore Mackintosh's buildings in more detail. If you do I've done my job. Included in the exhibition is a short film, made in 1996, providing a walk around the Glasgow School of Art. To move within the interior spaces of Mackintosh's architectural masterwork reveals his absolute genius; and for me to view this film now after the tragedy of the fire makes me tearful at what has been lost. So many of the pieces in the exhibition have connections to the Art School and some were no doubt designed and made in that building. Circumstances have therefore made the exhibition an important reflection upon the fragility and importance of our city's wonderful heritage."
Much praise has also been lauded on new drone footage that has captivated and mesmerised visitors through new large-scale projected films made especially for the exhibition. These films present the architecture of Mackintosh - alongside those of his less well-known and progressive architectural contemporaries in Glasgow Salmon & Gillespie - from entirely new angles and provide a fantastic opportunity to see the magnificent detailing and workmanship of their creations in an entirely new and different way. Buildings on show include Mackintosh's Queen's Cross Church in Maryhill, The Hill House in Helensburgh, The Herald Building (The Lighthouse) and The Daily Record Building, plus Salmon & Gillespie's The Hat Rack, Lion Chambers and Govan Cross bank.
Born in Glasgow on 7 June 1868, Charles Rennie Mackintosh went on to be regarded as one of the most creative figures of the 20th century and a leading figure in both the Scottish Arts & Crafts Movement and European Art Nouveau. An architect, designer and artist, Mackintosh left a legacy of magnificent work and is considered one of the principal exponents of the Glasgow Style.
Charles Rennie Mackintosh Making the Glasgow Style charts Glasgow's contribution in the late nineteenth and early twentieth century, a time when there was an energetic and radical outpouring of new ideas across all the arts in Europe, most notably in the fields of design and architecture. In Glasgow, this gave birth to the Glasgow Style, a distinctive variant of Art Nouveau centred on The Glasgow School of Art. At the heart of it was the work of 'The Four': Mackintosh, his future wife Margaret Macdonald, her younger sister Frances, and Frances' future husband, James Herbert McNair.
The exhibition features more than 250 objects, which highlight the diverse spectrum of media Mackintosh and his contemporaries mastered. These include: stained glass, glass, ceramics, mosaic, metalwork, furniture, textiles, stencilling, needlework and embroidery, posters, books, interior and tearoom design, and architectural drawings.
The exhibition at Kelvingrove Museum is one of the highlight events in a yearlong celebration throughout 2018 entitled Mackintosh 150. It is co-ordinated by Mackintosh heritage partners from across Glasgow and beyond and includes a programme of events at The Lighthouse including William Chambers x CRM, an exhibition featuring hats by one of the UK's leading milliners, William Chambers, which are part of his new collection and inspired by Mackintosh and the Glasgow Style, which opened 1 August. It has also seen the re-opening of Mackintosh at the Willow, Miss Cranston's original tearooms in Sauchiehall Street. The Glasgow School of Art, The Hunterian at the University of Glasgow, House for An Art Lover and the new V&A Dundee are all hosting dedicated event and exhibition programmes to complement the wider programme.
Charles Rennie Mackintosh Making the Glasgow Style is on at Kelvingrove Museum, Glasgow until Tuesday 14 August 2018. Tickets cost £7 per adult/ £5 per concession, children under 16 free. For more information visit www.glasgowmuseums.com
A sumptuously illustrated book of the exhibition, Charles Rennie Mackintosh Making the Glasgow Style written by Curator Alison Brown, published by Glasgow Museums is available to purchase in Glasgow Museums shops or online for £9.99.