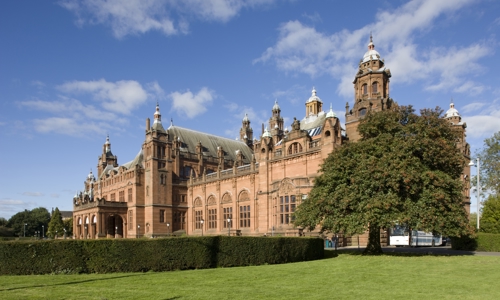 Kelvingrove Art Gallery and Museum
Kelvingrove Art Gallery and Museum
Free entry
Contact
0141 276 9599
museums@glasgowlife.org.uk
We have re-opened and look forward to welcoming you back to Kelvingrove Art Gallery and Museum.  
We have been working hard behind the scenes to ensure your visit is safe and enjoyable.
We have some important information to share. 
Essential information for planning your visit
Our current opening hours are Monday-Sunday, 11am-4pm.
A ticket is required to enter the museum. Tickets are FREE and available to book at the link below. You need to pre-book, at least 24 hours in advance, for a specific date and time. 
Tickets can be booked for a maximum of 6 people
We are unable to accommodate group bookings at this time.

Before booking, check the guidance for your local area and any travel restrictions that may be in place. More

Please do not book tickets or visit the museum, if you, or any members of your household, has any symptoms of Coronavirus. Follow up to date medical guidance. 

More

If you should be isolating as part of travel or medical advice please do not visit the museum.

Wear a face covering to stay safe and protect others.

Wash your hands and use hand sanitiser during your visit. 

Tickets will be released in two week blocks - tickets go live every two weeks on a Thursday, for the two week period beginning the following Monday.

Please note tickets are non-transferable. If the ticket holder can no longer visit the museum, please release tickets by contacting the Glasgow Life Box Office at: 

BOSales@glasgowlife.org.uk
Book tickets HERE
On the day of your visit
The entrance to the car park is on Kelvin Way and the exit is onto Sauchiehall Street.

On arrival please enter via the doors facing the car park. The accessible entrance with access to lifts is located at the ground level, also facing the car park. 

Wear a face covering to stay safe and protect others. Guidance on face covering exemptions is available from the Scottish Government 

here

.

Please do not visit the museum if you, or any members of our household, has any 

symptoms 

of Coronavirus.

Your e-ticket will be checked on arrival so please have this ready.

Please arrive as a group with the ticket holder in attendance to ensure we comply with Test and Protect.

Please maintain 2 metre physical distancing during your visit. 

There are no cloakroom facilities, restaurant/café, takeaway or retail at this time. 

We are unable to provide space for packed lunches at this time. 

Some smaller spaces and hands on displays will be closed during your visit to allow hygiene and physical distancing measures to be maintained. 

Please observe signage in the venue and any one way routes that are in place.

For more information and ways to enhance your visit please visit 

Glasgow Museums 

where floor maps can be downloaded. 

Please ensure children are supervised at all times to ensure physical distancing measures can be maintained. 

Please wash your hands and use hand sanitiser during your visit. 

We politely ask that you keep your visit to a maximum of 2 hours to ensure we can offer entry to as many visitors as possible.
Keeping you safe
Our 

visitor charter 

sets out the safety measures we have introduced to create a safe space and it highlights how you can help protect yourself and others while visiting the museum.
Further information for your visit
For information on opening hours, how to enter the museum, what's open, face coverings and more, see our 

Museum FAQs.

Download 

some suggestions of activities and games that you can play with your household while you are visiting the museum. You can print them at home or view them on your phone and other personal devices. Please note that we won't be able to provide a paper copy at the venue.
We're Good To Go
We have acquired VisitBritain's Good to Go accreditation. This Industry Standard mark means Kelvingrove Art Gallery and Museum has followed government and industry Covid-19 guidelines, has completed a Risk Assessment and has a process in place to maintain cleanliness and physical distancing.
As it has been throughout this pandemic, the health and wellbeing of all Glasgow Life staff and the public remains our priority. We will continue to follow the Government's guidance and ensure that safety is at the heart of how we operate in the current environment.
We'll continue to keep this page up-to-date regarding our response to Covid-19. So whether you need it now, or in the near future, it could be worth a bookmark. You can also follow Glasgow Life on Twitter, Facebook or Instagram for our latest updates.
British Sign Language (BSL) users: For more information and the latest updates on Glasgow Life and Glasgow City Council services during the coronavirus pandemic, please visit the dedicated BSL section of the council's website.
Support us: As one of Scotland's largest charities, Glasgow Life is hugely grateful for the support it has received during the coronavirus pandemic, which has helped us to continue vital work in communities across the city during the most challenging of times. You can continue to help us by donating here.
Get the most up-to-date information on Glasgow Life's response to Covid-19 here.
Kelvingrove Museum opened in 1901 and is a firm favourite with local people and visitors. It has stunning architecture and a family friendly atmosphere.
Explore our 22 galleries and discover everything from art to animals, Ancient Egypt to Charles Rennie Mackintosh and so much more. We also have a changing programme of temporary exhibitions and displays.
If you only have one day in Glasgow, Kelvingrove is a must see!
Green Tourism
We are delighted that Kelvingrove Art Gallery and Museum has achieved a Gold Award from Visit Scotland's Green Tourism scheme. 
We were recently assessed against a rigorous set of criteria, including energy and water efficiency, waste management, biodiversity and more. The award acknowledges good environmentally-friendly practice and is a recognised hallmark of 'green quality'. we're pleased to be playing our part in ensuring Scotland is a sustainable tourism destination for the future.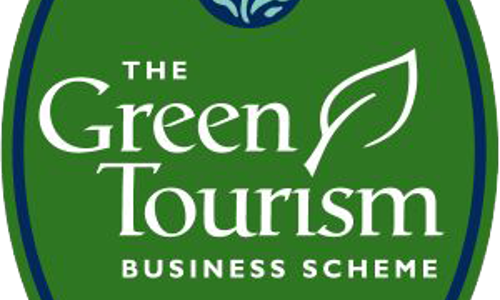 Events and exhibits at Kelvingrove Art Gallery and Museum
What to see at Kelvingrove
Kelvingrove Art Gallery and Museum houses one of Europe's great art collections. It's a favourite with locals and a must see for anyone visiting the city.