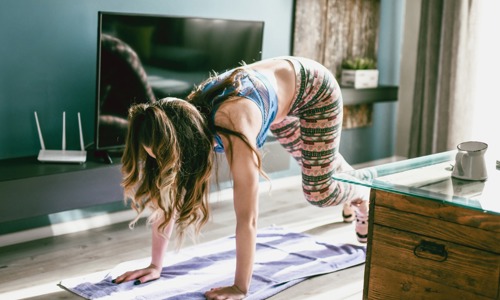 Glasgow Life encourages supporters to help protect city's most vulnerable communities by completing The 2.6 Challenge
Glasgow Life encourages supporters to help protect city's most vulnerable communities by completing The 2.6 Challenge
Glasgow Life is encouraging its supporters to get involved in 'The 2.6 Challenge' this weekend to help protect the health and wellbeing of the city's most vulnerable communities during the coronavirus pandemic.
Thousands of fundraising events across the UK have been cancelled in recent weeks due to Covid-19 with a devastating impact on charity income. The National Council for Voluntary Organisations (NCVO) estimates that the UK charity sector will lose £4b in income as a result of the crisis with many charities facing mounting pressures and potential closure.
In response, the organisers of some of Britain's biggest mass-participation sports events have come together to launch a new campaign aimed at raising vital funds to help charities up and down the country maintain their lifeline services.
The 2.6 Challenge takes place on Sunday (April 26), on what should have been the date of the 40th edition of the London Marathon.
The public is being asked to come up with activities based around the numbers 2.6 or 26 to mirror the miles of the marathon and raise much-needed funds for charities like Glasgow Life.
As one of Scotland's leading charities, Glasgow Life helps transform lives through sport, learning and culture. During the coronavirus crisis, we're working hard to adapt many of our free programmes and services and to make them available online through our Glasgow Life Goes On campaign, which has had a tremendous response over the past three weeks.
The 2.6 Challenge can be as simple as walking or running 2.6 miles, singing along to 26 songs on your playlist, reading 26 pages (or chapters!) of your favourite book or challenging your household to complete 26 'toilet roll' keepie-uppies in less than 2.6 minutes. The only requirement is that the activity must follow government guidelines on exercise and social distancing.

Scottish Olympic athlete and Glasgow Life trustee, Lee McConnell, said:
We would love for as many people as possible to join us on Sunday to help raise money for those communities most in need of our support right now.

For many people, the testing times that we're all now facing, such as isolation and anxiety, are what they deal with every day.

As a charity, we're incredibly grateful for the donations we receive, all of which are invested into providing lifeline cultural, sporting and learning programmes in communities right across Glasgow.

The public's support means we can continue to be there for vulnerable people and families throughout this crisis, whether that's delivering virtual health and wellbeing classes for the elderly or providing one-to-one support sessions for Universal Credit applicants.
Tommy Carr will be live at 10am on Sunday 26th April for a special "2.6 Challenge Workout." It's the ideal physical test so join him on Glasgow Club's Facebook page, in the FREE Glasgow Club app (for Apple or Android) or online. Glasgow Club will also have a "2.6 MyWellness Challenge" – can you complete 2,600 'moves' on Sunday? Some housework, a dog-walk and a workout should do it! Tap the "MyWellness" button in the Glasgow Club app to join in. Alternatively, create a MyWellness account online then e-mail app@myglasgow.club from the address used to create it and we'll connect you to the challenge!
You can make a 2.6 Challenge donation to Glasgow Life this weekend via our JustGiving page and look out for update across our social media channels. Remember to tag us on your own social posts too using @GlasgowLife and use the hashtags #TwoPointSixChallenge and #GlasgowLifeGoesOn to help spread the word.
In the meantime, to see how your support drives the work that we do and to find out more, or to make a donation today, visit our Transforming Lives Through Sport page. For more information on the challenge, visit The 2.6 Challenge.