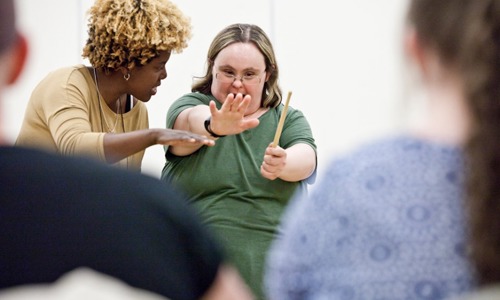 New Call Out for Artists in Residence
New Call Out for Artists in Residence
Glasgow Life issues an open call for 23 artists in residence to work in communities across the city
Glasgow Life is searching for 23 imaginative artists with the vision and skill to help local communities reap the life-enhancing benefits of creative activity. Choreographers, writers, dramatists, filmmakers, musicians, photographers and others are being invited to apply to become artists in residence, as the second phase of Glasgow's ambitious Creative Communities programme gets underway.
The organisers hope to encourage practitioners from a wide range of art forms, from painting to embroidery, from Gaelic singing to hip hop or Bhangra … and everything in between.
Creative Communities – Artists In Residence aims to give Glaswegians from diverse backgrounds, the opportunity to get creative within their local area. Set up following a 2018 Culture Summit, when Glasgow City Council pledged to employ "an artist in residence in every community", this £400,000 council-funded programme is being delivered by Glasgow Life, the council-linked charity responsible for culture and sport.

The programme kicked off last year, with a preliminary consultation that saw 23 artists and arts organisations each spending three months immersed in one of Glasgow's 23 wards.
Coming from a wide range of disciplines, those artists used craft, music, drama and a myriad of other techniques to engage with community groups and individuals. In the process, they generated important conversations about what local people wanted from the programme.
Now that creative listening exercise is complete, Glasgow Life wants to go further in helping local people to unleash their creative potential, by appointing 23 artists in residence: one in each council ward area.
Applications are invited now with a closing date of 5 April 2020.
Read the full press release here>
Find out how to apply for an Artists in Residence opportunity>
Watch a film about Phase 1 of the project>