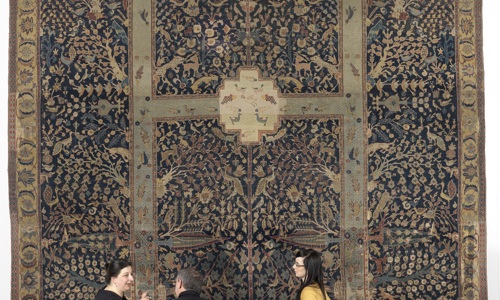 Support for Schools to visit re-furbished Burrell Collection announced
Support for Schools to visit re-furbished Burrell Collection announced
Pupils across Glasgow's communities will be able to visit the Burrell Collection when it re-opens thanks to support from The Merchants House of Glasgow. The generous donation totalling £40,000 will fund 'The Merchants House of Glasgow Burrell Schools Programme', providing transport to the museum.
The gift will also support Glasgow Museums to recruit a Learning Assistant to create formal learning experiences which inspire a life-long passion for the arts. Objects in the Collection span centuries and cultures, express ideas and innovation and inspire conversation and creativity.
 Using the breadth of the Collection, we will invite young people to consider how their past effects their future. The facilitated school workshops will be designed to extend and enhance classroom learning and are closely linked to the curriculum in nurseries and primary and secondary schools.
 'The Merchants House of Glasgow Burrell Schools Programme' will encourage pupils to become regular visitors to The Burrell Collection and foster a life-long appreciation of Glasgow Museums' world-class collections. The programme will facilitate more than a hundred school visits across a school year reaching over 3500 pupils.
 An ambitious refurbishment of the Burrell Collection building and redisplay of 9,000 objects will allow visitors, for the first time, to explore three floors dedicated to galleries, visible stores and special exhibitions. A new Education and Community wing will provide bespoke learning spaces to enhance school visits.
More than 75 years of Sir William Burrell's life were devoted to amassing one of the world's greatest, single personal collections. The Burrell Collection is recognised as being of world-class quality, and reflects the outward looking, international confidence of the great collector.
The Merchants House of Glasgow is one of the oldest and most important bodies in the City of Glasgow. It was a long established body when it first received a written constitution in 1605. Membership of the Merchants House is drawn from men and women who play a significant role in business in Glasgow or the West of Scotland or who have Glasgow connections.
The refurbishment will see the museum's gallery space increase by 35% and public space increase by 83%, allowing important and unique objects from Burrell's Collection which have not been seen for decades or have never been on permanent display to go on show for visitors to enjoy.
The cost of this major capital project for the city is estimated at £66 million with Glasgow City Council funding 50% of the overall project cost. Support from a variety of other funders has been overwhelming; donations and sponsorship from over 125 companies, trusts and foundations, and individuals, including £15million from the Heritage Lottery Fund, sees over 97% of the funding now in place.
Lord Dean of Guild, Ian Dickson "The Merchants House of Glasgow is delighted to be working in partnership with Glasgow Life to ensure that over 3,800 school children, many from some of the most deprived areas in Glasgow, are able to visit and get the most out of the Burrell Collection. We recognise that transport costs prevent many Glasgow schools from visiting the Burrell Collection. This new programme is an exciting opportunity to ensure the Burrell Collection is widely accessible to groups of young people who have not been able to access the Burrell in the past."
Chair of Glasgow Life, and Depute Leader of Glasgow City Council, Councillor David McDonald, said: The Burrell Collection has done as much as any of Glasgow's great museums and cultural institutions to spark the imagination and learning of recent generations of children. This generous grant from one of our great civic bodies, The Merchant's House of Glasgow, will ensure Sir William Burrell's bequest to the city continues to inspire at a time when museums' wider social benefit is better understood than ever before."  
To support the renaissance of the Burrell Collection and make a difference, visit https://www.glasgowlife.org.uk/support-us/campaigns/the-burrell-collection or email supportus@glasgowlife.org.uk