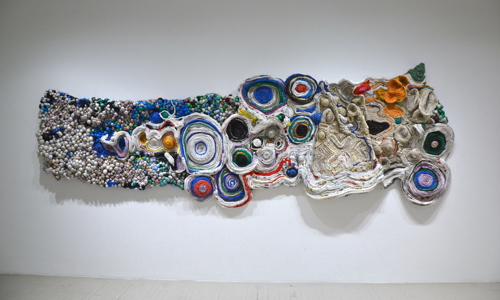 Tramway announces new exhibition by Nigerian artist Ifeoma U. Anyaeji
Tramway announces new exhibition by Nigerian artist Ifeoma U. Anyaeji
Originally issued 13 February 2023 
Preview: Friday 3rd March 2023, 7pm-9pm
Tramway is opening its 2023 programme with the first Scottish exhibition by Nigerian artist Ifeoma U. Anyaeji (born in Benin City): Ijem nke Mmanwu m (The Journey of my Masquerade).
The artist creates colourful, intricately hand-crafted sculptures and installations from non-biodegradable plastics such as bottles and plastic bags. Applying a unique practice which she describes as Plasto-art, Anyaeji experiments with these global pollutants, binding the plastic with thread into woven braids and transforming them into vibrant, malleable textiles. Anyaeji uses a Nigerian hair-plaiting technique called Threading (Ikpa Owu in Igbo language), an increasingly obsolete hair-craft. These plastic braids are shaped and layered into densely textural sculptural forms which encapsulate vibrant colours, spirals, coils, circles and loops. Combining hair threading with traditional West African basketry and fabric weaving techniques, Anyaeji reflects on the loss of such traditions as well as the environmental problems she encountered in her community in Nigeria.
Weaving together personal and collective experiences, her distinctive and vibrant sculptures also embrace forms and influences from West African culture, specifically the performance, folklore, music, textiles and the domestic and communal spaces of Nigeria. In a new commission created for Tramway Anyaeji references the Nigerian Masquerade, traditionally only performed by men which involves the use of elaborate, colourful costumes that are meant to invoke ancestral spirits. Anyaeji re-imagines this masculine ritual in sculptural form using traditionally feminine craft practices, exploring gender-categorized craft and decorative art as viable means of artistic expression, as well as political and subversive potential.
The artist explains, " I was immediately drawn to the use of waste to create these larger-scale sculptural forms, to make something beautiful that has something to say about our environment and material reuse. References have also been made to the human body, architecture and domestic spaces. This idea that the sculptural forms are never complete was interesting as the pieces are often adapted, re-edited and reworked so they are always in process."
She added "I constantly reflect on the implications of our modernity's: consumptive systems of mass accumulation, waste generation or social attitude to value and the expiration-date syndrome, cultural assimilation and colonial orientations on beauty, authenticity and newness. In addition to metaphorically and spontaneously engaging these "old" plastic objects, I try to emphasize the potency of traditional crafting methodologies, highlighting the mark of the hand through supposedly menial obsolete techniques such as Threading and loom weaving."
Exhibition runs 4th March until 4th June 2023
Download the full press release as a Word Document
Image: Ifeoma U. Anyaeji, Eze Fuo eze anochie, photo courtesy and copyright of the artist