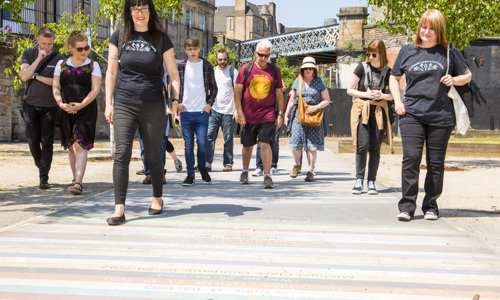 Joint tickets for Tennent's Brewery Tour and Glasgow Music City Tours
Joint tickets for Tennent's Brewery Tour and Glasgow Music City Tours
Tennent's Brewery Tours and Glasgow Music City Tours (GMCT) have teamed up to offer joint tickets for their respective tours.
Available at a discount to separate tour tickets, the joint venture means guests can make a day of it with a brewery tour and a place on either GMCT's Music Mile or Merchant City Music tour.
Beer and music are often enjoyed together and these joint tickets mean that customers can learn about Scotland's favourite beer and hear about the performers who have stayed, played and made music in Glasgow - the UK's first UNESCO City of Music.
The hugely popular Tennent's Brewery Tour goes behind the scenes at Wellpark Brewery while the rock and pop tours get under the skin of Glasgow's music scene.
Available seven days a week, the brewery tours start at the Tennent's Story heritage centre with an immersive journey through the history of Scotland's oldest brewery.
Guests will then jump forward to the present day and join their guide on a tour of Wellpark Brewery.
After discovering the craft behind the legendary brew, guests are offered a free pint of brewery-fresh Tennent's Tank Beer poured straight from their impressive copper tanks.
Running on Saturdays, there are two music tours: the Merchant City Music Past and Present tour plus the Music Mile tour around the city centre.
Both tours are packed with entertaining and informative stories about the performers and the audiences which make Glasgow such a vibrant music city.
Subject to availability, brewery tours and music tours can be taken on the same day or on different days.