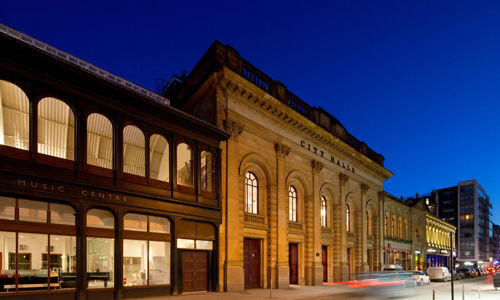 In 1841, audiences first enjoyed performances in Glasgow's City Halls. Fast forward more than 175 years and the City Halls continues to welcome visitors to this exciting music complex. The traditional shoebox style auditorium is world renowned for its superb acoustics, with a year round programme of classical and contemporary music. Home to the BBC Scottish Symphony Orchestra, the Scottish Music Centre and a Glasgow base for the Scottish Chamber Orchestra, the City Halls is one of Scotland's most vibrant and welcoming music centres.    
Accessible toilets
There are accessible toilets on level 2 next to the Gents toilet, adjacent to the Candleriggs Bar and on Level 5 next to the Club Room.
Assistance dogs
Guide and assistance dogs are welcome. 
Hearing loop
There is a hearing assistance system. The system is infrared.
A deposit is required for the sound enhancement system.
Wheelchair access
Lift access to all areas. 
There are designated spaces for wheelchair users. Wheelchairs are left with the patron. A companion may sit with you. Companions sit next to you.
There is a wheelchair to borrow. To borrow a wheelchair,please ask a member of staff.
Additional information
View the Accessibility Guide on AccessAble – the new name for DisabledGo.
Documents are available in Braille and large print.
Baby changing
There are baby changing facilities next to the cloakroom on level 2. One in the ladies toilet and an adjacent additional area in our first aid room.
Baby feeding
Available on request
Cloakroom
The cloakroom is located on the 1st floor next to the toilets. There is a £1 charge (only open for events or where a client has requested the facility)
Parking
On street, metered parking and nearby multi-storey. 
Photography and video recording
At times, Glasgow Life will be on the premises to film and take photos.
The public are only permitted to record and take photos where explicit permission has been granted in advance.
Restaurant
Full table service is not available.
There is ample room for a wheelchair user to manoeuvre. No tables are permanently fixed.
No chairs are permanently fixed. No chairs have armrests.
Menus are hand held only. Menus are not available in Braille. Menus are available in large print.
Free wifi
There is free public Wifi access. To connect, visitors have to register with City Halls Public Wifi which should pop up on their browser. After that visitors will only need their password for future uses.
The meeting rooms and conference spaces within the complex are suitable for hosting from 15 – 400 delegates. Visit the City Halls' venue hire web page to find out more.
Location Map