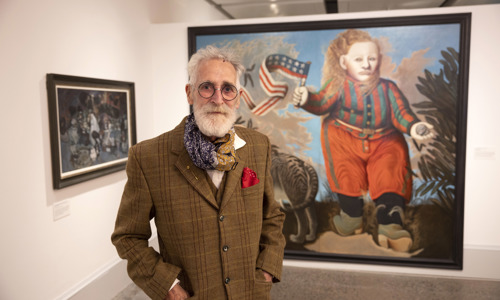 Major new John Patrick Byrne retrospective opens at Kelvingrove
Major new John Patrick Byrne retrospective opens at Kelvingrove
A new exhibition charting the illustrious career of John Patrick Byrne, a modern Scottish cultural icon, is set to open at Kelvingrove Art Gallery and Museum on Friday 27 May. A Big Adventure is the first retrospective of the Paisley born artist, playwright, and theatre maker for more than 20 years.
A true polymath, John Byrne has continued to work, paint and create plays on into his 80's. A Big Adventure encapsulates the energy, excitement and diversity of Byrne's work and tells a little of the enthralling life he has led.
John Patrick Byrne said:
"It's been a real pleasure working with Glasgow Museums on this retrospective. I've been in and out of Kelvingrove my whole life. It's a delight to be reunited with works I've not seen in years, especially as they are hanging on the walls of a place I and so many people love.

"I'm glad that with the help of so many friends who've loaned artworks we've been able to showcase a really broad range, from murals to storyboards and everything in-between. I suppose you could say it tells much of my life story. I hope visitors enjoy it, seeing art should be fun. For me it's certainly been a fun, Big Adventure all these years."
Bailie Annette Christie, Chair of Glasgow Life, said:
"John Byrne is quite simply a true Scottish cultural colossus. This captivating new exhibition, the first at Kelvingrove since 2019, proudly celebrates one of Scotland's most successful sons and shows why he is rightly considered one of the most gifted artists of the last 70 years. His works are prized in collections around the world and Glasgow Life Museums are proud to be among their number.

"Byrne's story is an inspirational one. He came from a working-class background, had many jobs before embarking on a successful artistic career and often talks of the importance of visiting the library and museums while growing up. We hope this exhibition is a visual feast for many and may provide a similar spark for future generations of Scottish artists and writers."
Comprised of seven sections, charting Byrne's broad career, A Big Adventure opens with a brief look at his early life. The artist speaks fondly of growing up in Paisley and of working as a slab boy, mixing paint for the designers at AF Stoddard & Co carpet factory after leaving school. In 1958 he was accepted to study at The Glasgow School of Art. Despite having to re-sit his first year Byrne went on to win the Newbery Medal for best final year student and the Bellahouston travelling scholarship, which allowed him to study in Italy.
Byrne returned to AF Stoddard & Co. as a carpet designer, teaching evening classes at The Glasgow School of Art. During this time, he sent a small painting to London's Portal Gallery, pretending it was the work of his father. In blending their lives, Byrne created an alter ego, Patrick. The gallery offered 'Patrick' his first solo exhibition. To this day Byrne occasionally signs his works 'Patrick'.
This provided the inspiration for his revolutionary play, The Slab Boys. Byrne aficionados can marvel at the elaborate artworks he produced for TV and stage, including storyboards for the 1997 film version of the renowned show, which he directed. The Slab Boys has been performed around the world, including a 1983 debut in New York that included performances by then-unknown actors Kevin Bacon, Sean Penn, and Val Kilmer.
Byrne has written and designed sets for several plays and his latest, Underwood Lane, will be at the Tron Theatre this summer. Named after the Paisley street where Gerry Rafferty was born, it features a rich mix of Rafferty's songs as it follows the life of Teddy Boys in Paisley. Visitors can view a set of painting from Byrne's Underwood Lane series ahead of the show's run in Glasgow.
He went on to achieve further literary success, writing two influential dramas, credited for launching the careers of Scottish superstar Robbie Coltraine and Emma Thompson. The cult classic Tutti Frutti in 1987, renowned as one of Scotland's greatest TV shows and winner of 6 BAFTAs, followed by Your Cheatin Heart in 1990. Visitors can admire Byrne's artwork and his ability to capture uncanny depictions of their characters.
A Big Adventure delves into his passion for music as well as writing and his influence on Scottish culture through his collaborations with other artistic giants. Friends with Gerry Rafferty and Billy Connolly, Byrne painted covers for Rafferty's albums, and, through them, often worked overseas for musicians like Donovan, travels which influenced his later work. Featured in the exhibition are several instruments on which Byrne has painted his musician pals and several works depicting musicians.
Among the exhibition's main attractions is a room displaying over 40 self-portraits, the most ever displayed at one time, spanning Byrne's whole career. The earliest is from 1963 depicting his time in Perugia, Italy, straight after art school, the latest from 2020. Included is the classic work, Self-Portrait in a Flower Jacket, on loan from the National Gallery of Scotland.
Together with immortalising himself on canvas, Byrne has painted many famous faces, including Billy Connolly and Tilda Swinton. A Big Adventure brings these together with more intimate studies of close family and friends, brought to life with symbols of their work or passions woven into the paintings.
Another highlight of the show at Kelvingrove is several works Byrne created with Glasgow Print Studio over more than 40 years. The paintings move between style and subject, from Cubist Harlequins, exquisite still-life, cherub-like 'Beach Boys', to darker, more narrative-driven paintings of dark woods or distressing scenes. The Big Adventure can only provide an overview of his vast practice and artistic skills, and balances these with his talent for also producing delicate, finely crafted illustrations.
Mainly known for his paintings and prints, Byrne is also a skilled draftsman. Interspersed among the portraits, in an exciting addition to the exhibition, are rarely seen studies in pencil and conte, which allow visitors to see his flair first-hand.
A Big Adventure showcases original artwork from Donald and Benoit, a bedtime story Byrne created for his children. Turned into a book, it regales the adventures of a boy Benoit and his cat Donald in a little fishing town.
Martin Craig, Curator of Art post 1945 at Glasgow Life Museums, who put the exhibition together, said:
"It's been an absolute joy working with John on this exhibition. I've always been a fan, but learning more about his work, getting to know the man himself and listening to what friends and family have to say, I'm in awe.

"This project started pre-pandemic and with so many works in private collections Covid brought it's challenges. The Fine Art Society have been amazing, and of course as soon as you say it's for John everyone is more than happy to help.

"Words like icon and genius can be overused, but in John's case they are perfectly apt. He is, without question, one of the most important artists of the last 70 years and he is so prolific. We could have filled the exhibition space five times over. Deciding was hard! A Big Adventure is filled to the gunnels with striking artwork, I hope it captures the anarchic, jubilation and vastness of John's life and career."
A host of Scottish cultural commentators have contributed, adding their memories and impressions of Byrne in short film clips. While several institutions from across the UK and private lenders have loaned items to the retrospective, complimenting those held in Glasgow Life Museums' collection.
A Big Adventure opens on Friday 27th May, tickets are £7.50, concession £5, children under 16 are free. A catalogue accompanying the exhibition, John Byrne: A Big Adventure, will be available from Kelvingrove Art Gallery and Museum, as well as online and in all good bookshops, priced £10.