Glasgow recognised as one of the world's top cities for its commitment to sustainable business tourism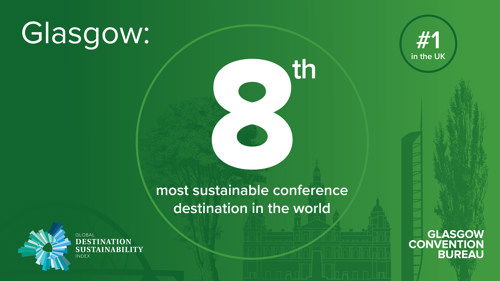 Glasgow recognised as one of the world's top cities for its commitment to sustainable business tourism
The Global Destination Sustainability Index (GDS-Index) published its 2023 rankings at the GDS Forum & City DNA Autumn Conference in Valencia last week, with Glasgow coming 8th.
The ranking positions Glasgow as the first city outwith Scandinavia and the only UK city to appear in the top ten.
The GDS-Index was launched in 2016 and promotes responsible business tourism best practice.
Aileen Crawford, Head of Tourism and Conventions at Glasgow Life said:  "Being named as one of the world's top ten sustainable conference and business event destinations by the Global Destination Sustainability Index reflects the ambition and commitments Glasgow has to being a sustainable tourism leader.
"This achievement for the city would not have been possible without strong partnership working and collaboration between the city's tourism sector, academic and business communities and the city government"
Give feedback about this page