Theme Thursdays at Albion Street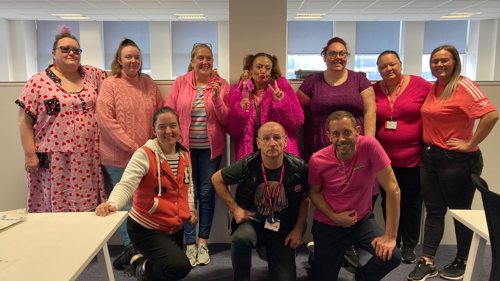 Colleagues at Albion Street have raised £76 for Breast Cancer UK this month with a special Barbie version of their regular Theme Thursday.
Theme Thursdays began back in February when a few members of the Central Customer Service Admin Hub happened to come in wearing pink, red and hearts to celebrate the day. Other colleagues wanted to get involved so Theme Thursday was born, with each week's theme shared through posters in the office kitchens.
Memorable themes have included a street party for the Coronation with afternoon tea, Country and Western, and dressing as your favourite Mr Men character for Comic Relief. Upcoming themes include Halloween, Guy Fawkes, Children in Need, St Andrews and of course the Christmas Party, and in 2024 the team will be including Glasgow Life events such as Aye Write and Celtic Connections.
As well as bringing in themed snacks to share each Thursday, the team nominates a charity to donate to each month. So far they have raised £30 for Comic Relief, £36 for Dementia UK and £60 for Hemochromatosis UK.
Nina O'Donnell from the Hub said: 'Theme Thursdays have really improved communication between teams. We now know more names of people from around the office and this has promoted team building and improved the working environment. We have even managed to get down to zero outstanding customer complaints twice during the run of these days, so it has had a positive effect on morale."
If you would like to get involved in Theme Thursday or have any ideas for a future theme, please contact glcentraladmincustomerservicehub@glasgowlife.org.uk or pop along to see the team when you are next visiting or working in Albion Street. Pictured are Francis Rideout, Megan Forde, Linda Kelly, Nina O'Donnell, Clare Curry, Angela Pluck, Lauren Murphy, Lyndsay Meffen, Danny McGhee and John Dunne celebrating Barbie for breast cancer awareness.
Give feedback about this page