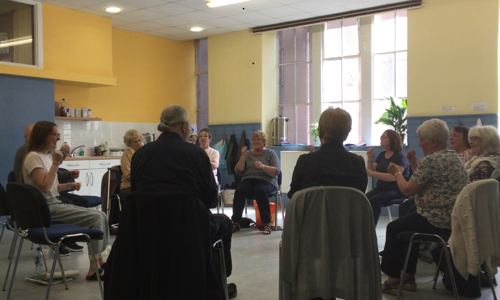 Singing for breathing is a community singing group held in Dennistoun every Wednesday afternoon. As it says on the tin, it's a choir for people living with long-term respiratory conditions, helping them manage their breathlessness through singing.
Sophie Boyd, a PhD Human Geography student runs the group and is researching the impact of treating health conditions with singing.
By playing this video the provider may set cookies
Singing is really making a big impact on people's lives. They're using the breathing practices we learned in the group and implementing them in moments when they're experiencing breathlessness.

People also feel an increased sense of well-being and that their mood is really lifted when they leave the session. There's a real sense of peer support and friendship among members of the group where everyone is there with an illness but the focus of being there is to sing.

It's something really positive and shows the advantages of using a non-clinical space for health.
The group is held in Dennistoun New Parish Church between 2-4pm every Wednesday.