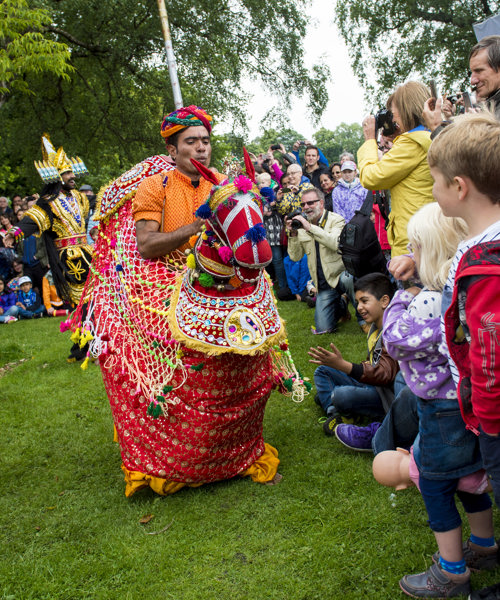 Presenting your 2020 Virtual Mela artists! Keep your eye on this page for updates and find out more about who is appearing this year! We've got musicians, dancers, performers, top chefs and so much more. 
Artist Biographies
Adam Buksh

Adam Buksh

Adam is a BAME performer with mixed heritage, Scottish/Bangladeshi. He's been performing professionally for 10 years in the UK. He's been in theatre classics like "Macbeth" with Proteus Theatre, new writing "How to Make a Killing in Bollywood" and Pantomime "Aladdin" multiple times! Film and TV, "Scot Squad", "The Wife" "The Break-Soul Journey" with BBC Three. Exhibition pieces "The Bannockburn Project" providing a lot of the motion capture and voice over work but this is the first time he'll be a compere, so be gentle with him. He hopes that you will enjoy the Glasgow Mela festival this year and can't wait to experience it with you.

Fae Utero

Fae Utero

Fae Utero was born when two friends (Ankit Mahendru & Ken Beal) started jamming to late eighties and early nineties grunge rock and metal music. Their first album "Hill Of Beans" is about accepting one's flaws, dealing with defeatism, love, loss, abuse, trauma, mental health, and sobriety. An independent artist with lyrics that tap into substantial thought and reflection with a focus on real-life experiences as opposed to supernatural deities and fictional characters. The band name translates to "from the womb". Fae is a Scottish preposition that means "from." and utero is a latin term meaning "the womb". Ankit Mahendru is pictured.

Drishti Bhundoo

Drishti Bhundoo

Born in Scotland of Indian-Mauritian descent, Drishti Bundhoo began her studies at the Royal Scottish Academy of Music Drama Junior Academy in Glasgow, Scotland. While there she was prized at the Grand Opera Society Cup competition and had opportunities to perform as a soloist at student and festive season concerts. In her early years she has been involved with various organisations such as Scottish Opera where she was apart of their young singer's educational programme. 

Drishti was later awarded the RSAMD Trust Scholarship and was further involved in the Royal Conservatoire's production of Humperdinck's Hansel and Gretel. As part of her undergraduate degree, she spent six months studying at the Conservatorio Superior de Musica de Malaga where she focused her studies on Spanish Art Song. She later enrolled at the Royal Academy of Music (RAM) on the postgraduate vocal studies course in 2014.

Her operatic roles with RAM include Susanna in Mozart's Le Nozze di Figaro, Tina in Jonathan Dove's Flight, Chorus in Stravinsky's The Rake's Progress, Norina in Donizetti's Don Pasquale and Helena in Britten's Midsummer Night's Dream with music and theatre direction from John Ramster, Christopher Cowell and Bruno Ravella. During her time at RAM she received distinction for all her opera scene performances. Performances have included Soprano II with the Carmina Nova and Malaga Symphony Orchestra at the Cervantes Teatro in Malaga, Spain, Mezzo Soprano soloist in De Falla's "The Three Cornered Hat" conducted by David Danzmayr at the Royal Conservatoire of Scotland, recital at the Leeds Music Festival with RSAMD Junior Academy and solo performances for the Glasgow 2014 Commonwealth Games events. Choral performances have included engagements with Indian composer A.R.Rahman and the BBCSSO at the Royal Concert Hall and performances of "The Armed Man" with the National Youth Choir of Scotland at the Royal Concert Hall, Glasgow, conducted by composer Karl Jenkins.

Drishti is very grateful for her support from the Penpont Trust, Split Infinitive Trust, Mario Lanza Foundation, Dewar Arts Award and the East Ayrshire Trust among others.

Fraser Fifield and Graeme Stephen

Fraser Fifield and Graeme Stephen

Fraser Fifield with Graeme Stephen are two of Scotland's most versatile yet hard to categorise musicians, bringing a variety of influences to bear on their original instrumental music. Fifield, with his whistle, sax and bagpipe playing, has influenced many well known Scottish groups from Old Blind Dogs and Salsa Celtica to Capercaillie. Collaborating worldwide he found particular resonance with musicians from India: Zakir Hussein's Distant Kin project and more recently Sabir Khan and Navin Sharma, with whom he made the album 'In Mumbai' released June 2020. Graeme Stephen leads groups in a variety of formats, composes beautiful scores for silent films and is in demand from musicians of all persuasion thanks to his virtuoso guitar performance. The duo have explored music together over the past  20+ years. For this special performance they're delighted to joined by Hardeep Deerhe (Sodhi) playing tabla.

Japjit Kaur and Niraj Chirag

Japjit Kaur and Niraj Chirag

Japjit Kaur

Japjit Kaur is an award-winning songstress and actor whose work spans from theatre, film to recording albums and performing live. Japjit has recorded and written on several critically acclaimed albums including The Lost Souls, Rafta Rafta and Mud Doll by Niraj Chag, Svara Kanti's Rakshasa and Trikala by Simon Thacker. She is also a nominee for the Karamveer Chakra award.

Japjit has toured and performed internationally. Her work includes the multi award-winning play 'NIRBHAYA' directed by Yael Farber, Remi award winning short film 'Amishi' by Malinda Kaur, The Little Match Girl at the Globe theatre, 'The Jungle Book' directed by Liam Steel (Les Miserables) 'The Empress' at the RSC, 'Wah! Wah! Girls' for Sadlers' Wells and World stages, 'All in good time' Studio Canal and 'Much Ado Ado About Nothing' at the RSC.

Japjit was also appointed Music Director for the Olivier award-winning play 'Rafta Rafta' and vocal Music Director for multi award-winning play Dara at the National theatre.

 

Niraj Chirag

Niraj Chag is a London-based composer and artist whose work spans a wide range from albums, to film scores, theatre and live events.

Niraj's documentary soundtracks have reached a worldwide audience. Having embraced technology from a young age Niraj is one of the few artists working on large-scale projects to not only compose, but also to play and mix all the instruments himself. Beginning with One Night in Bhopal (BBC1, 2004) he has since composed for Emmy Award winning and Bafta Nominated The Power of Art, The Age of Terror (2008), Darwin's Dangerous Idea (BBC2, 2008), Origins of Us (2011) and The Rise of the Continents (BBC/Discovery Channel, 2013).

Niraj's album work allows him to explore and bring to life his own narrative. His debut Along the Dusty Road (Buzz-erk Records, 2006) featured songs in six languages and won him a fan base as well as an Asian Music Award as 'Best Underground Artist'. Single 'The Nomad' went on to be selected as itunes single of the week. He followed this up in 2009 with the intense and darkly themed The Lost Souls. The album featured opera, breakbeats and western classical music alongside South Asian classical and folk music. BBC Music said of the album "The Lost Souls has a point to make: the role of the heart over the mind; the plight of the dispossessed in a world beset by religious and intellectual divisions". He followed the album with a sell-out tour featuring an East European choir. Niraj's third album Mud Doll was released in June 2015 and to accompany the album a unique web app was created that featured a new way of experiencing music based on the associations between music, psychology and emotional response. The algorithm behind the Mud Doll web app was developed following a research project with over 100 volunteers, and use of extensive statistical analysis. It is believed to be the first time that anyone has built an algorithm linking psychological themes to an album in this way. Mud Doll was awarded 'Album of the year' by Eastern Eye magazine.

Many of Niraj's projects are achieved through working with unusual and challenging combinations of musicians. In 2008 he worked with opera singers, a 40-piece brass band and 600 vocalists to create a piece for the official Olympic Torch event on London's South Bank. With the torch passing from China to the UK, Niraj found himself heading the other way in 2009, as he took up a residency at The Factory in Shanghai, working with Chinese urban and classical musicians. Following this in 2011 Niraj co-created the online magazine Eastern Soul, which showcased a unique combination of musical artists in a series of articles and podcasts. In 2014 Niraj won a PRS commission and created You Run On Tracks, Not Roads, a politically charged piece about nationalism, which was performed in London and Glasgow as part of the commonwealth games celebrations.

Niraj's desire for innovation is also evident in his work for the stage. In 2012 as composer for the West End musical Wah! Wah! Girls he created his music within a new system that allowed musical stems to be played and remixed dynamically in a live setting. Significant theatre commissions include Olivier Award winning Rafta Rafta (Royal National Theatre, 2007), Much Ado About Nothing (Royal Shakespeare Company, 2013), Dara (Royal National Theatre, 2015) and The Captive Queen (Shakespeare's Globe Theatre, 2018). Niraj has scored over 20 dance productions including Shobana Jeyasinghs Classic Cuts (Royal Opera House, 2012) an avant-garde piece which merged South Indian Carnatic music and Bollywood samples.

Niraj's scope of work continues to expand. Having created the score for feature film All in Good Time (Studio Canal, 2012), he has since gone on to score BBC feature length drama Our Girl (BBC1, 2013).

Justyna Jablonski and Jyotsna Srikanth

Justyna Jablonski and Jyotsna Srikanth

Justyna Jablonski

Justyna Jablonska's music experience goes beyond classical repertoire, in which she holds a Masters Degree from the RNCM, taught by Peter Dixon (Principal Cello, BBC Philharmonic Orchestra). Since her appearance at the Lucerne Festival Academy in 2014 where her focus was on contemporary music (working with Sir Simon Rattle, Barbara Hannigan, Matthias Pintcher) she went on to study privately with Paris' Ensemble Intercontemporain cellist – Eric-Maria Couturier. Her journey with Lucerne Festival let to ongoing performances as part of Lucerne Festival Alumni, which she thoroughly enjoys.

Justyna is delighted to have released her debut album – Karmana – with guitarist Simon Thacker, which presents Thacker's diverse works for cello and guitar, funded by Creative Scotland. Together with Simon and Masha Natanson, Justyna succeeded in being part of the Made in Scotland Showcase at the Edinburgh Festival Fringe in 2016 with Songs of the Roma programme. They will be releasing their new album later in 2020, which is supported by Creative Scotland.  Justyna is currently in her second year of a PhD programme in creative music practice at the Royal Conservatoire of Scotland, focusing on collaborative work with (Carnatic violinist Jyotsna Srikanth) South Indian female violinist, drawing on Carnatic traditions and free improvisation. She is a recipient of the Carnegie Trust PhD Scholarship.

Jyotsna Srikanth

Hailing from Bangalore, Jyotsna is the world's foremost Indian violinist. Her music illuminates Carnatic musical tradition in kaleidoscope colour. Approaching every musical interaction with a forward-thinking outlook and elastic expressivity, Jyotsna is just as likely to be found reveling in raga rotations or jamming in free jazz, often marrying the two.

Jyotsna also has a successful career lending her talent to the film industry, playing on over two hundred South Indian cinematic soundtracks. Upon moving to London her work expanded to include television and festival engagements including work for the Discovery Channel, National Geographic, WOMAD, BBC Proms and Red Violin Festival. She also showcased her work at WOMEX 2017 in Katowice, Poland. Jyotsna lectures in music, having delivered her discourse at the University of Cambridge and Liverpool University.

Currently, Jyotsna enjoys a demanding career as an eminent solo musician. Her 2013 album Call of Bangalore (Riverboat Records) cemented her position as a 'major instrumentalist of vision and imagination' (fRoots) and 'an extraordinary and versatile violinist' (The Guardian).  In her career spanning 25 years Jyotsna has performed in all the major world music festivals across Europe.

Jyotsna is also the founder and curator of London International Arts Festival and leads Dhruv Arts, a UK-based not-for-profit educational organisation.

Manish Pingle

Manish Pingle

Manish was introduced to Indian classical music by his parents. He started his initial training in Indian slide guitar from Late Shri Vishnu Walivadekar of Indore. He is one of the senior  disciples of the Legendary Sitar player, Ustaad Shahid Parvez of Itawa Gharana.

 

Today, Manish is amongst the few leading Indian slide guitar players of India. He has performed in major music festivals in India, and also showcased his talent in countries like Spain, Sweden, Italy, Portugal, Netherlands, Denmark, Norway, Estonia, France, Germany, China, Japan, Australia, Singapore, Malaysia, Thailand, UK, Belgium and Switzerland.

 

Manish has won many accolades performing traditional Indian classical music concerts and also collaborated with International Music Maestros like Saxophone legend  George Brooks, Blues Singer and Guitar player, Michael Messer, French Music composer Hector Zazou, and African Kora player Lamine Cissokho.

 

Manish's album CALL OF THE BLUES with Michael Messer was leading the Transglobal world music chart for three consecutive months. It also topped iTunes UK for two consecutive months. Manish has collaborated with Frementle Orchestra, Perth, and has been part of the Festival of Canning 2014.

 

Manish was invited to conduct Lecture demonstrations on Indian slide guitar and Indian classical music by University of Tokyo, Japan in November 2016

 

Manish is also into teaching Indian slide guitar to students in India. He has more than 35 online students all over the world. Manish has been awarded with the title 'Surmani' by Surshringar Samsad Mumbai. He is also the recipient of Manohar Madgaonkar Music Excellence award by Camroon Creations Goa. Manish has received an exclusive honor by the WORLD BOOK OF RECORDS, UK for his matchless contribution to the world of Indian slide guitar.

 

Manish is a qualified Sound engineer, from Film and TV institute of India, Pune. And worked as a Sound Engineer on films like 'Life of Pi', 'Eat, Pray Love', 'Basmati Blues' etc. He also worked on the famous TV series SATYAMEV JAYATE as a sound engineer.

 

With his knowledge of sound and Music, he also is frequently invited to film and Music institutes, in India and abroad for lectures on Indian Music and Film sound.

Nandini Manjunath and Himadri Madan

Nandini Manjunath and Himadri Madan

Nandini Manjunath

Nandini Manjunath, is a performer, choreographer and a Registered Dance Movement Psychotherapist. She has trained professionally in both Jaipur and Lucknow Gharana styles of Kathak from Natya institute of Kathak and Choreography, Bangalore under Guru Dr. Maya Rao and advance training under Guru Prerna Chaturvedi, disciple of Jaikishan Maharaj at Ardhang Institute of dance. Along with her degree in Choreography she has also acquired a diploma in the Indian classical dance form, Kathak under guru from the Karnataka board. Nandini, as a performer has travelled across India with leading dance companies like Natya STEM dance company, Mahamaya School of performing arts and performed at various prestigious dance festivals like Mysore Dussehra, Namma dance Utsav, Shivananda Hegde Dance festival, Maya Arpan to name a few. Nandini's training in her choreography undergraduate has included core competencies in Kathak, Indian contemporary, basics of martial art forms Kalaripaittu, Thang Ta and Chau, Dance theatre forms Katahkali and Yakshagana, Lighting & Stage Design, Folk Dances of India, Costume design and Filming, videography and composition of Indian classical music for Dance productions.

After extensively performing, choreographing and teaching dance in performative and educational settings in India, Nandini is now teaching Kathak at Dance Ihayami, Edinburgh since 2017 and has represented the art form from her country through performances and choreography projects at various esteemed platforms in the UK. Nandini is presently involved with different Indian dance organisations in Edinburgh like Dance Ihayami and Theiyya arts and has also been a principle dancer in 4 star rated shows at the Edinburgh fringe festival. A list of her notable work experience in UK can be found below.

NOTABLE WORK IN UK

Kathak teacher for Beginner and Intermediate levels and Dance Ihayami – From June 2017 to Present
Bollywood Classes and workshops at Dance Ihayami - From June 2017 to Present
Choreographer for Bollywood residency at Dance Ihayami – July 2017
Dusshera on Calton Hill – September 2017 with Dance Ihayami
Diwali at Ross band stand – October 2017 with Dance Ihayami
St. Andrews Day First minister's Reception – December 2017
Hippodrame silent film festival, Kathak workshop and performance at Bo'ness – March 2018
Guest performance For Elvish Dance, Edinburgh Fringe Festival – August 2018
ICCR anniversary at the Indian Consulate Edinburgh – 2019
From India to Triana with The Rootless Company, Edinburgh Fringe Festival – August 2019
Edinburgh Mela 2019
Edinburgh Multicultural Festival 2019
Daughters of the earth in collaboration with Theiyya Arts, Edinburgh – October 2019
Choreography for Castle of Lights at Edinburgh Castle – November 2019

 

Himadri Madan

Himadri Madan has worked as a dance performer, choreographer, teacher, and production manager for the past six years in India and is currently pursuing MFA choreography at Trinity Laban Conservatoire of Music and Dance. She trained in Bharatnatyam under Guru Srinivasan Rajendra to gain a vocational Diploma, in Kathak under Guru Dr. Maya Rao and then Smt. Prerna Chaturvedi (Disciple of Pt. Jaiskishan Maharaj), in Odissi under Smt. Vandana Kassaravalli and in Jazz at Danceworx, Delhi under a scholarship program. After completing her BA Hons. in choreography from Natya Institute of Kathak and choreography, Bangalore University she worked with globally acclaimed companies such as Natya STEM dance Kampni, Anandi Arts Foundation, LVDS, and travelled across India and performed for various prestigious festivals. She was invited as a soloist at Namaste Fukuoka, Japan, and has performed in Edinburgh with Theiya Arts. As a choreographer and production manager, she has choreographed and managed over 20 productions in collaboration with companies such as Cornucopia Creations, ISKCON, LVDS, and Anandi Arts Foundation. She has assisted creative dance classes at Trinity Laban Conservatoire of Music and Dance. She was also a core team member of the organising committee of Dance world cup- India Qualifiers, 2018 with LVDS and for ASMI- Music and Dance festival with Anandi Arts Foundation. She has written scripts for dance-drama productions, managed the backstage, created light and sound design for various performances. Currently, as a part of her Master's degree course, she is delving deeper into the subjects of Post-modern choreography and Dance filmmaking.

Rajwinder Kaur

Rajwinder Kaur

Rajwinder Kaur is an upcoming coming singer from India.  At a young age she has participated in the popular ZEE TV Sa Re Ga Ma Talent contest. Rajwinder also topped the Gavoh Sachi Bani Season 1 and has also had the honour of performing with the likes of Alka Yagnik, Anoop Jalota, Udit Narayan, Suresh Talwalker, Shankar Mahadevan and Pankaj Udhas.

This will be her first performance for the Glasgow Mela

Rupa Mooker

Rupa Mooker

A lawyer by day, Rupa has extensive presenting and hosting experience in radio, events and media work. She hosted Scotland's first ever dedicated Asian radio show on BBC Radio Scotland for 4 years, has her own Sunday evening show on Awaz Fm (Scotland's Asian community radio station) and has appeared as an expert guest on radio shows for Bauer media. As well as hosting various large scale fundraising and charity events for the Scottish Asian community, she has presented numerous prestigious events over the years including the annual Scottish Asian Business Awards, the Scottish Diversity Awards, Mela at the Green for the 2014 Commonwealth Games and of course, the Glasgow Mela!

Rupa is a vocal advocate for equality, diversity & inclusion, particularly within the Scottish legal profession and also sits on the Law Society of Scotland's Equality & Diversity Committee.

Tony Singh

Tony Singh

Tony Rajinder Singh Kusbia MBE is one of the UK's best-loved celebrity chefs know to all as Tony , renowned for his lively personality and skill in designing quirky and delicious dishes, to delight diners across the land.

A fourth-generation Scottish Sikh , his Great Grand Father Khasier Singh Kusbia and Grand Father Tunda Singh Kusbia came to the uk after Partition from a Village just outside of Lahore .

Tony was born and raised in Leith, Edinburgh, and learned at his mother's knee the cookery skills which would see him create the unique fusion of Scottish and Asian flavours for which he is so well known.

After showing early promise in Home Economics at school, Tony went on to train classically as a chef and later secured prestigious roles working at the Balmoral Hotel, Skibo Castle, Gravetye Manor and on board The Royal Scotsman and the Royal Yacht Britannia.

After years of experience working in destination dining spots in London and Scotland, Tony went solo to launch his own award-winning restaurants – and it was here that his inimitable cookery style really came into its own, with crowds (and cameras!) flocking to see Tony's contemporary twist on traditional dishes for themselves.

Winner of the first ever professional Cooker TV shows in the UK ITV`s Chef of the year in 2000
A winner of Scottish Chef of the Year, Highland chef of the year
Gold medal winner for Salon Culinaria Tony strives to promote innovative use of Scottish produce, but always with an unexpected flourish.

Known for his quick-fire wit and cheeky personality, Tony is a firm favourite on British television, starring in

BBC2 programmes, A Cook Abroad: Tony Singh's India,
His own series with Cyrus Todiwala. The Incredible Spice Men
The Great British Menu
Saturday Kitchen
Ready Steady Cook
as well as guest spots on Pointless, Celebrity Eggheads, Celebrity Mastermind and many others.

He has cooked for ,

The Queen and Duke of Edinburgh
Prince Charles
Bill Clinton
Prince Albert of Monaco
Maharaja of Patiala
Various TV and Movie celebrities.

Tony is a member of significant industry peer appointed associations, a Master Chef of Great Britain, and the Royal Academy of Culinary Arts, the Craft Guild of Chefs and the Scottish Chefs Association.

Tony was awarded his MBE in the 2017 Honours list from her Majesty Queen Elizabeth the II for services to the food and drink industry, and  his charity work.

Theiya Arts

Theiya Arts

Theiya Arts has teamed up with Edinburgh based TuFlamenco - 'The search of El Duende' to prepare a special performance for this year's online Glasgow Mela. Together, they have prepared a repertoire that combines main elements from Indian Classical Dance and Music with different styles of the Flamenco tradition. They are accompanied by saxophone player Nick Gould and the talented Giulia Drummond. The lyrics chosen for their performance are inspired by the strength of the human bond that has kept our communities strong through the past months.

Theiya Arts

Theiya Arts aims to spark creativity and promote health and wellbeing through the medium of Indian art forms and yoga, in people of all ages, backgrounds and abilities.

Our team delivers a wide range of Yoga and Indian Dance classes in various locations allowing the Scottish communities to discover how these ancient practices can help improve health and wellbeing.

TuFlamenco

TuFlamenco, as a company, focuses on two main fields: education and performance. Our company was founded in 2018 by Inma Montero and Danielo Olivera after many years of experience working in Scotland for other companies. T

he Academy is based in Edinburgh but we also provide classes in different Scottish cities, such as Dundee, Glasgow, Perth and Aberdeen amongst others. TuFlamenco's passion, love and dedication for this art is contagious and it has grown very quickly and successfully and we love trying to make a difference to the lives of our young, and not that young flamenco lovers. We see them blossom and grow in confidence and ability, with many becoming 'obsessed' by these activities!

TuFlamenco, as a live performances and show production company has successfully delivered many shows,some of them premiered and performed at the Edinburgh Fringe Festival in previous awarded. Our artists have been taken part in this festival for more than a decade having been awarded with 5***** reviews in many opportunities. In fact, our experiences at the Fringe have played a key role in our decision to create TuFlamenco in 2018 and produce our own shows.

Cosmic Dance

Cosmic Dance

Kirsten Newell and Oxana Banshikova both Kalakshetra graduates living in Edinburgh where they teach, dance and create together through their dance company Cosmic Dance (founded by Oxana Hong Kong in 2007). Merging years of performing and teaching experience, they are both passionate about bringing exciting, innovative and high quality South Asian dance to Scotland.

Kirsten Newell (Cosmic Dance) will be performing Desh Thilana choreographed by Priyadarshani Govind, Ragam Des and Thalam Adi.

 

 

cosmic-dance.com

Jaspreet Daheley

Jaspreet Daheley

Some of us have tried mehndi at weddings or on other occasions.  But, where did it all start?  What is the significance of Mehndi?  Jaspreet Kaur Daheley will explain and demonstrate the art of Mehndi.

For Jaspreet, art is an expression of the beauty of the mind allowing ones imagination to flow. Jaspreet is fortunate enough to express this art through applying henna which is also known as mehndi in many Middle Eastern cultures. Based in East London Jaspreet is self taught with over ten years experience professional mehndi artist. Her passion for art and drawing stemmed from a young age, however through creativity of many intentional artists all over the words allowed her to explore and endeavour different styles of henna art work. This creatively of art encouraged her to take her own journey as an artist in which she started her own business in 2012. "Practice makes perfect" - is the best way for Jaspreet to describe her journey so far. She  loves the work of fine, intricate detailed art. Most of her work captivates all fine details of different styles of mehndi designs. These types of designs include western contemporary, Indo-Arabic, Moroccan designs as well as traditional Indian designs. 

Preshanti Navaratnam

Preshanti Navaratnam

Preshi was born in Colombo Sri Lanka to parents who were both GPs. She came to London to study singing at the Guildhall School of Music and Drama and pursued a career in singing. She also attended drama school and has performed in the UK, Sri Lanka, USA and India.

Her love of cooking and baking has been influenced by her maternal grandmother, mother and aunties. They have all proved to be very accomplished cooks. Preshi worked in catering for awhile and was selected to be in Masterchef. She is a very passionate cook and baker. She cooks most cuisines and bakes cakes, bread pies and pastries. Her favourite cuisine would be Sri Lankan and she takes great pride in serving this at many of her dinner parties.

Reviews:

"This has been a wonderful evening. I shall be waddling home after all this glorious food, especially the aubergine curry and ice cream, Thank you for a wonderful treat!! "- SA – 2014

"A delicious extravagant meal Preshi!! Loved the afternoon of amazing pittu, fishballs, potatoes and my favourites cashew curry and aubergine curry. Yum Yum, Yummy, yum!!! When am I able to come back…?"

" What a delightful Sunday afternoon! The weather was glorious, despite the cold, the company charming and entertaining. The food was perfect. What a wonderful ensemble of a main course you prepared. The smoky rich shakooti chicken complemented the sumptuous biriyani, the fried potatoes and dal. The mousse- WOW !!! all my taste buds have been satisfied. Thank you"

 

Scottish Desi - Asmat Ullah

Scottish Desi - Asmat Ullah

YouTuber Asmat Ullah is a Glasgow born Scottish desi You can catch his cooking tutorials on the "Scottish Desi" channel. Asmat loves the asian culture , music and activities. He has been attending the Mela every year since it started. Asmat loves to cook using the exotic spices and ingredients of India and Pakistan. Observing and learning from some of the best Chefs in Glasgow's Indian restaurants, he has been cooking and hosting food parties since he was a teenager. Outdoor cooking is now his passion. He uses the giant Tawa, Iron Karahi and clay pots to cook traditional recipes using traditional methods. He uses wood and charcoal as his energy source. 

 

Pakoras and kebabs he'll teach you to make

Come on have a try you'll learn from every mistake

Pancakes for breakfast,then some spiced tea

Onwards to lunch it's got to be Scottish Desi

Lunchtimes are fun oh here comes the sun No need to bbq make a rocket have some fun

Back home in summer always drink lassi

He'll teach you to make salty or sweet

You know he's your pal aye it's Scottish Desi

Talking Tabla

Talking Tabla

A performer at the very first Glasgow Mela in 1990 and now Mela producer Hardeep Deerhe (Sodhi) AKA Talking Tabla is no stranger to the Mela stage. In this performance, he collaborates with...Mischa McPherson, Alan McDonald, Thomas Zoellar, Bryan Jones, Samrath Majumdar and Shruti Bujar Baruah.  This virtual performace highlights the versatilty of Tabla and will take you on a journey from Gaelic Vocals, Indian Classical to Percussion improv. Sodhi says "Back in 1990 I played an 11 beat rhythmic cycle and for the 30th Anniversary we have ended with the same."

 

Hardeep, more commonly known as Sodhi is an accomplished Scottish based musician, who is classically trained in tabla, a vocalist, improviser, and composer.  An artist whose practice is an interdisciplinary one that crosses over into performance, teaching and sound design.

 

Hardeep's music dwells on the borders between diverse musical styles. As a seasoned performer with a strong background in Indian Classical music, he refrains from creating an amalgam of genres but rather incorporates the idiosyncrasies, contours, shapes, rhythms and pacings of different styles into his music. As he attempts to upend norms and provide context for diffusion of cultural barriers, Hardeep combines elements of Indian classical music with the hallmarks of high-modernist concert music as well as utilizing culturally charged materials to transform their meaning and broaden the scope of discussion that surrounds them.

His work has taken him on numerous tours around the USA, Canada, India and Europe. Hardeep's recordings are distributed and published worldwide, and he has written music/soundscapes for German based band 'Homebound' and 'Reveal'.